If you love brie cheese, there's no doubt you'll be looking for the perfect accompaniment to get the most out of your favorite cheesy treat. So let's talk about what to serve with brie cheese! Whether you're planning a gourmet cheese platter for a party, dinner, or just to treat yourself, there's nothing better than a menu of delicious flavors that come together in perfect harmony.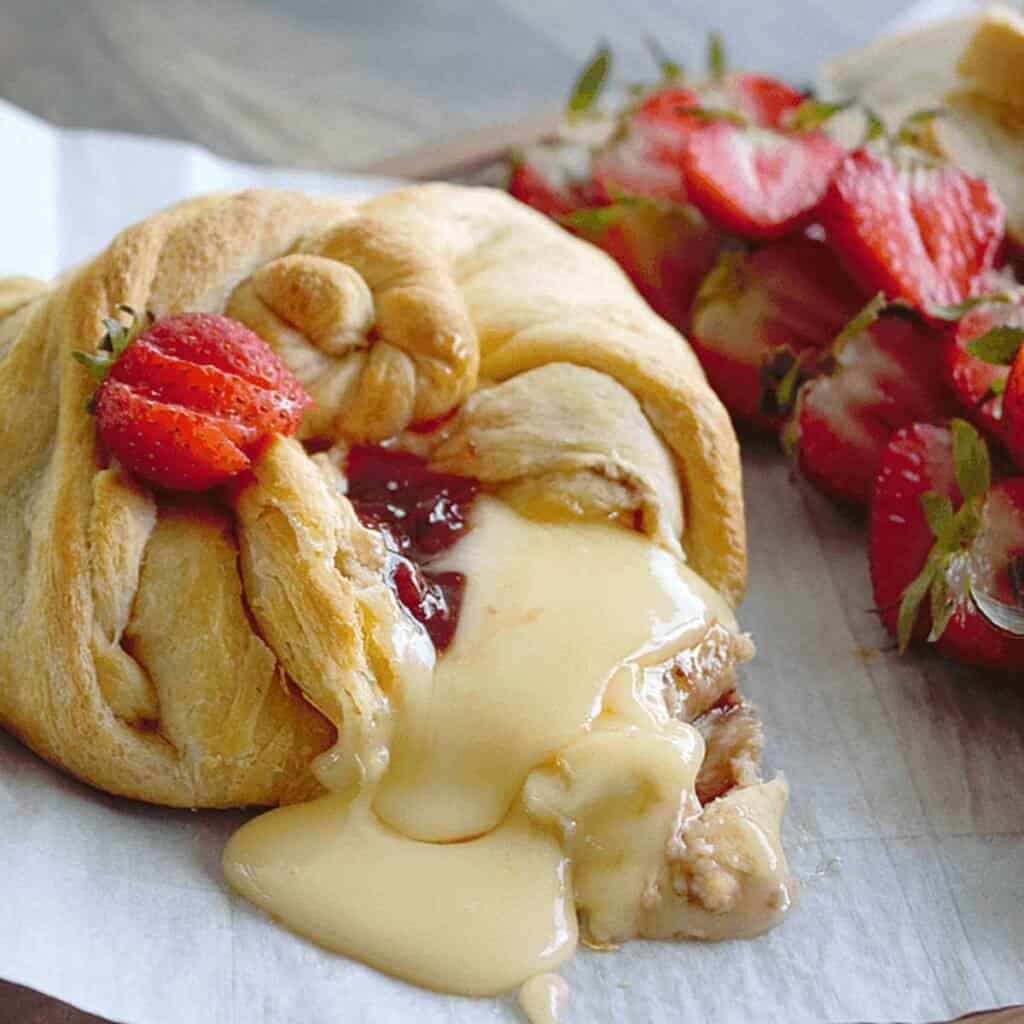 Authentic brie cheese is a soft, creamy cheese that originated in northern France. It's a milk cheese and usually has a white, creamy rind. The rind of the cheese is also edible and typically eaten.
Brie is commonly used for appetizers and salads. Brie is one of my favorite cheeses, especially baked brie in recipes like this strawberry jam baked brie or maple bacon baked brie, wrapped in a puff pastry and baked to perfection! 
There are so many ways to serve brie and plenty of ideas to serve it with, so let's get into it. Whether you are creating an easy appetizer for a dinner party or using brie as an ingredient in your main dish for special occasions, there are lots of delicious ways to add this type of cheese with its amazing delicate flavor to your meals!
Appetizer Sides to Serve With Brie
1. French Bread
A classic accompaniment to brie, a crispy and chewy French bread goes well with the soft and creamy texture of the cheese.
2. Crackers
The creamy consistency of brie makes it perfect for spreading on crackers. Plain crackers, melba toast, and seed crackers are great options.
3. Chutney
Most types of chutney go well with this soft French cheese, adding a nice sweetness and slight tang to the cheese.
4. Fresh Fruit and Nuts
Fresh, dried, and candied fruits are all great accompaniments to brie. Nuts also enhance the flavor of brie, and adding a pinch of sea salt can take them to the next level.
5. Honey
A drizzle of honey or even maple syrup over your brie adds a delightful touch of sweetness to the flavor.
6. Jam
Spread some jam over your brie for a delicious combination of sweetness and tanginess. Fig jam and apricot jam are two of my favorite pairings with brie cheese.
7. Olives
Olives like Kalamata olives go brilliantly with brie, bringing out its creamy, nutty flavor.
8. Charcuterie
Adding some cured meats such as salami and prosciutto adds saltiness and gives the cheese board more variety. Throw together a beautiful charcuterie board with brie as the centerpiece for the perfect appetizer or even a meal.
9. Cornichons
These small pickles cut through the flavor of brie and add a nice sharpness to the plate.
10. Pickled Onions
Pickled onions brighten the flavor of brie cheese.
11. Basil Pesto
Spread some basil pesto over your brie for an Italian-inspired flavor. Serve these with crackers for the perfect partner to your basil pesto brie.
Dishes to Serve With Brie
12. Pear, Prosciutto, and Arugula Pizza
A unique combination of flavors, this pizza pairs walnut-studded pizza dough with the sweet tartness of pear, smoky prosciutto, and peppery arugula. Top with melted Brie cheese for an out-of-this-world experience.
13. Apple, Bacon, and Brie Toasted Sandwich
This savory sandwich has it all — crisp apples, smoky bacon, and creamy Brie. Toast it up and enjoy the crunchy texture and a blast of the brie's flavor in every bite.
14. Brie and Prosciutto Crostini
This delicious dish is a great appetizer! Toast up some baguette slices, top them with layers of prosciutto and Brie cheese, and finish with a sprinkle of freshly chopped herbs. A simple yet impressive appetizer.
15. Chicken and Brie Stuffed Mushrooms
A delicious savory bite that is sure to impress. Stuff mushrooms with cooked chicken, Brie, and a hint of garlic, then bake until the cheese is melted and bubbly.
16. Brie and Honey Tart
Blend sweet and savory flavors together when you top a puff pastry shell with Brie and drizzle with honey. Serve a slice of this tart for a unique dessert.
As you can see, there are plenty of delicious options for serving with brie cheese. Whether you're hosting an impromptu get-together or planning an elegant dinner party, having a few options on hand for serving with brie cheese can make all the difference. So don't forget to include it on your shopping list when planning your next celebration!