As the temperatures drop, warm up with a bowl of Grandma's Creamy Sausage & Potato Soup! This one-pot recipe is cozy comfort food that your friends and family will love!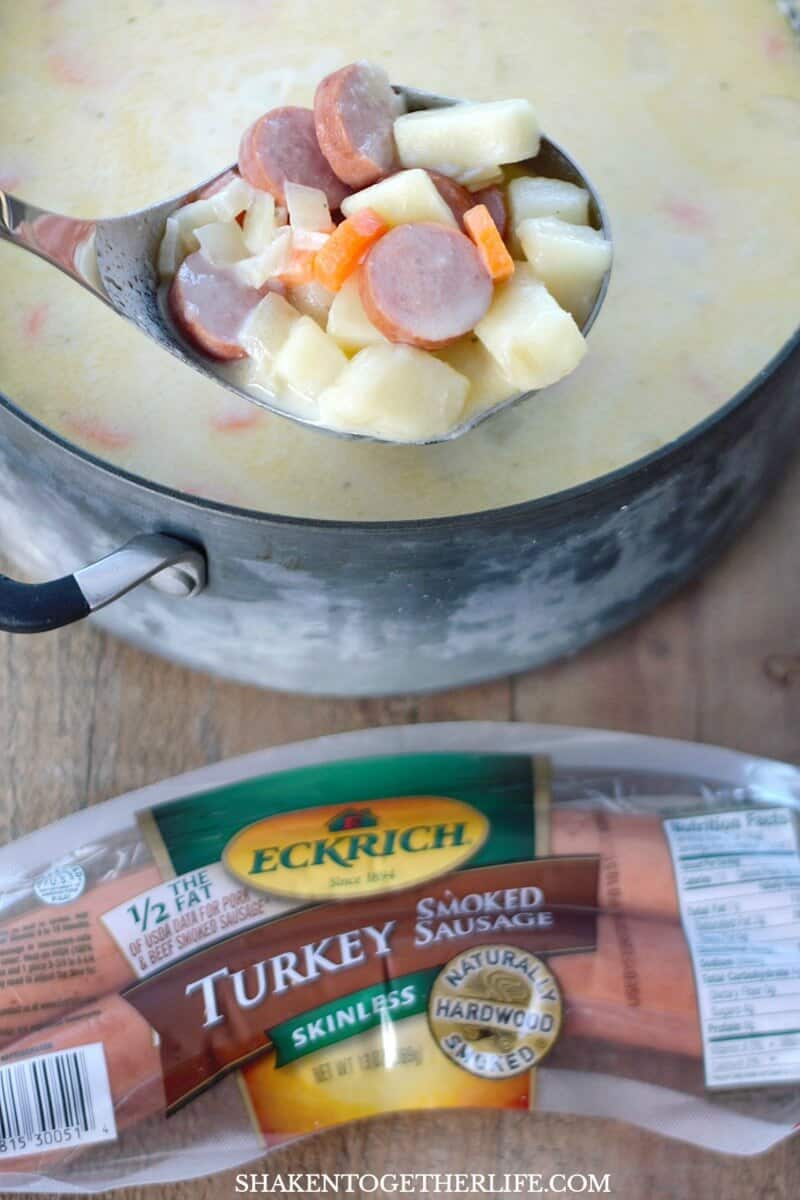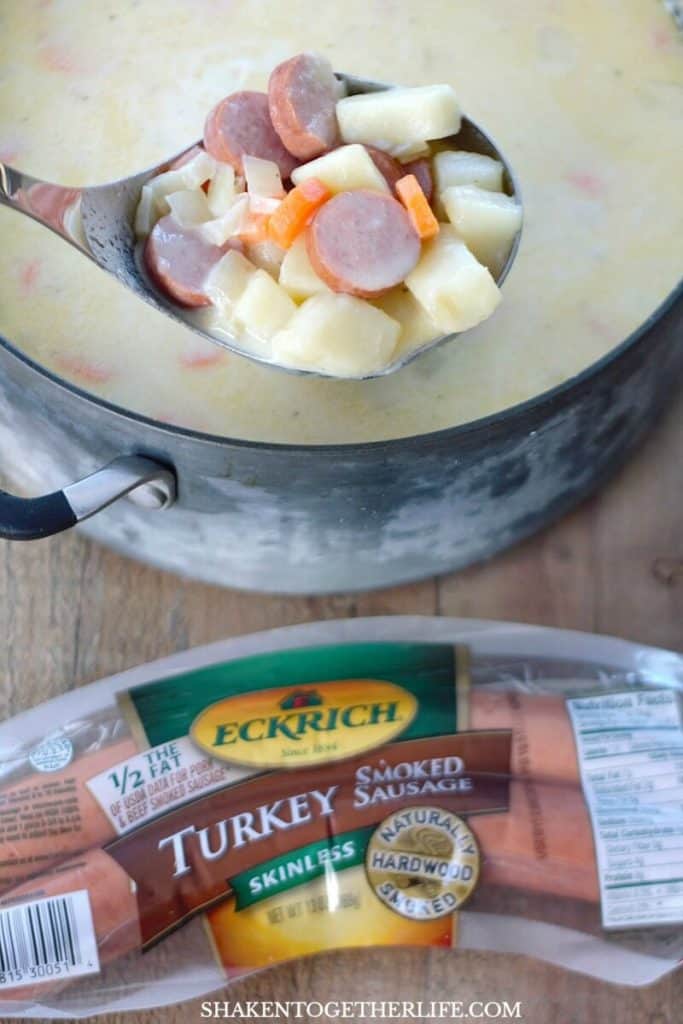 It's SOUP season! Are you just as excited as I am? Seriously, when there is a chill in the air, I immediately start adding every chowder, chili, soup and stew to our menu. You see, in Florida, our soup season is sadly short. (Who wants to chow down on chili when it's 100 degrees outside? Ugg.) So bring on the broth!! Honestly, nothing says home and family to me more than the recipe that I am sharing with you today.
Grandma's Creamy Sausage & Potato Soup

A bowl of this sausage & potato soup reminds me so much of my grandma. Classic. No fancy ingredients. No difficult techniques. Just solid, simple food that always hits the spot!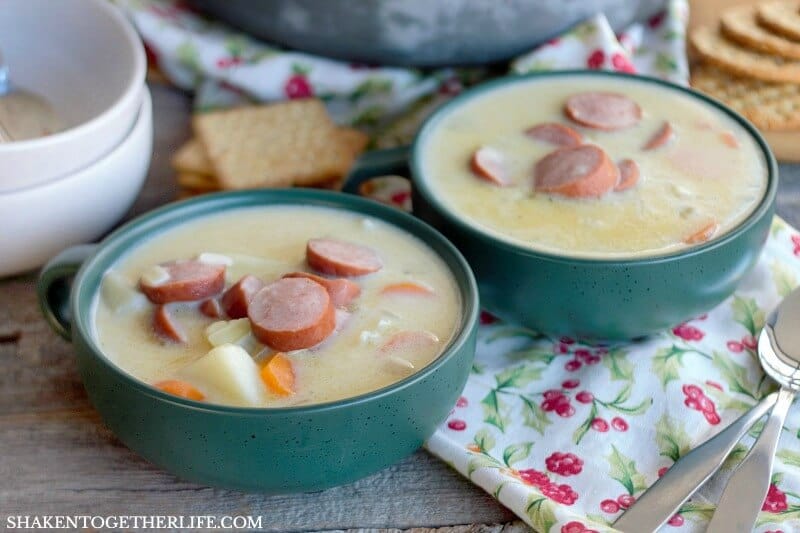 In fact, this recipe is simplicity personified! There are just 3 components:
Veggies - Classic onion, potatoes and carrots chopped and boiled to soften them. Quick tip: waxy red potatoes are a sturdy choice as they hold up well after they are boiled.
Sausage -  I use naturally hardwood smoked Eckrich Turkey Skinless Smoked Sausage Rope with the perfect blend of spices for a slow-simmered taste in minutes.
A creamy base that starts with butter and ends with 6 - 6! - cups of milk
You literally cannot stir this soup without bumping into tender chunks of potato, carrot coins and slices of savory sausage in the cozy, cream base. If this doesn't throw you back to my Midwest grandma's kitchen (complete with rooster wall paper), I'm not sure what will.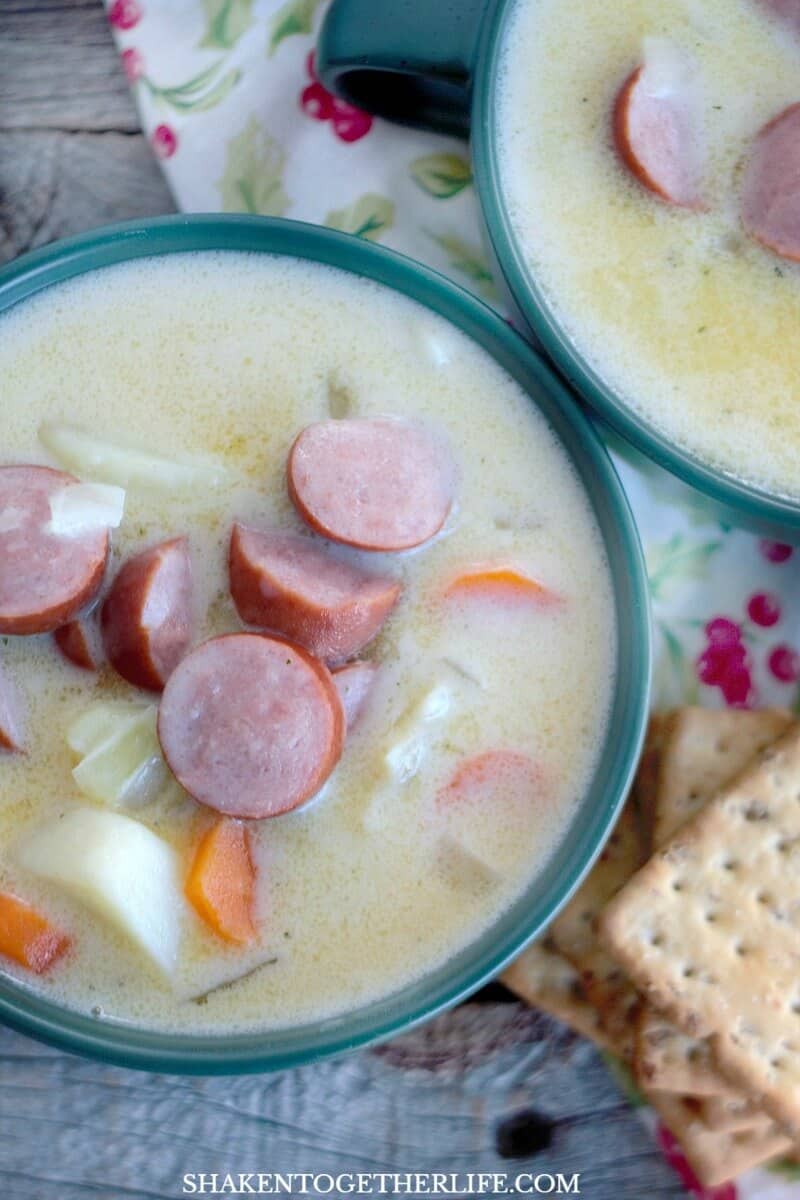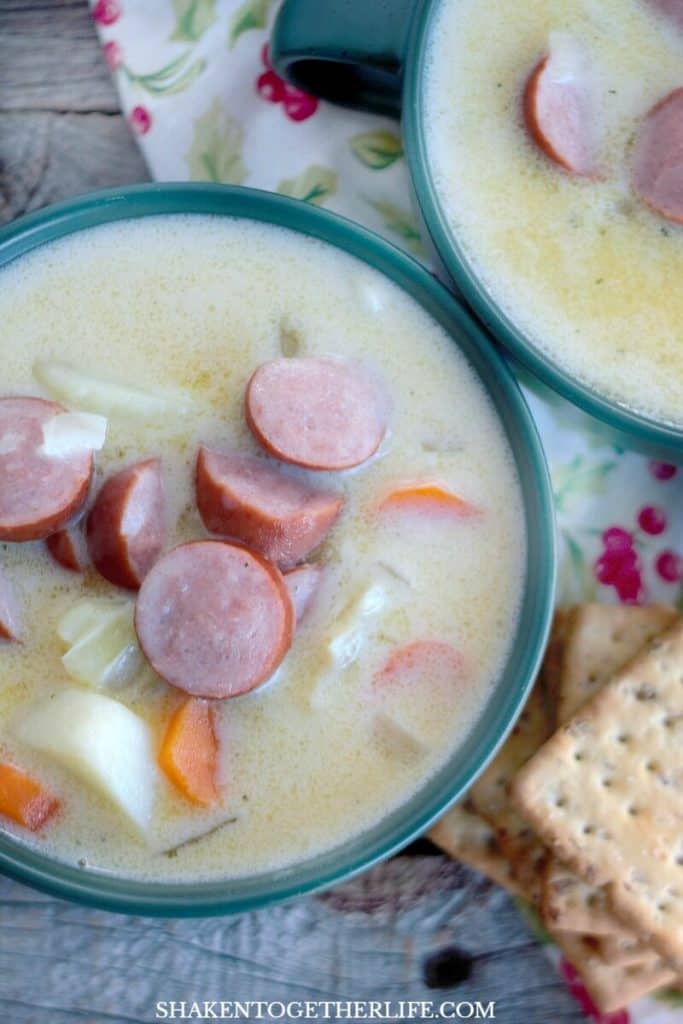 You know my love for quick dinners and easy recipes. So, it should come as no surprise that I stock Eckrich Smoked Sausage in my fridge all the time. It's so versatile with a special blend of savory spices and naturally hardwood smoked flavor, so it's great for any meal. It can be found in the deli section of the grocery store!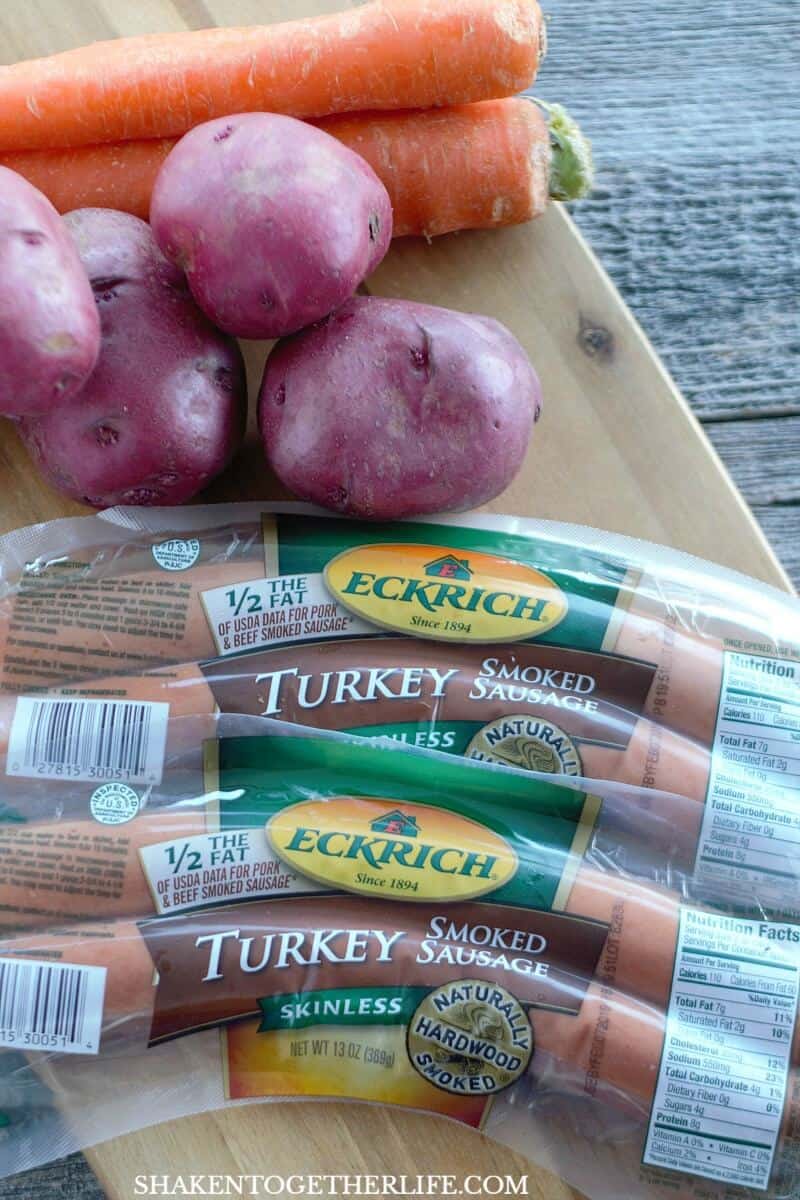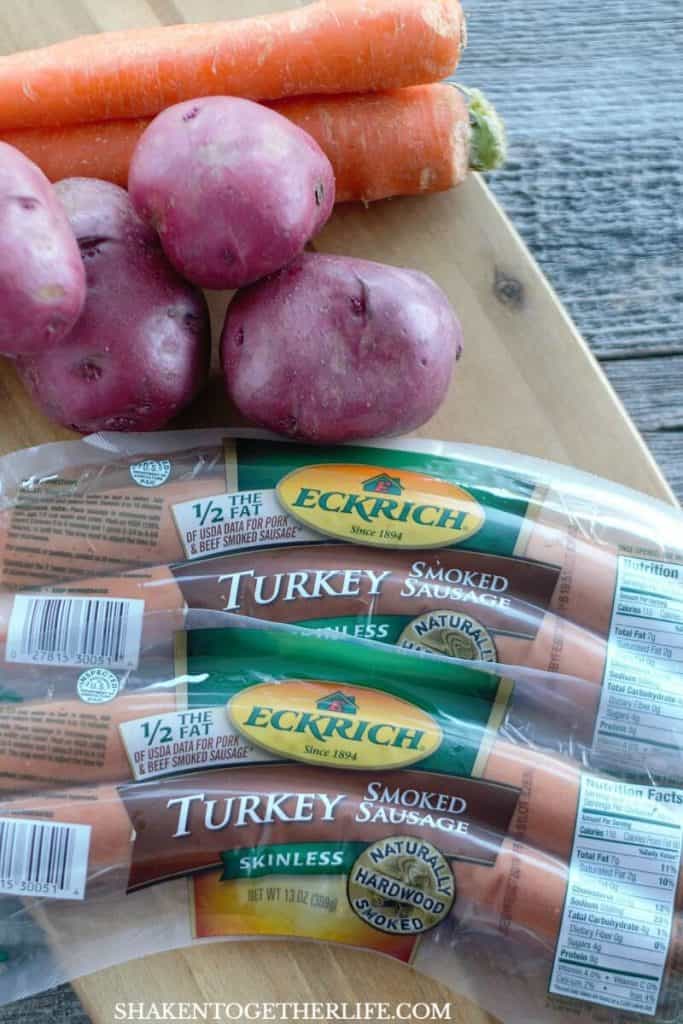 I love to slice it and roast it with veggies for a sheet pan dinner. We char it on the grill to tuck into buns with caramelized onions or sauté it to add to an omelet or scrambled eggs. Or, as an homage to my humble roots, I simmer it low and slow with chick peas or fresh green beans for a simple supper. No fuss food is kind of my thing, you know 😉
Since the holidays are here, I plan to add Eckrich Smoked Sausage to my charcuterie boards and keep it on hand for our favorite slow cooker appetizers, too!
Print Grandma's Creamy Sausage & Potato Soup
---
1

package Eckrich Smoked Sausage, cut into

½

inch coins

4

-

5

cups potatoes, cut into bite sized cubes

¾ cup

carrot, peeled and cut into coins (about

1

large carrot)

½ cup

sweet or yellow onion, diced

1 cup

unsalted butter (

2

sticks)

1 cup

all-purpose flour

3 tablespoon

instant chicken bouillon granules

6 cups

milk
---
Instructions
Place potatoes, carrots and onions in a large soup pot. Add water until the vegetables are just covered. I used about 3 cups of water. Put the pot on the stove over medium-high heat.
Bring the veggies to a boil and cook them until they are fork tender (a fork should go in easily when inserted) or about 15 minutes. Cooking time may vary depending on the size of the chopped vegetables. Do NOT drain the vegetables.
While the vegetables are cooking, melt the butter in a large microwave safe bowl. I use a 10 cup capacity glass measuring bowl.
Whisk the flour into the melted butter until they are combined and a smooth paste forms.
Add the instant chicken bouillon granules and whisk until it is combined.
Whisk in the milk 1 cup at a time until all 6 cups are added.
Carefully pour the milk mixture into the soup pot over the vegetables.
Add the sliced Eckrich Smoked Sausage to the soup.
Reduce the heat to medium and continue cooking, stirring the soup frequently, for about 15-20 minutes to allow the soup to thicken. Serve and enjoy!
---