With one skillet and a few simple ingredients, this creamy, cheesy Skillet Ham & Cheese Alfredo is the ultimate easy dinner that goes from stove top to table in minutes!
I love meals like this one. It was literally pulled together from stuff that I had in my fridge and pantry one week night when this momma just didn't feel like cooking. Yep, even food bloggers want to avoid the kitchens from time to time 😉 Pasta was buy one get free, the ham was leftover from a batch of breakfast egg muffins, the alfredo sauce is a pantry staple and cheese is never, never in short supply. I decided to try a one pot meal and this skillet version was a rousing success!
Skillet Ham & Cheese Alfredo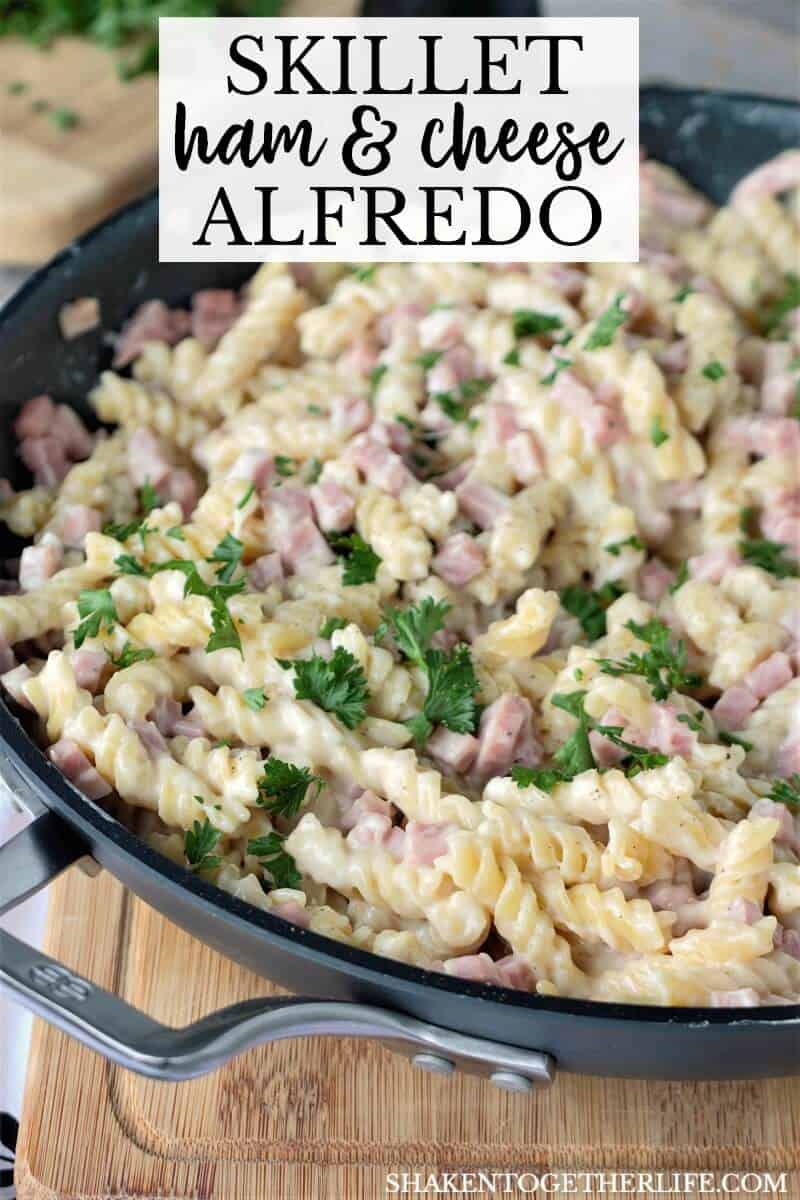 You are going to need a pretty good sized skillet for this recipe. I have this set of Calphalon cookware. (affiliate link) These pans are LIFE. If it is possible to love inanimate objects, then I am in full on 7th grade pink puffy heart love with these pans. Anyway … I used the 12 inch omelette pan for this skillet meal.
First, add two cups of diced ham to the skillet.
Then, add 16 oz. of your favorite dry pasta right on top of the ham. I used rotini but you could use elbow noodles, ziti, penne, mini bow tie pasta or any other similar sized pasta.
Next, pour one jar of your favorite alfredo sauce into the skillet.
Fill the jar halfway with milk and the rest of the way with water. Pour the liquid into the skillet. Stir everything together – be careful since the skillet will be pretty full – and cook over medium/medium high heat.
Stir frequently and cook until the pasta is fork tender. You can add a splash or two more of milk if it seems to need a little more cooking liquid. Add a few handfuls of shredded cheese, top the pasta with some fresh parsley and a few cracks of fresh ground black pepper and dinner is served!!
This creamy pan of Skillet Ham & Cheese Alfredo was a weeknight life saver! I changed out of my work clothes, put my hair up in a bun (I don't think my neighbors have ever seen my hair down, ha ha) and made dinner in about 20 minutes. Winning!
Easy Dinner – Skillet Ham & Cheese Alfredo
Ingredients
Two cups of diced ham

One 16 oz. box of rotini

or similar sized pasta

One 16 oz. jar of alfredo sauce

1/2

jar milk

1/2

jar water

1 1/2

cups

shredded mozzarella and/or Parmesan cheese

Fresh parsley and black pepper

optional
Instructions
In a large skillet (I used a 12 inch omelette pan), add diced ham, dry pasta, alfredo sauce, milk and water.

Stir together and cook over medium/medium high heat until the pasta is fork tender.

Add a splash or two of milk if the dish needs more cooking liquid.

When pasta is tender, stir in shredded cheese.

Sprinkle with fresh parsley and a few cracks of black pepper and serve!
I'm planning a few more easy skillet dinners like this one to add to our week night meal plan, so keep that skillet handy!
Here are a few more of our favorite EASY weeknight meals!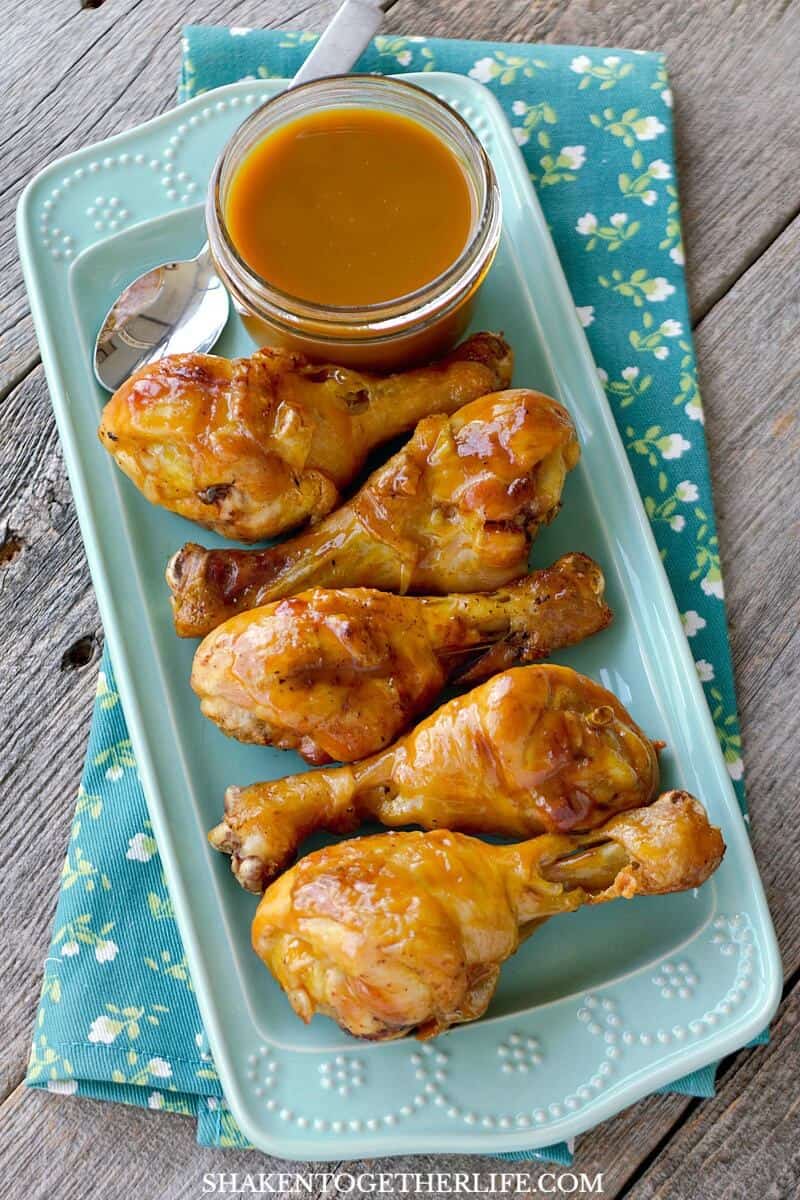 GRILLED HONEY MUSTARD DRUMSTICKS