Did you know February is National Cherry Month?  True story!  And since red is my favorite color and cherry pie is my absolute favorite dessert, it is only natural that I would have to make something to celebrate!  How do mini cherry tarts with cream cheese crust sounds?  Divine, right?!  The flaky, buttery crust is the perfect texture thanks to the addition of cream cheese and these mini tarts get two thumbs up for easy thanks to pre-made cherry pie filling!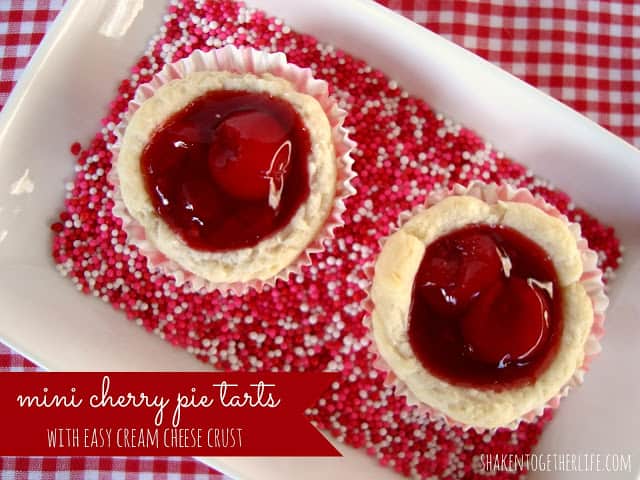 Mini Cherry Pie Tarts with Cream Cheese Pie Crust
cream cheese crust
Yield: 12 mini tarts
2 sticks (1 cup) unsalted butter, softened
6 oz. cream cheese, softened (I used light)
½ teaspoon salt
2 ½ cups all purpose flour
20 ounce can cherry pie filling
whipped cream for serving
Cream the butter, cream cheese and salt together.  Mix in the flour.  Allow crust dough to chill for at least 30 minutes.
Roll about a 1 inch ball of dough, place in the well of a mini muffin/cupcake pan and use a tart press (mine is from Pampered Chef) to press in the center of the dough ball to make the tart shell.  Press a little harder than you think but don't create a hole in the bottom of the crust.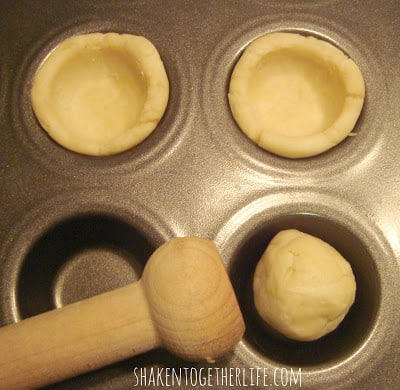 Add about one teaspoon of cherry pie filling to each tart - I could fit about two cherries with filling in each tart.  Bake at 450 degrees F for about 12-14 minutes or until crust is set and just barely light brown - any darker and the gorgeous crust will be dry.  Allow the tarts to cool in the pan before removing.  I plopped them in pretty little mini cupcake papers before serving.
Just take a look at the flaky crust and glossy red filling ... these are the perfect little two-bite tart bite to round out any meal!  And they aren't too bad with coffee in the morning ... not that I would know from experience 😉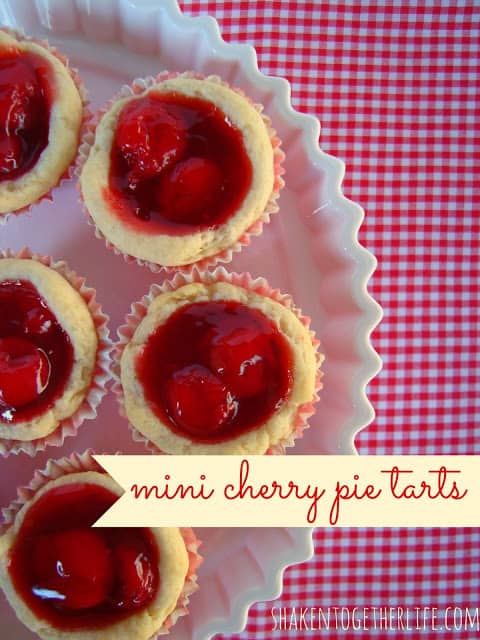 How about a few more pretty little desserts?
No-bake raspberry pies
Lemon cookie white chocolate truffles