Tropical and fruity, these 2 Ingredient Strawberry Orange Smoothies are oh so simple and taste like Summer in a glass!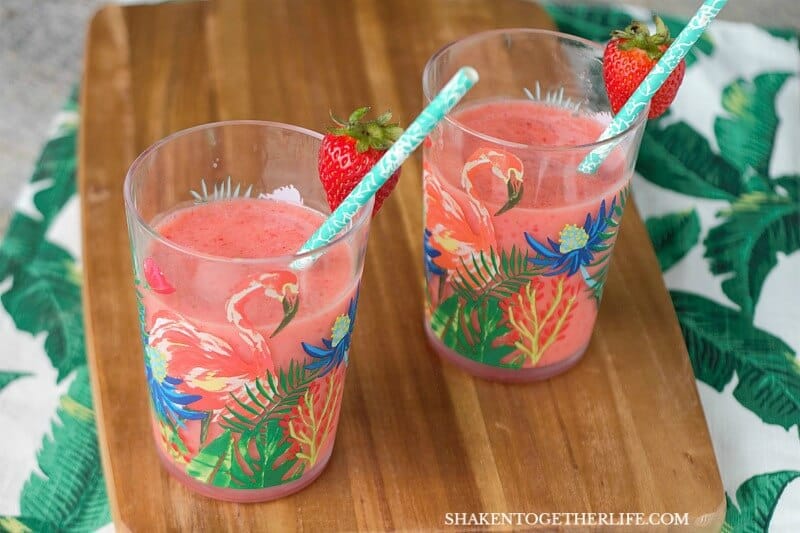 When I decided to go back to work after spending 2 1/2 years at home with our boys, my office was smack dab in the middle of downtown Orlando. While I was terrified of all the one way streets (I literally knew one way to work and one way to get home), the plethora of lunch options was a pretty big perk. One of my coworkers – hi Lynn! – was hooked on a chocolate peanut butter banana smoothie from a local smoothie shop. One day, I decided to go with her to pick up her smoothie and I tried a simple strawberry orange smoothie that I am sharing with you today!
2 Ingredient Strawberry Orange Smoothies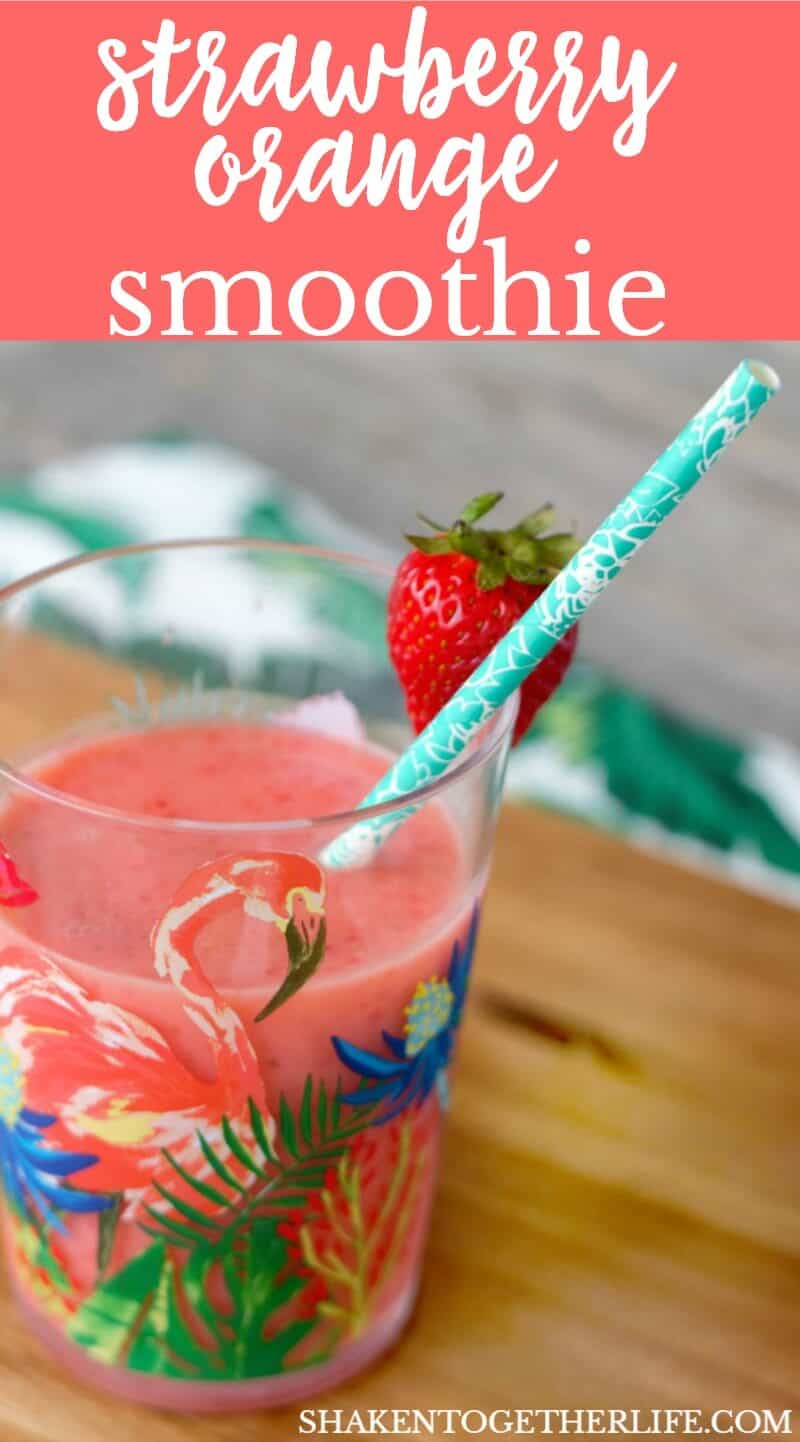 Spoiler alert: I have pretty much given away the 2 ingredients for this smoothie in the title of this post. But, let's talk about them anyway.
Frozen strawberries
Orange juice
While it seems pretty simple – and don't worry, it is – there are a few things to consider so you can make these fruity smoothies to your family's tastes.
Whole frozen strawberries are just that – berries only. So, the sweet factor in the smoothie will largely be determined by how sweet the berries are. If you want sweeter Strawberry Orange Smoothies, you may want to use the frozen sliced strawberries that come frozen in syrup. Or, add a little powdered sugar or sugar substitute to taste.
Personally, I love the tangy tart combination of whole frozen berries and orange juice, but go as sweet as you like!
P.S. You can use fresh strawberries, but the smoothie won't be as slushy and cold.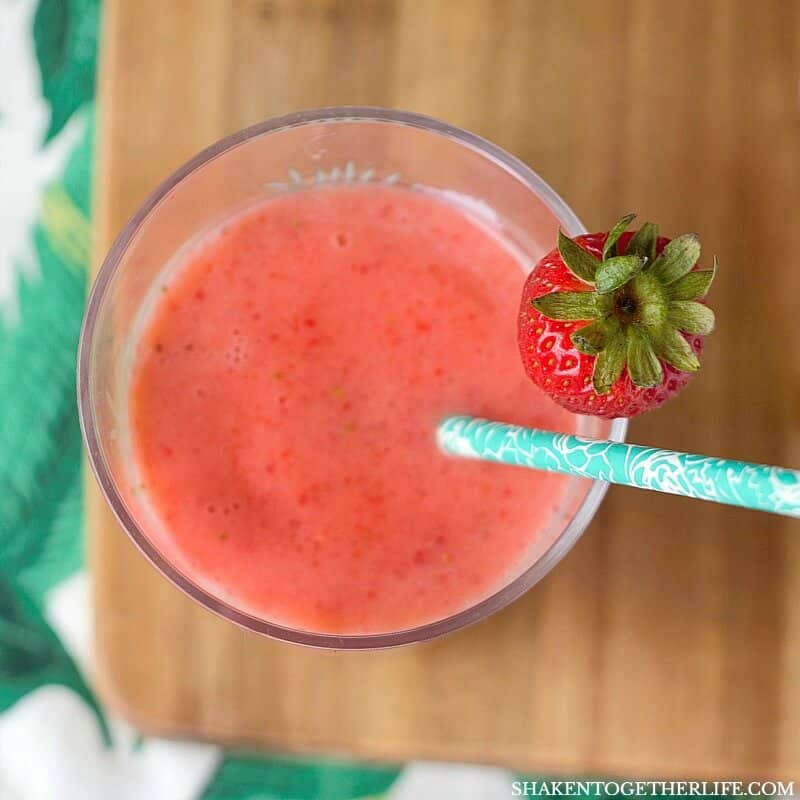 Now, let's talk orange juice. I want ALL THE PULP in my orange juice, but I understand if you are firmly in the anti-pulp camp. Use the juice that makes you happy, people. If you want to add a twist to this simple smoothie recipe, use orange banana, orange strawberry banana or orange pineapple juice and you won't be disappointed.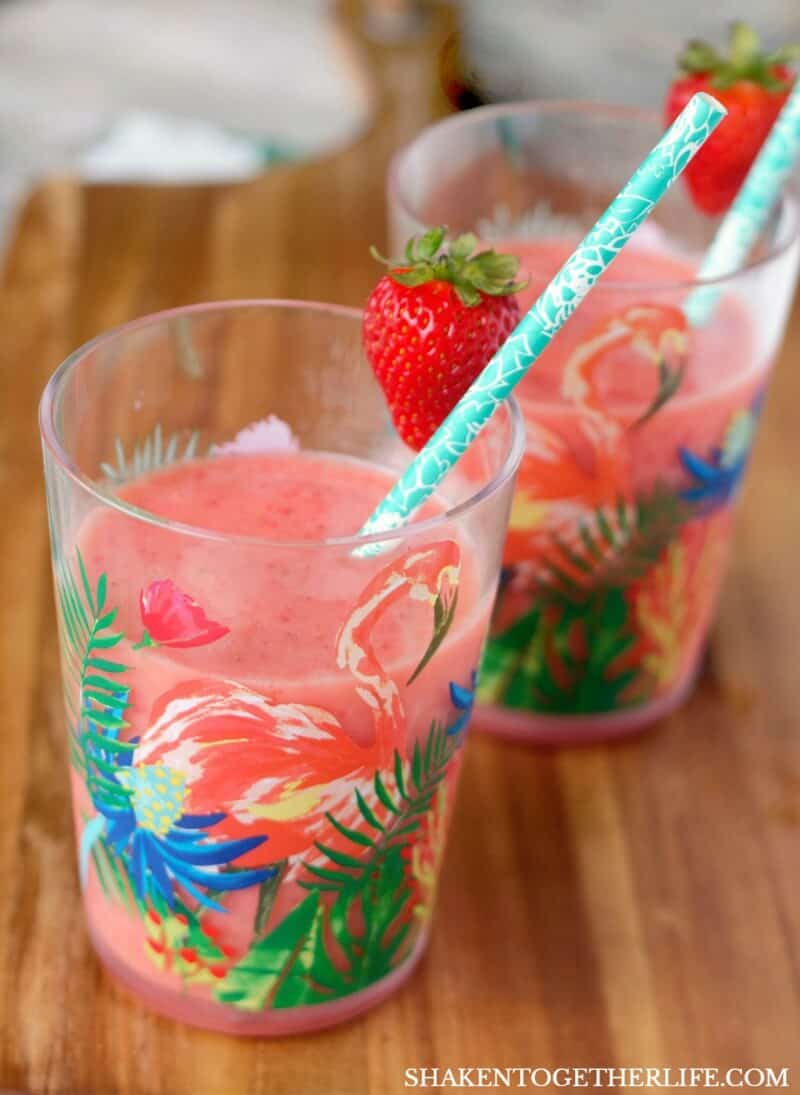 Here are a few of the tools and kitchen items that I used for this recipe:
2 Ingredient Strawberry Orange Smoothies
Ingredients
For each smoothie:

8

oz.

of orange juice

1

cup

frozen strawberries
Instructions
Blend the orange juice and frozen strawberries together until no large pieces of the berries remain.

Garnish with a fresh strawberry and enjoy!
Recipe Notes
Try different orange juice blends (orange pineapple, orange banana, etc.) for a twist on this easy smoothie. If you prefer a sweeter smoothie, add your favorite sweetener to taste.
These 2 ingredient Strawberry Orange Smoothies will be the tastiest part of Summer!!
More Frozen Drinks to Wet your Whistle!