Wondering what to eat with sweet potato fries? We have 15 delicious ideas to inspire your next meal.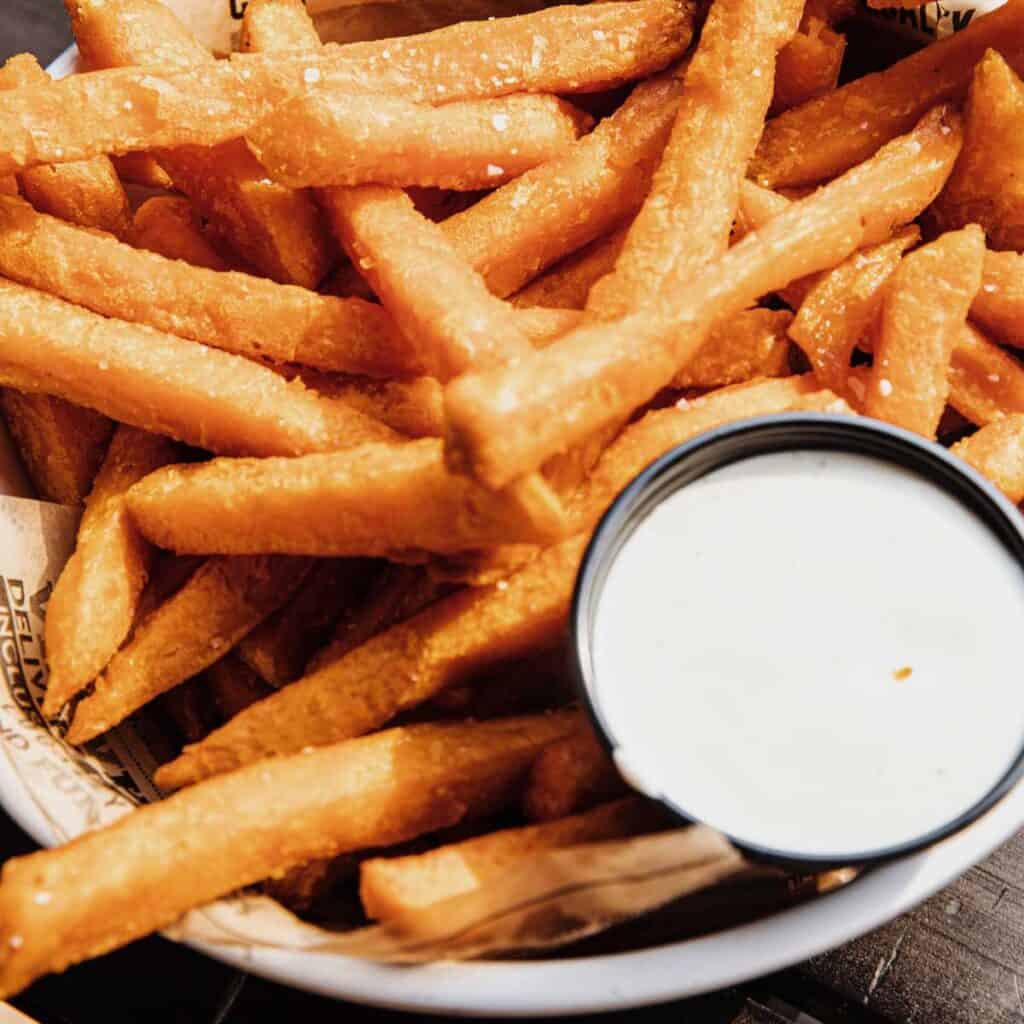 If you're like me, sweet potato fries are almost impossible to resist. Loaded with fiber, vitamins, and minerals, sweet potato fries are definitely a healthier choice than regular fries.
As delicious as they are on their own, they make for the perfect healthy side dish for so many dishes. But with so many different possible combinations, what's the best way to serve these tasty morsels? Here are some of the best dishes to pair with sweet potato fries for a flavorful meal.
Why Sweet Potato Fries are So Versatile
Sweet potato fries are incredibly versatile, making them the perfect accompaniment to a wide variety of dishes. Their unique sweet and savory flavor profile allows them to complement both sweet and savory dishes, adding a delicious twist to any meal.
Whether you're craving something hearty or something light and refreshing, sweet potato fries can be easily paired with a range of flavors and cuisines.
From burgers and sandwiches to salads and stir-fries, their versatility knows no bounds. So get ready to explore all the wonderful possibilities and discover why sweet potato fries are a food lover's dream.
Sweet potatoes are one of the best side dishes for so many meals. Here are 15 recipes that pair perfectly with sweet potato fries!
Sweet potato fries pair perfectly with the classic mix of beef patties, fresh vegetables, and condiments as an alternative to regular french fries. Add some flavor with a topping of melted cheese, grilled onions, avocado, and even bacon.
2. Philly Cheesesteak Sandwich
This combination makes for a great twist on a classic dish. The sweet potato fries provide a naturally sweet flavor that is contrasted with the savory flavor of the classic cheesesteak.
3. Fried Shrimp
Sweet potato fries are a delightful addition to a plate of fried shrimp. They provide a delicious balance to the crunchy shrimp with their soft, sweet taste. Serve them with a creamy dip like aioli or tartar sauce and you can't go wrong!
4. Fish and Chips
Everyone loves this classic combo, add a variation with sweet potato "chips". Choose a thick, white fish such as cod or haddock and deep-fry until golden and crunchy. Serve with homemade chips made from thinly sliced sweet potatoes to make crispy fries. Sweet potato fries are a great way to liven up this dish. Top with malt vinegar, ketchup, or tartar sauce for an added flavor.
5. Grilled Steak
A simple way to enjoy high-quality cuts of steak is to season them lightly and grill to perfection. Serve with delicious sweet potato fries for something different than regular potatoes and you'll have a meal that will surely please the whole family. Add dipping sauces like honey mustard sauce or your favorite dipping sauce for this great side dish.
This is a classic dish that the whole family will love. Prepare a simple mixture of ground beef, tomato sauce, and seasonings and pile onto toasted hamburger buns. Serve with a side of sweet potato fries made in the air fryer for a hearty meal.
Sweet potato fries have a slightly sweeter flavor than regular fries, and they balance out the smoky, savory flavors of barbecue chicken. Bake your sweet potato fries with parmesan cheese for more flavor. The starchiness of the root vegetables also helps to fill you up, so you will be satisfied after the meal.
8. Chili
Grab your favorite sweet potato fries recipes for this twist on the classic chili cheese fries that are surprisingly delicious. Add a creamy cheese or stick with chili and sweet potatoes, this makes a great option for an appetizer or side dish for a cookout.
9. Chili Cheese Dogs
Gooey, cheesy goodness with just the right amount of crunch. If you are looking to add something special to your hot dogs, then sweet potato fries should definitely be your side of choice. Try air frying or baking your sweet potato fries for a healthy alternative to regular deep-fried fries.
10. Grilled Cheese Sandwich
A classic childhood favorite that adults still crave. Make your sandwich extra special by adding cooked bacon, tomatoes, and your favorite cheese. Serve with a side of sweet potato fries for a filling and satisfying meal.
11. Tacos
Tacos and sweet potato fries may not sound like the perfect pairing, but you'll be pleasantly surprised. This delicious side dish is also a great choice if you're feeding kids at this taco dinner.
12. Loaded Sweet Potato Fries
When serving loaded sweet potato fries, some popular accompaniments are chile con queso, sour cream, chili, bacon, guacamole, jalapenos, shredded cheese, and onion. You can also top them with other classic favorites like chili, salsa, vegan cheese, vegan sour cream, scallions, or olives. For a real treat, add some buffalo sauce for a kick of flavor.
13. Fried Chicken
The perfect combination of protein and crunch when served with crispy sweet potato fries. The flavor combinations of the savory chicken and the subtle sweetness of the orange sweet potatoes will be a hit!
Spicy and crunchy, these chicken tenders are the perfect game day snack. Start by marinating cut chicken breasts in hot sauce and then roll in breadcrumbs. Bake in the oven until cooked through and serve with a side of homemade sweet potato fries.
This meal is easy with simple ingredients and plenty of flavor! Bake your wings and sweet potato wedges and dip them both in any sauce you like. This is a great game day healthy meal. Make a dipping bar of different flavors of sauce to choose from. Add extra heat and a little extra flavor with some spicy wing sauce!