Did you know that there is an entire week devoted to random acts of kindness? In 2016, you can celebrate it February 14th - 20th! So I thought it would be fun to scour the internet and put together a list of 50 Random Acts of Kindness for Families! I can't wait to pull some of these off with our boys!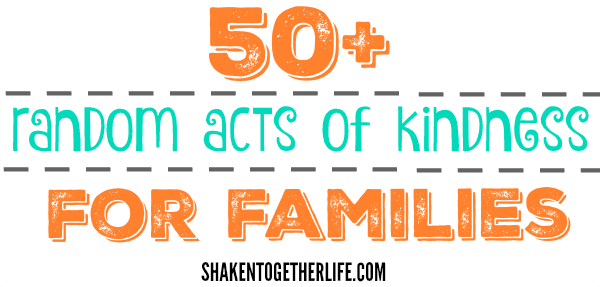 If you have been a long time reader here, you may remember that during my boys' holiday break from school, we normally like to do a few random acts of kindness or RAKs. You know, pay for someone's coffee in line behind us, take cookies to the fire station, tuck lottery scratch off tickets randomly around our grocery store ... just a feel good find for someone who may need a little pick me up.
50 Random Acts of Kindness for Families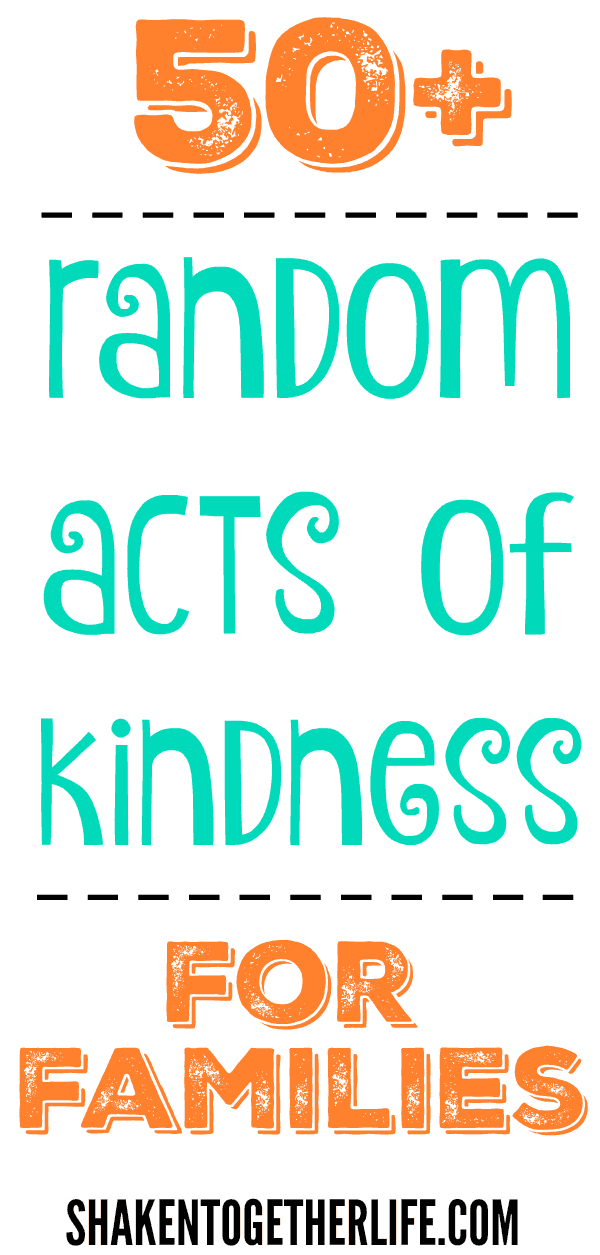 Some require a few bucks and some of these are completely free. Some suggestions require a few minutes of your time and some require a little bigger investment of your time. All of them will help share a smile and some goodwill in your community, so give a few a try!!
Leave a RedBox code or a pack of microwave popcorn at the RedBox machine
Give a few dollars for whatever school club, cub scout pack, sports organization, etc. is outside of the grocery store
Load groceries for an elderly person or parent with small children
Pay for the coffee or meal behind you in the drive through line
Leave coupons tucked next to the product on grocery store shelves
Leave coloring books & crayons or activity books in the kids section of your local urgent care facility.
Put sticky notes with encouraging phrases on all of the mirrors in the bathroom.
Give a stranger a compliment
Watch for pet food sales and donate the food to a local shelter
When shopping for groceries, take advantage of the buy 1 get 1 free sales and donate the free items to a local food bank
Make blessing bags (with travel size hygiene products, bottled water, granola bars, etc.) and pass out to homeless men and women
Hide bubbles or sidewalk chalk around your neighborhood
Have a local area where families go to feed ducks, turtles, etc.? Leave lettuce and baggies of oats (this is much better for the wildlife than bread) in a box with a note
Make breakfast for your garbage collectors
Leave a snack/drink in your mail box for your mail carrier
Hide dollar bills in the toy section of the dollar store or at the Target Dollar Spot.
Donate school supplies to a local homeless shelter or elementary school
Take a meal to an elderly or sick neighbor
Set up a free lemonade or cookie stand in your neighborhood
Pay the toll for the car behind you
Bake cookies or take lunch to your local fire station or police station
Leave "heads up" pennies in a parking lot - especially somewhere that children frequent
Stash water/sports drink at your local park or sports field
Leave a generous tip for your server
Restock the break room fruit bowl
Have a talent or skill? Offer it to someone for free!
Treat a friend to a Groupon
Leave flowers on a stranger's car
Cheer for every player on a sports team
Gift your favorite encouraging/uplifting smart phone app to someone
Mow your neighbor's lawn
Take in the trash cans for your neighbors after trash collection
Make a basket of items to leave in a shared restroom: gum, travel sized hair spray, hand lotion, etc.
Buy the coupon book from your friend's kid - if you won't use the coupons, share them with coworkers, friends & neighbors
Write encouraging messages on the sidewalks with chalk at your local park
Have a favorite book? Leave a brand new copy for someone in a waiting room.
Grab coffee or hot chocolate for the other parents at practice on a cold day
Leave pool toys or goggles at the community pool
Leave thoughtful comments on 10 Facebook friends' status or photos
Take a basket of travel tissue packs, mini hand sanitizers, character themed bandages and other helpful items to your pediatrician's office.
Flower bomb your neighborhood by leaving bright colored, inexpensive potted flowers for your neighbors
Cold outside? Buy old scarves from your local thrift store (or even make them yourself) and tie them around trees, benches, etc. with a note offering them to people in need.
Kids counting out change for a little treat at the store? Step in and pay for it!
Leaving payment for your lawn person or housekeeper? Add a $5 gift card for lunch or a snack.
Have lunch delivered to a friend who you know is having a rough week.
Deliver treats to the nurses station at a nursing home, the folks at your vet office, your pediatrician, etc.
Tuck a few dollars in children's birthday cards in the card section of a store.
Spend some time showering a little love on the pets that are up for adoption at your local pet store.
Donate the proceeds from your yard sale to a local charity.
 A Few Tips for Planning & Completing Random Acts of Kindness
Recruit your friends and family - for example, post on Facebook that you are making blessing bags and ask local friends to donate any of the travel sized shampoo, conditioner, bars of soap, etc. that they may have picked up during their travels
Watch the sales flyers - buy one, get one free sales, back to school sales, seasonal sales, etc. are a great way to pick up extra items that can be used in a RAK
Look for restaurants that offer a promotion for extra gift cards with a purchase (especially around the holidays) - this is a great way to save a little money and share a RAK
Want to hold a yard sale to raise money for a charity? Ask friends and family to donate unused items in good condition. They get to clear out some clutter and your charity gets a little more cash.
Call ahead to nursing homes, homeless shelters, schools, food banks, animal rescues, etc. to see what their specific needs are and if they have policies that might affect your RAK (for example, if only purchased food - not homemade - items are accepted).
Here are a few more of my favorite family posts here at Shaken Together!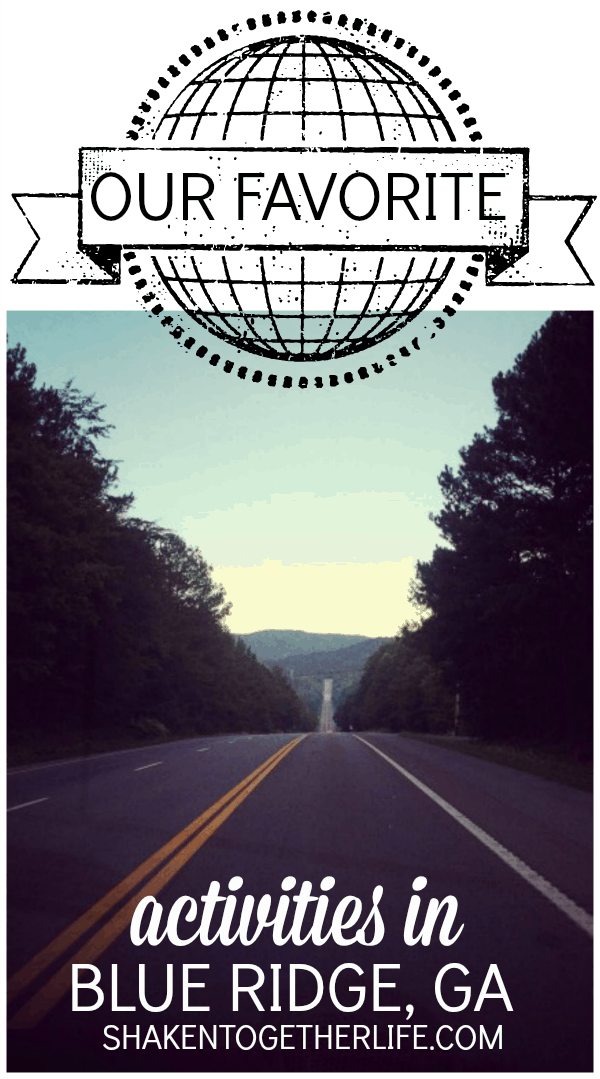 Our Favorite Activities in Blue Ridge, GA!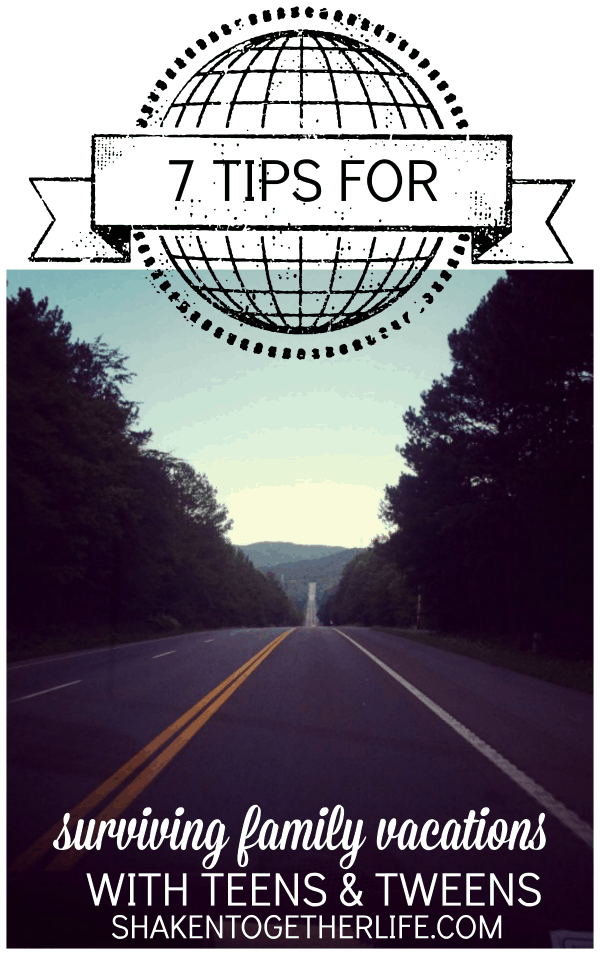 7 Tips for Surviving Family Vacations with Teens & Tweens
 Our 50 Acts for Random Acts of Kindness for Families may be shared here: