Okay, I've done it ... my first Christmas-y post before Thanksgiving! BUT, with all of the great sales that are sure to be found on Black Friday and Cyber Monday, I wanted to share these teacher gifts with you now, so you can be on the look out for the stuff to fill yours while you shop!

My 10 year old Little Bug has the most awesome teachers this year! He is in the gifted program and his teachers are forward thinking and encourage he and his classmates to think and work beyond just worksheets and memorization. It it such an encouraging and creative environment and he is LOVING 4th grade! He has written poetry and plays and created an entire Indian village ... just in the first 9 weeks!

So, in our eyes, his teachers really are "worth a mint"! What better way to celebrate them during the holidays then with a fun mint themed gift ...
"you're worth a mint" teacher gift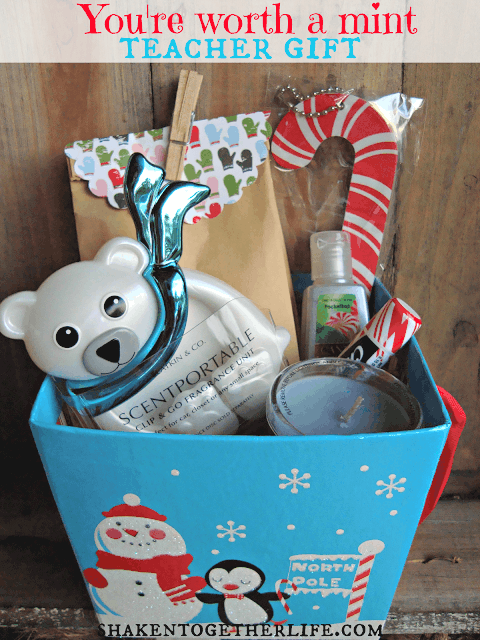 I decided on a bright color combo of red, white and turquoise and I was inspired to fill them with all things mint once I saw the red/white striped interior of these little $1 paper buckets we picked up at Walmart. These gifts are easy to put together and we didn't break the bank! Here is what we tucked inside:
Candy Cane chapstick

Candy Cane Bliss hand sanitizer from Bath & Body Works

A polar bear Scentportable (air freshener) - he fits right in with the penguins on the paper basket and a Twisted Peppermint scented insert - both from B&BW

Twisted Peppermint candle also from B&BW

Candy Cane shaped nail file from Pier 1

A mini lunch bag stuffed with the makings of mint hot chocolate for two: two packets of instant hot cocoa mix, a little bag of Andes peppermint crunch chips and a bag of peppermint marshmallows! I added a scalloped circle punch and a mini clothespin to the bag for a little more holiday cheer!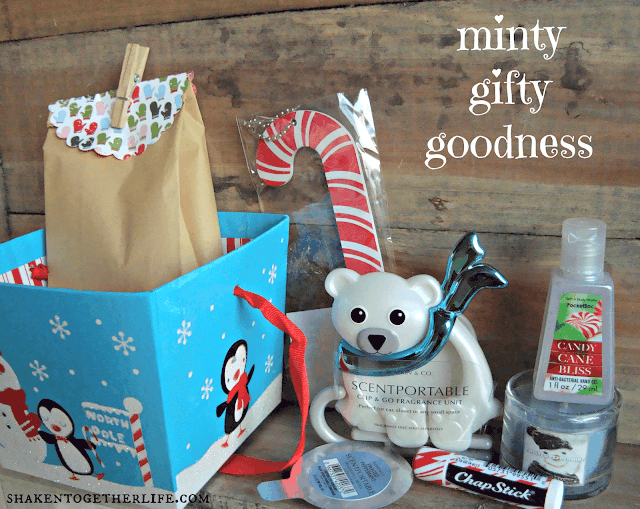 Believe it or not, these gifts squeaked in under $12 each! With sales from B&BW, the hand sanitizers were only $1 and the Scentportables and inserts were B3G1F, so I was even able to stock up on a few more little gifts to have on hand, too. To finish these minty teacher gifts, I'll probably tuck a gift card for a coffee shop so they can splurge on a Peppermint Mocha!!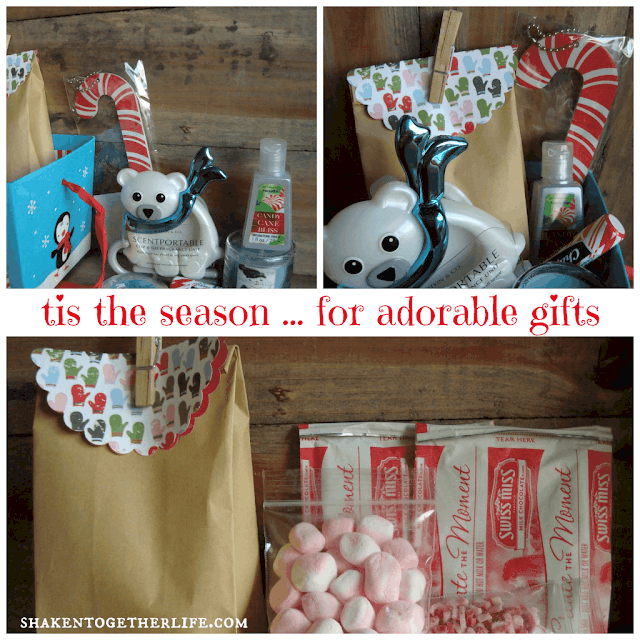 Need a few more thoughtful gifts for the best teachers in your lives?
"Hands down, you are the best teacher" gift