Welcome to another peek into our kitchen and dinner table! This week's menu plan has some of my favorite meals: Chicken, Burgers & Pizza!! We're still eating healthy and if you have a busy family like ours, you'll want to check out What's for Dinner?!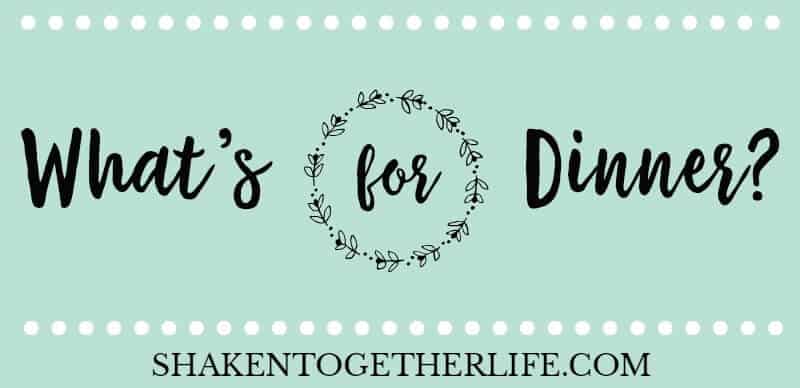 I don't know about you, but I find that by putting together a menu plan for the week and doing some weekend meal prep, our busy week nights (and even any nights with rare free time) are way less stressful! It also helps us stay on track with healthy eating
What's For Dinner? #2 – Chicken, Burgers & Pizza, Oh My!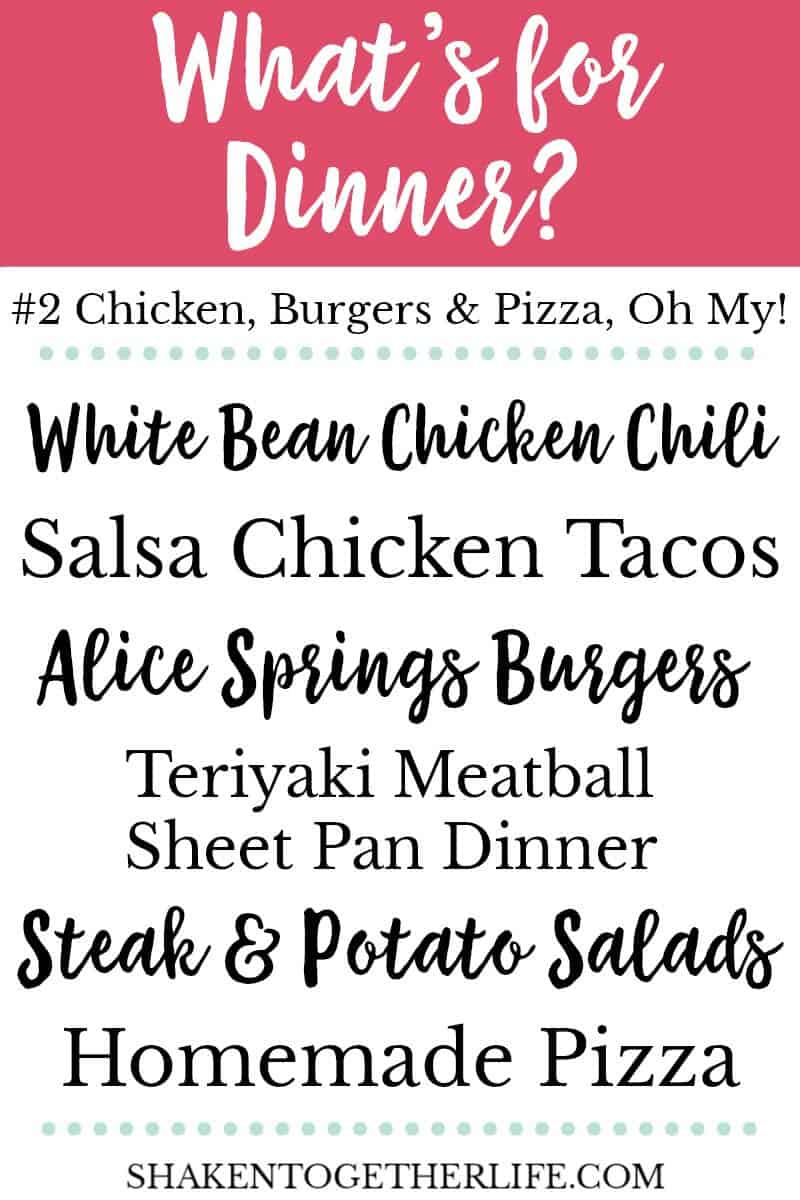 **P.S. I may link to some of my favorite ingredients, kitchen tools or fun finds via Amazon – if you click through and make a purchase, I receive a small commission (at no additional cost to you!) which helps keep the kitchen stocked, this blog up and running and free recipes and meal plans coming your way!
Meal 1 – White Bean Chicken Chili
Hands down, this White Bean Chicken Chili recipe from Mel's Kitchen Cafe is our favorite. Since I was a slacker and didn't make the Italian Sauteed White Beans from last week's menu, I transitioned the beans to this dish 🙂 You can serve this with garlic bread, oyster crackers or spoon it over rice.
Meal 2 – Salsa Chicken Tacos
This is another easy slow cooker meal. I make a batch of this Slow Cooker Shredded Chicken on Sunday and then we can use it for tacos, quesadillas, chicken taco salads or nachos. Just add shredded lettuce, sour cream, extra salsa or your favorite taco toppings.
Meal 3 – Alice Springs Turkey Burgers
Our Alice Springs Turkey Burgers are a riff on my favorite chicken dish from Outback Steakhouse. Once we grill turkey burgers, (honestly, we just use the frozen Butterball Turkey Burgers but you could make your own) I will top them with crispy turkey bacon, low fat cheddar cheese and BBQ sauce for flavorful burgers! I'll probably serve veggies or sweet potato fries on the side.
Meal 4 – Teriyaki Meatball Sheet Pan Dinner
Since I don't always have time to fire up the grill and make skewers, I started making these Grilled Teriyaki Meatball Skewers into a sheet pan dinner. (For any baking or sheet pan meals, I absolutely LOVE my Threshold sheet pans and Reynolds parchment sheets.) Just chop up fresh pineapple and bell peppers into chunks about the same size as your favorite frozen meatballs (we use turkey). Place the meatballs, pineapple and peppers on the sheet pan and brush them with teriyaki sauce. Bake at the temperature indicated on your meatball package and continue brushing everything with teriyaki sauce a few more times while baking. Once the meatballs are heated through and cooked thoroughly, serve over rice and dinner is done!
Meal 5 – Steak & Potato Salads
Since bags of mini potatoes were buy 1, get 1 free at my local grocery store last week, I wanted to use the second bag for a meal this week. So, cue another batch of roasted potatoes 😉 For a quick marinade, I use Dale's Steak Seasoning (the low sodium version) and pop the steak in a zip top bag for an hour or two before we grill it.
Meal 6 – Homemade Pizza
This is nothing fancy, but it satisfies my intense love for pizza. (Check out allllll these fun pizza recipes here at Shaken Together!) I seriously love pizza but I don't want to spend the money or sacrifice a week of healthy eating for delivery pizza.  I buy fresh whole wheat pizza dough at my local grocery store or just use thin crust Pillsbury pizza crust. We use the Publix brand pizza sauce (it's my fave!), low fat shredded mozzarella cheese and just add what ever toppings we have on hand. This is a great way to use up leftover protein from the week, the extra veggies from other meals or just add some extra cheese and bake it up bubbly and delicious!
Meal 7 – Leftover / Dinner Out
For this week, since we'll have extra Salsa Chicken and White Bean Chicken Chili, I figure we'll do leftovers or a rotisserie chicken meal for day 7 of the week. Or maybe, if I play my cards right, we just may splurge on a dinner out!
Do you have any great meal prep suggestions? Meals you would like to see here on the blog on our meal plan? Questions about how I put together our menu plan? Let me know in the comments!