Need to get out of your dinner rut? Need easy meal ideas for your busy lifestyle? I am sharing our family's real deal, every day, super simple meal plan every weekend! So, get our your grocery list and take a peek at what we're eating this week.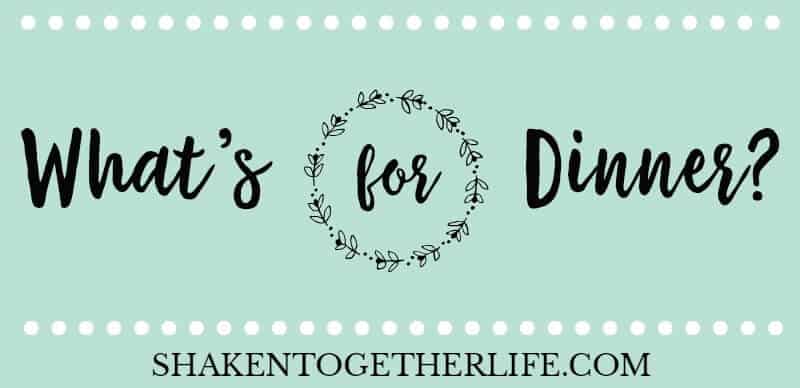 So, just a few things before we kick this meal plan thing off:
First off, we are a family of 4 – two adults and two teenage boys – so plan accordingly 😉
Our family is trying to eat meals that are lower in saturated fat right now
We are eating less red meat, too, so don't be surprised if it only shows up once a week or some weeks not at all
We are trying to get lots of veggies and less carbs but carbs will still make an appearance
While we try to use whole foods, fresh produce and minimally processed foods, sometimes I do use prepared food sparingly
I am not a dietitian or nutritionist … I am just a regular mom, trying to feed her family quick healthy meals
I would LOVE to hear your suggestions in the comments, so please make sure to share your favorite easy meal ideas for busy families!
Okay, so now … what's for dinner?!
What's for Dinner? Easy Meal Ideas for Busy Families!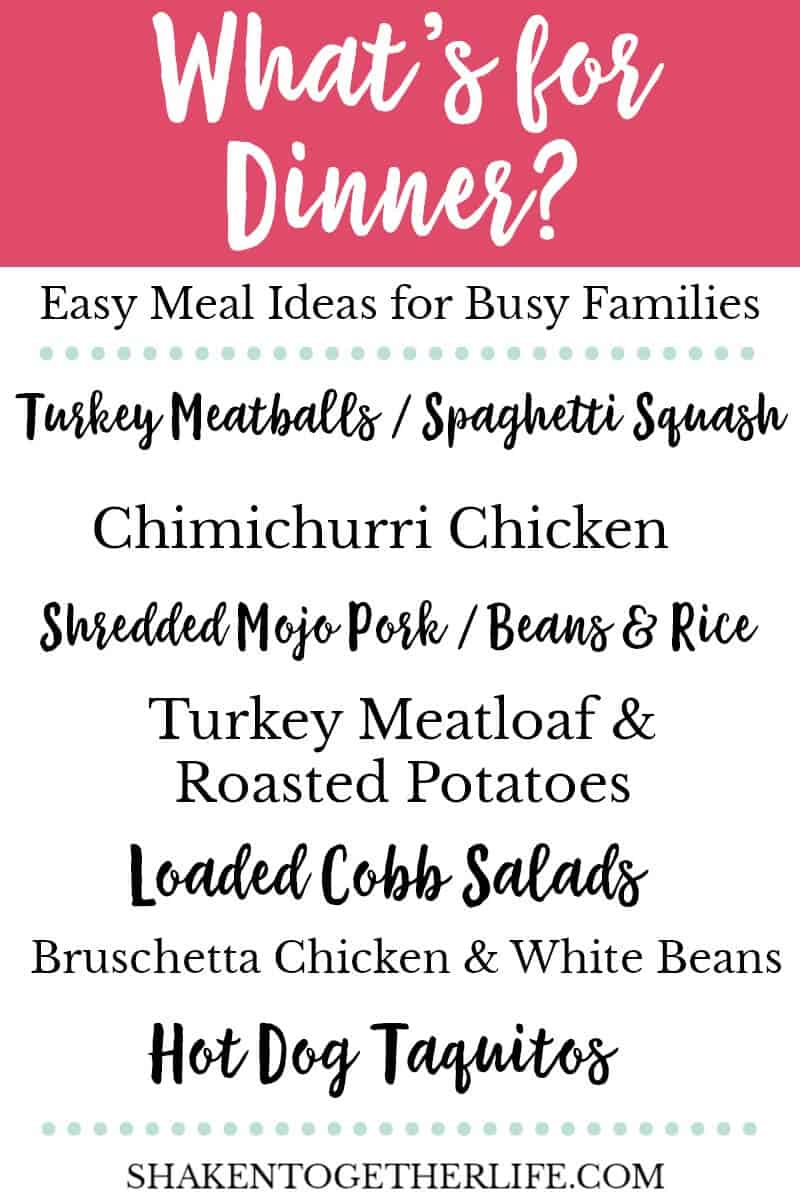 If you just want to save this for later, go ahead and pin it!
**P.S. I may link to some of my favorite ingredients, kitchen tools or fun finds via Amazon – if you click through and make a purchase, I receive a small commission (at no additional cost to you!) which helps keep the kitchen stocked, this blog up and running and free recipes and meal plans coming your way!
And now … here are the details!
Easy Meal Idea 1: Turkey Meatballs & Spaghetti Squash
I made a batch of these herbed turkey meatballs. They can be mixed up in one bowl and I just use a cookie scoop to portion out about 24 meatballs. Instead of pasta, I am going to roast spaghetti squash to replace the noodles. I used this method to cook spaghetti squash. Finally, top the spaghetti squash and meatballs with your favorite pasta sauce – I normally just pick up whatever is on sale at Publix.
**Click the picture of my favorite cookie scoop for all of the details:
Easy Meal Idea 2: Chimichurri Chicken
Each weekend, we grill a big batch of chicken cutlets. We use them for a ton of easy recipes (so don't be surprised if these make a cameo each week) like this Chimichurri Chicken. I'll probably serve this with a cucumber tomato salad or add a simple side salad.
**We use my 3 Ingredient BEST Chicken Marinade to make our chicken each week!
Easy Meal Idea 3: Shredded Mojo Pork / Beans & Rice
I've got this slow cooker mojo pork in my slow cooker now. (Look for the sour orange juice in the Latin/International Foods section of your grocery store.) Once this is fork tender, I'll shred it and serve this with rice and black beans. Chris and I will add sliced avocado, maybe some cilantro and the boys will probably do a veggie or salad, too.
**What is sour orange juice? Click the picture for details:
Easy Meal Idea 4: Turkey Meatloaf & Roasted Potatoes
So, my turkey meatloaf was a last minute addition because I had purchased a 3 lb. container of ground turkey. This is what I decided for the 'recipe': 2 lbs. ground turkey, 1 beaten egg, 1/3 cup seasoned bread crumbs, 2 teaspoons of Worcestershire sauce and a packet of meatloaf seasoning mix. I made a batch of my classic crispy roasted potatoes and seasoned them with salt, pepper and dill. Sometimes I'll make roasted green beans or roasted broccoli to accompany meatloaf.
**Click on the picture for detail on the meatloaf seasoning packet I used:
Easy Meal Idea 5: Loaded Cobb Salads
This is SUCH an easy meal idea. Top fresh romaine lettuce or mixed greens with hard boiled eggs, crumbled turkey bacon, ham and turkey (I have it cut thick at the deli), avocado, tomatoes and cheese. I am making the vinaigrette from my Crispy Chicken Cobb Salad Wraps because I always have the ingredients in my fridge and pantry and I just shake it up in a mason jar.
**You may love these Cuban Cobb Salads, too!
Easy Meal Idea 6: Bruschetta Chicken & White Beans
This is another easy easy way to use grilled or roasted chicken – top it with a flavorful bruschetta packed with tomato, garlic, basil and balsamic vinegar. I'm trying this Bruschetta Chicken recipe this week. Believe it or not, my boys love these Italian sauteed white beans, too. They are a quick side and depending on what I have on hand, I may leave out the roasted red peppers and substitute dried basil for the fresh basil.
**Give this chicken a little Greek flair and make 5 Ingredient Feta Bruschetta!
Easy Meal Idea 7: Hot Dog Taquitos
This is the recipe inspiration for these Cheesy Hot Dog Taquitos. Yep, I said hot dogs. I did a little research on healthy hot dogs for this recipe – there is such a thing, I guess, ha ha. I picked up Applegate Natural Uncured Turkey Hot Dogs at Walmart. I used low fat cheddar cheese and small whole wheat tortillas. These are a Friday meal for sure. 😉 And they are easy to warm up and munch in the car on the way to practice or conditioning.
Okay, so did you find our menu plan of easy meal ideas helpful? Do you have any questions? Anything else you would like to see? I'll be back next weekend with another week of easy meal ideas for busy families!