Ok, I'll admit it … I LOVE cheesy sayings!  Like my "corny" Valentine candy corn gift and the "I am nuts about you" circus peanut Valentines.  I can't help it … give me a pun, a play on words or a clever little quote and I am hook, line, sinker!!  And Valentine's Day is the perfect outlet for these little treats inspired by one of my favorite lines from the movie, Forrest Gump!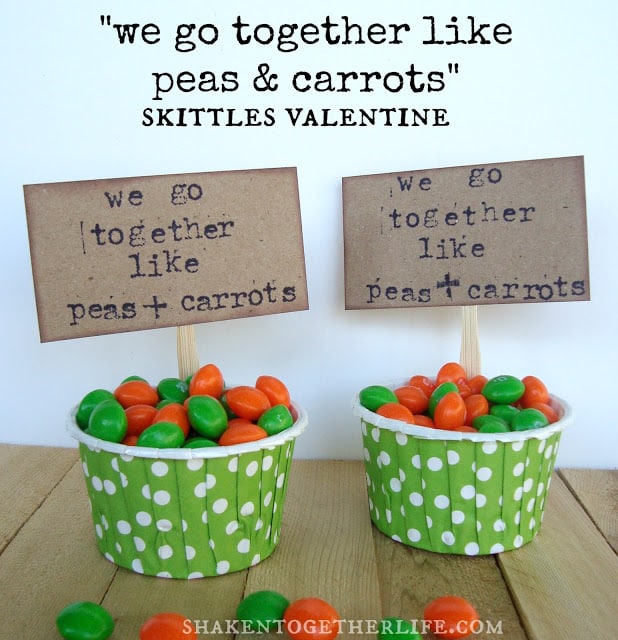 These might just be the cutest little "veggie" Valentines ever!  Okay, here is the quick list of what I used for these easy Skittles Valentines:
Skittles candies (you could also use M & Ms or any other candies that are green and orange)
Nut cups (I got mine from Pick Your Plum)
Kraft card stock
Ink pad and alphabet stamps
Wooden picks, toothpicks, lollipop sticks (something to hold the sign)
Start by sorting the bag of Skittles by color.  Fill a polka dotted nut cup with the orange and green Skittles – your peas and carrots!  Stamp a small kraft card stock sign to read, "We go together like peas & carrots".  Attach the sign to the wooden pick with tape or glue.  Stick the sign in the cup and you are done!

These would also be a great favor or addition to the dessert table for a farm themed or Veggie Tales birthday party, too!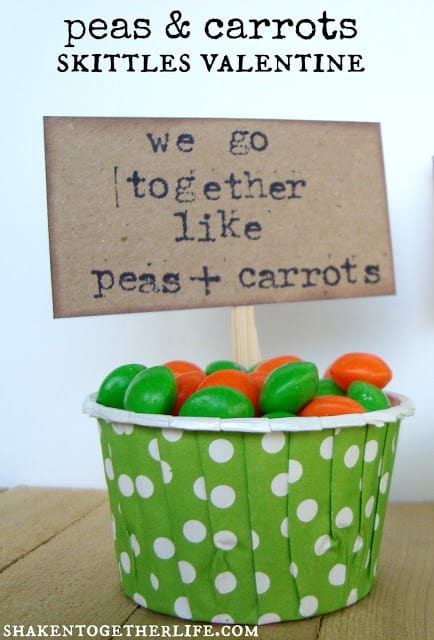 But what to do with the rest of that bag of Skittles?  Don't worry … I've got you covered!  Grab a few more polka dot nut cups, a few more cheesy sayings and start stamping!

Need more Valentine inspiration?