If you have spent any time here at shaken together, then you know that I love to share creative projects and make tasty things.. And this post combines those two very things: washi tape and cupcakes! This sweet little washi tape bow cupcake bunting is super simple to make and the colors can be changed to coordinate with just about any holiday or event decor!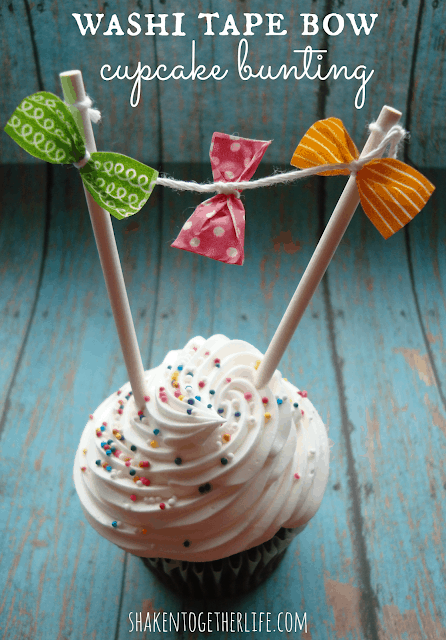 The supplies you will need to make this bunting are pretty basic: washi tape, twine and lollipop sticks. Why lollipop sticks? Toothpicks were too short to clear the mound of sprinkled frosting and I didn't have any short bamboo skewers.
Now, how do you make a washi tape bow?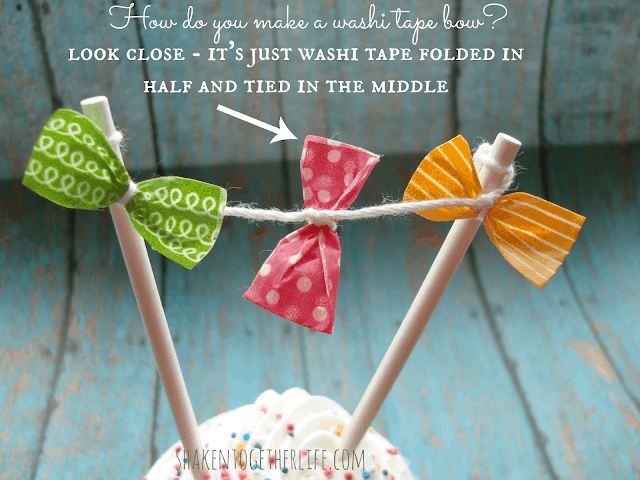 1. Fold a length of washi tape over on itself.
2. Squish in the middle and tie on your length of twine.
The toughest part about making these bows is lining up the edges of the washi tape and not letting it stick to itself too soon. It's definitely not rocket science but these washi tape bows are just so cute!! Tie the bows on a length of twine and then tie the ends of the twine around two lollipop sticks. Add the bunting to your favorite cupcake for instant adorable!
You could absolutely make a larger version of the washi tape bow cupcake bunting for a full sized cake. These would be the most adorable bow ties for a "little man" party or go with a black and gold version for an elegant black tie affair!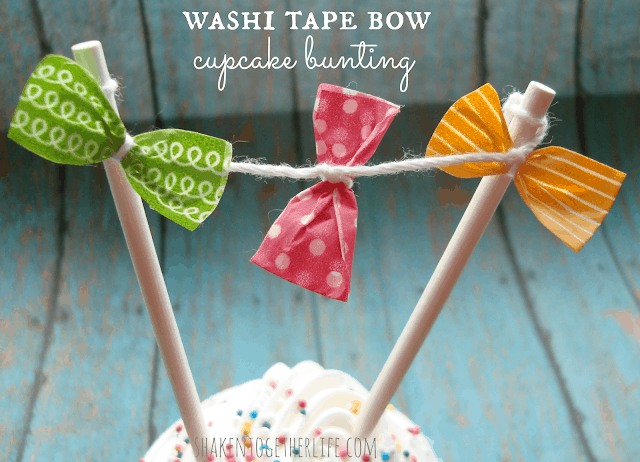 More washi tape? Well, you are in luck ... a few more of my favorite washi tape projects!
Organize iPhone chargers with washi tape
Chalk board bird
Monogrammed cork board tile with washi tape flag bunting