It is not very often that you get to witness a real life fairy tale love story unfold before you. But I have! The story of my mom and her soon-to-be hubby is sweet and moving and beautiful and perfectly ordered by God. She has found a man to hold her hand, tell her she is beautiful, support her in everything she sets her heart or mind to, laugh with her and grow old with … after an almost fourteen year long "season of singleness". It is a Hallmark movie just waiting to happen 🙂
So, when there was talk about a wedding shower, I was in, in a BIG way!! Hello, vintage love birds wedding shower!!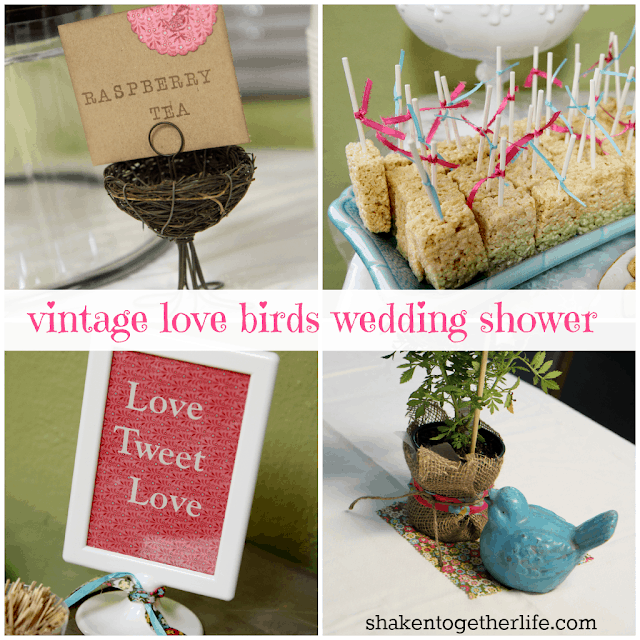 Other than the food and gifts for the games, this sweet shower was put together on a serious budget and using things from my stash!! I purchased one fat quarter fabric bundle at JoAnn's with a coupon, 8 pretty little plants from my local Walmart, 8 wooden bird house picks on clearance at Hobby Lobby (part of the loot I picked up with my gift card from The Frugal Girls – thanks, Heidi!!), two wooden silver Ws and a wooden heart. My total out of pocket cost for craft supplies was less than $25!
I can't wait to show you all the big projects and the little details that I think make an event … first up, the drink table …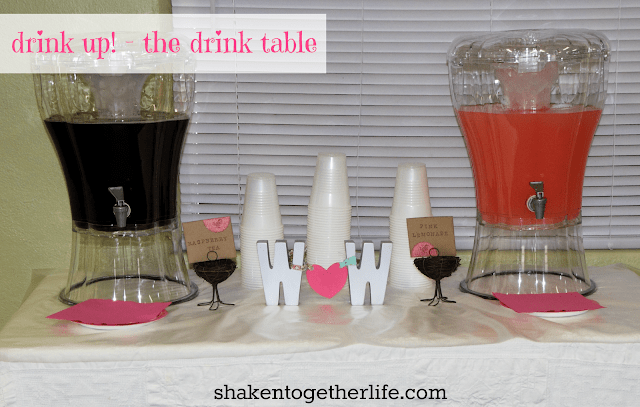 To keep it simple, we served raspberry iced tea and pink lemonade to drink. I stamped some kraft card stock signs and added a paper punch with a little bird stamp. The two little bird nests are from Pottery Barn ages ago. I painted a wooden heart from the craft store bright pink, punched holes in it using my Crop-o-Dile and tied it using some of the material scraps between two silver Ws … for William and Wendy.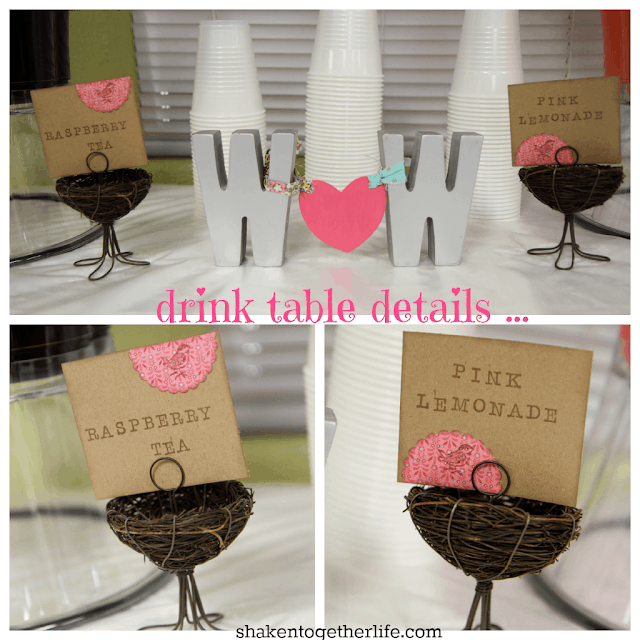 Instead of a traditional cake or cupcakes, I put together a 'Love Tweet Love' chocolate fountain table will all sorts of delicious dippers!!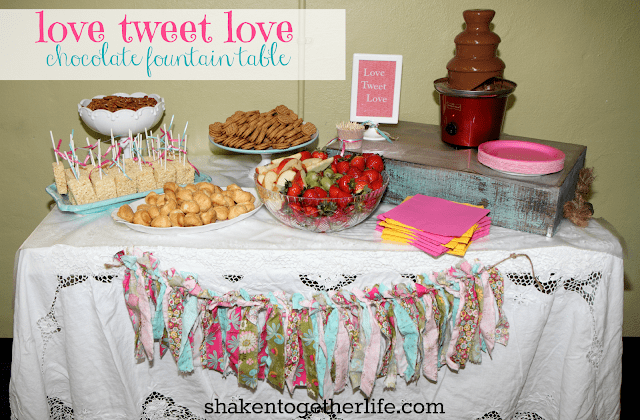 I ripped strips of the fabric I purchased and tied them to a piece of jute twine for the fabric banner. The gorgeous white lace tablecloth was found in a bag of plain white tablecloths that our church had … it was the perfect fabric for this table! I pulled out all of my vintage dishes found at local thrift stores and yard sales to pile in pretzels, cream puffs, Nutter Butter cookies, fruit and rice krispie pops!! Finally, I used my scrapbooking supplies and a $1 IKEA Tolsby frame to make the 'love tweet love' sign. I tied a few more scraps of fabric on the frame as well.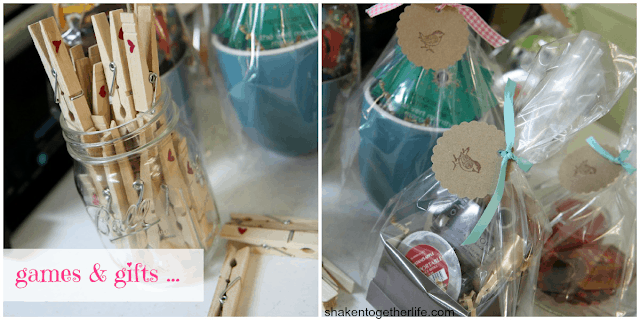 We played several wedding shower games:
The Purse Game (printable found here)
The Clothespin Game – our guests could not say wedding, Bill or honeymoon! I used a raspberry colored Sharpie to doodle hearts on the clothespins 🙂

The Name game – each guest got a famous woman's name taped to their back (TV personalities, cartoon characters, political figures, musicians, fictional characters, etc.) and had to ask yes/no questions to other guests to try to figure out who they were.
For the prizes, I gave away my mom's "favorite things" … a bucket full of chocolate, a pretty mug filled with Moroccan mint green tea bags and yummy smelling goodies from Bath & Body Works. On each gift, I tied a sweet little stamped bird tag.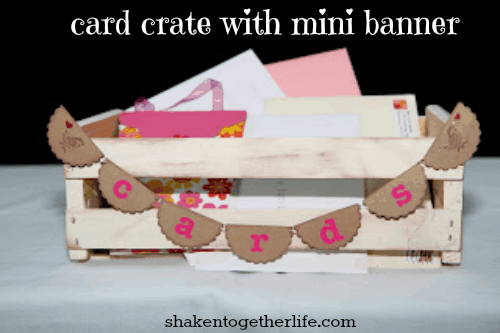 For a crate for cards on the gift table, I white washed a wooden crate and aged it a bit with brown ink. Using a few scalloped circle kraft card stock punches cut in half, I created a mini garland and connected the half circles with jump rings (used in jewelry making) and attached it to the crate. I used the same little bird stamp and letter stickers for the finishing touches.


Next to the gift table, I used two Pottery Barn Teen magnet boards ($4 yard sale find!) to display my mom's engagement pictures …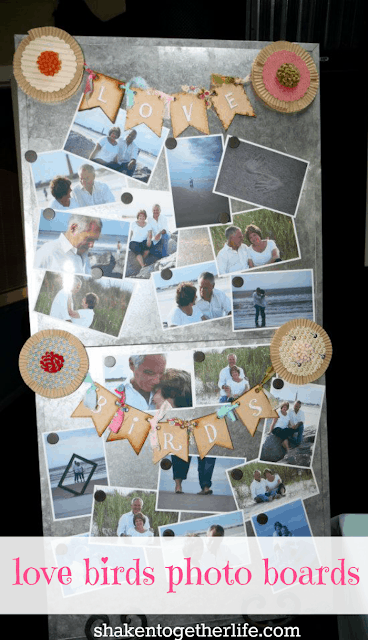 I made the "love birds" banners using Pick Your Plum wooden pennants, fabric scraps and chipboard letter stickers. To make the cute flower rosettes at either end, I used three kraft cupcake wrappers (each one folded in half and glued together in a circle), a large scalloped circle punched from scrapbook paper and a felt flower purchased at Michael's.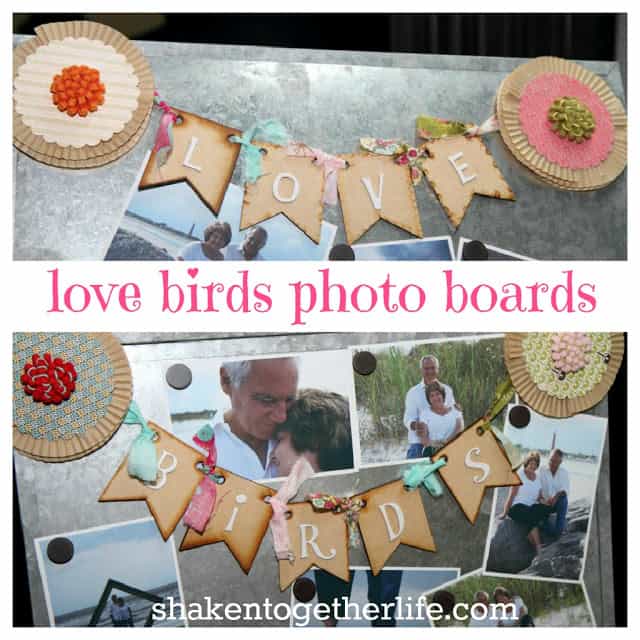 Each table had a flower center piece … a pretty plant that I wrapped in burlap, tied with a fabric scrap and placed a little wooden birdhouse pick in. I painted the birdhouses with acrylic paint to match the colors of the shower and tied on ribbons and fabric. I placed each plant on a square of fabric I cut with pinking shears and added a bird (snagged from my bird themed dining room!). Eight lucky guests left with a plant … I figured I was just saving them from my black thumb, ha ha!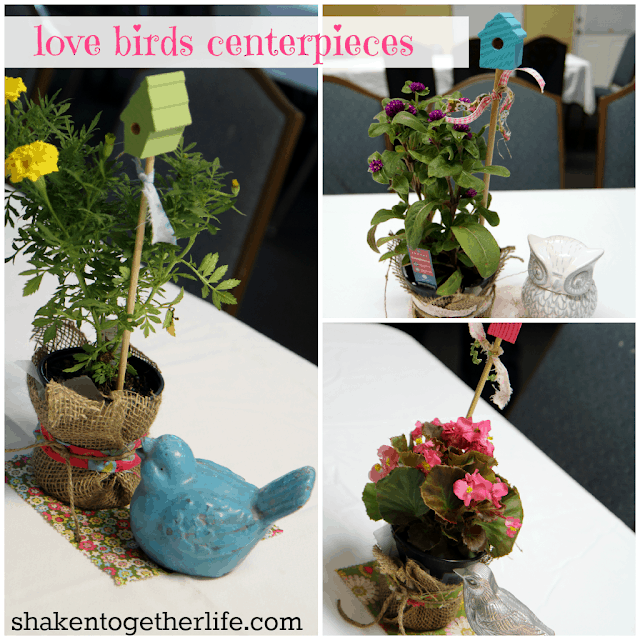 And here she is … my mom, my Little Madre, Mum …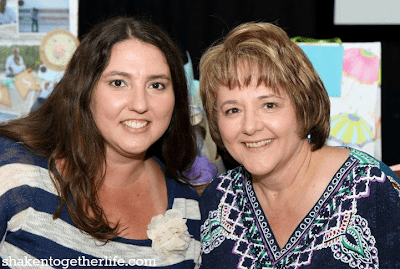 … I can't wait to watch her walk down the aisle in 6 days, watch her slip a ring on Bill's finger, see that relationship status change from single to married, hear "I now pronounce you husband and wife", be a witness as they start their new life together and celebrate as God's promise to her is completed!!

P.S. All of the amazing photos of the shower were taken by the lovely and talented Linda Wilson from Linda Wilson Photography. If you are in the Central FL area and need an experienced, amazingly patient, detail oriented photographer … Linda is your girl!

This recipe or project was shared at the blogs on my Link page!