I rarely venture into the garden section of any big box store. My green thumb is non-existent and yard work is 16,544th on my list of things to do. I just don't love things that grow in dirt and require TLC to keep them alive (my two boys excluded, ha ha!). But, I figured I would browse the end of Summer clearance aisle and meandered out to the humid mini jungle of my local Walmart. And bought the cutest little metallic owl (I snapped a pic in this Google+ album) and a few random terra cotta pots and saucers. Which worked out pretty perfectly because now I can show you how I used a terra cotta pot and saucer to make the cutest painted pumpkin for Fall!!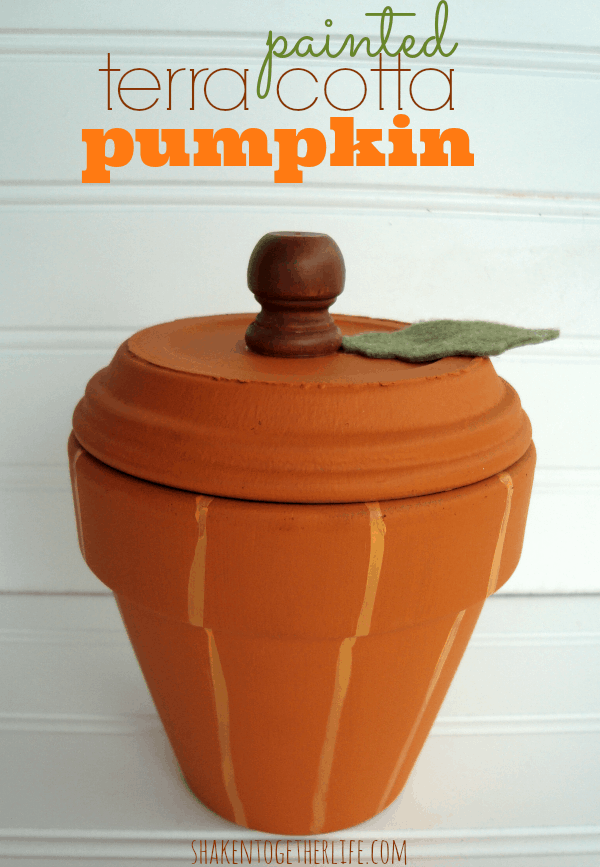 I didn't take any pictures of the process to paint this pumpkin. See, it was one of those rare occasions when I took a day off while Chris was at work and the boys were at school and I was just enjoying the murmur of Food Network, a little music from my iPhone and being creative. Sheer bliss. BUT, it is a very simple project, so I'll walk you through it step by step!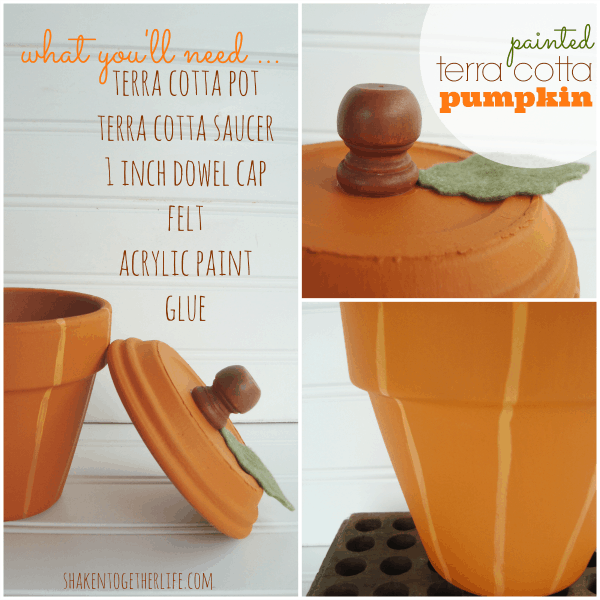 Use a cloth to wipe off any excess dust from your terra cotta pot and saucer and remove any pesky price stickers.

Paint a 1 inch wooden dowel cap with brown acrylic paint for the pumpkin stem. I used Americana Multi-Surface Paint in Coffee Bean and I picked up a package of two dowel caps in the unfinished wood section of my local craft store for under $2.
While the dowel cap dries, paint two quick coats of pumpkin orange acrylic paint on the terra cotta pot and saucer. For this project, since the saucer becomes the top of our pumpkin, you are actually painting the bottom of the saucer. I used Americana Multi-Surface Paint in Pumpkin Patch.
The paint dries quickly, so I was able to use a thin paint brush and Americana Multi-Surface Paint in Orange Sherbet to add some stripes to the bottom of my 'pumpkin'.
Finally, once all of the paint was dry, I cut out a leaf from mossy green felt and glued it on the inverted saucer with the dowel cap.
Wouldn't this cute little painted pumpkin be adorable with a bag of candy corn or mellocreme pumpkins tucked inside? Or a yummy Fall flavored munch mix? Since there is a drainage hole in the bottom of the pot and the lid is not air tight, you could also fill it with spicy cinnamon potpourri to add the subtle scent of Fall to your home!
How about a few more pumpkin projects?!
"You are the Pick of the Patch" Mason Jar Gift
Happy Fall Banner
Easy No-Sew Pumpkins