Life is busy, right? But it shouldn't be too busy for dessert! And in my house, dessert doesn't have to be complicated! I love to doctor up a store bought cake mix and add a three ingredient fluffy topping to make easy delicious cupcakes … like tres limones (three lemons) cupcakes, coconut cream poke cake cupcakes and these awesome banana pudding cupcakes!
And just in time for Valentine's Day, I whipped up these pink and pretty triple strawberry cupcakes!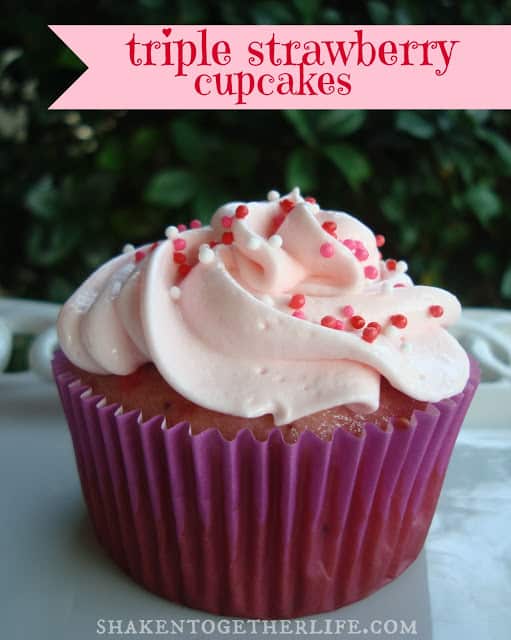 These cupcakes get a boost of tangy strawberry flavor from strawberries added to the batter … that simple change makes them taste like they were made from scratch! The frosting is light and fluffy (and easy on the waistline) and doesn't weigh the cupcake down … it is the perfect pink partner!
strawberry cupcakes

1 strawberry cake mix + ingredients to make the cake
Frozen strawberries, thawed & blended to make ⅔ cup*
*I blended the strawberries enough to be fairly liquid, but there were still small bits of berries.
Mix cake as directed but replace ⅔ cup of water with the blended strawberries. Bake as directed.
fluffy strawberry topping

1 small box of Jello strawberry creme instant pudding mix
1 tub Cool Whip (I used Lite)
1 cup cold milk (I used skim)
Mix pudding and milk with a hand mixer. Fold in the Cool Whip by hand and then use the hand mixer on the lowest speed to fully combine. Pipe the strawberry topping on the cooled strawberry cupcakes. Because this frosting has milk, I keep these cupcakes refrigerated until ready to serve. Add sprinkles just before serving if desired.
Here are three more of my favorite pretty in pink desserts:
Lemon Cookie White Chocolate Truffles
Double Decker Valentine Cookies & Cookie Pops