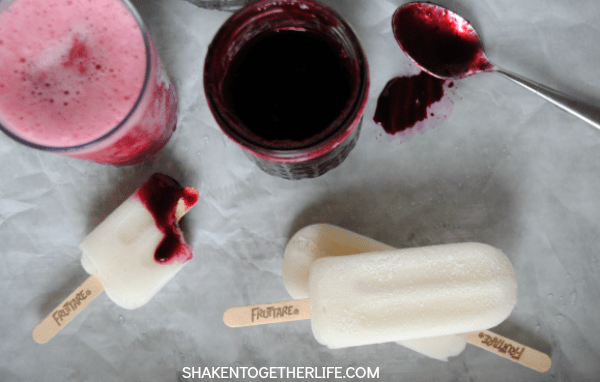 Ahhhhhh, sweet, sweet Summer time!  Tan lines, toes in the sand, pool days, grill outs, lazy weekends, flip flops, sunscreen … that is pretty much the formula for our perfect Summer!  And if you throw in a something wildly delicious to drink – BINGO!  But if you want to hit the Summer lottery jackpot of awesome, you are going to need this:
Triple Berry Lime Slush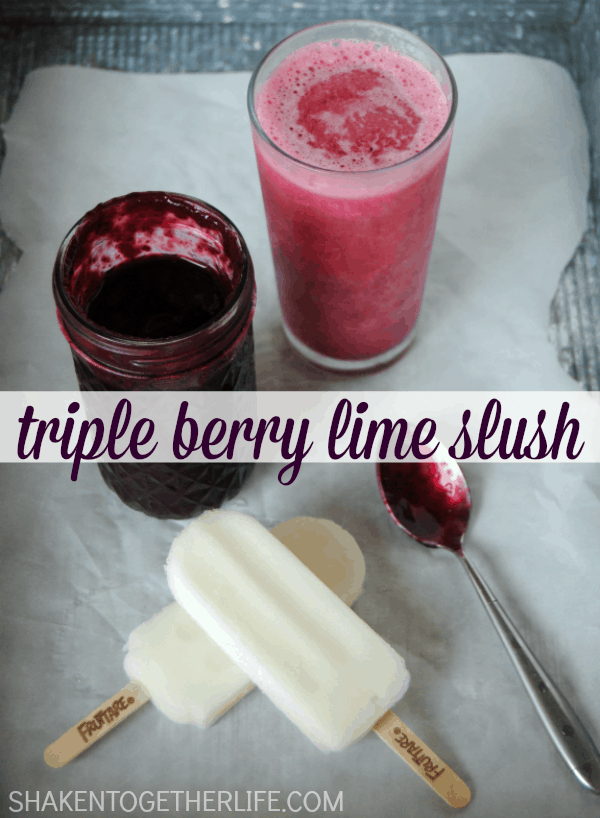 We are practically living on frozen fruit bars these days.  Like absolute necessity. Home from work, shoes off, hair up and head for the freezer.  Remember those boxes of Lime and Mango Fruttare Fruit and Juice bars we bought?  Sticks and wrappers and delicious memories. Replaced three times over!  And I am totally fine with that since they are made with real fruit and juice.
In the midst of our Fruttare frozen fruit bar frenzy, I snagged a few and buzzed up these triple berry lime slushes in our blender and declared them a shoo in for our Summer drink hall of fame!
Now, you will need to make a triple berry sauce.  And it does take a few minutes on the stove.  But your slushes, sparkling water, yogurt, pancakes, waffles and ice cream will thank you and make you their queen!  So, if you love tiaras and berries (and who doesn't?), I say do it!
Print The BEST Triple Berry Sauce
---
Scale
Ingredients
1

16 oz. bag of mixed frozen berries (strawberries, raspberries & blueberries)

1 tablespoon

of water

2 tablespoon

s of granulated sugar (or your choice of sweetener)

1 teaspoon

of lime juice
---
Instructions
In a small saucepan on low heat, add all ingredients.
Stir together and allow to simmer gently.
Break up the berries with the back of your spoon as the sauce simmers.
The sauce should thicken a bit as it cooks, but if it looks too thin, you can add a small amount of cornstarch slurry (equal parts cornstarch and water stirred until smooth).
If you want a smoother sauce with no seeds or skin, strain the slightly cooled berry sauce through a fine mesh strainer.
---
Okay, so now you have a beautiful, deep purple, super tangy triple berry sauce.  It is wonderful and delicious, but you've basically only bought your scratch off ticket at this point.  You are just 2 Lime Fruttare frozen fruit bars and 4 short steps away from hitting it big time!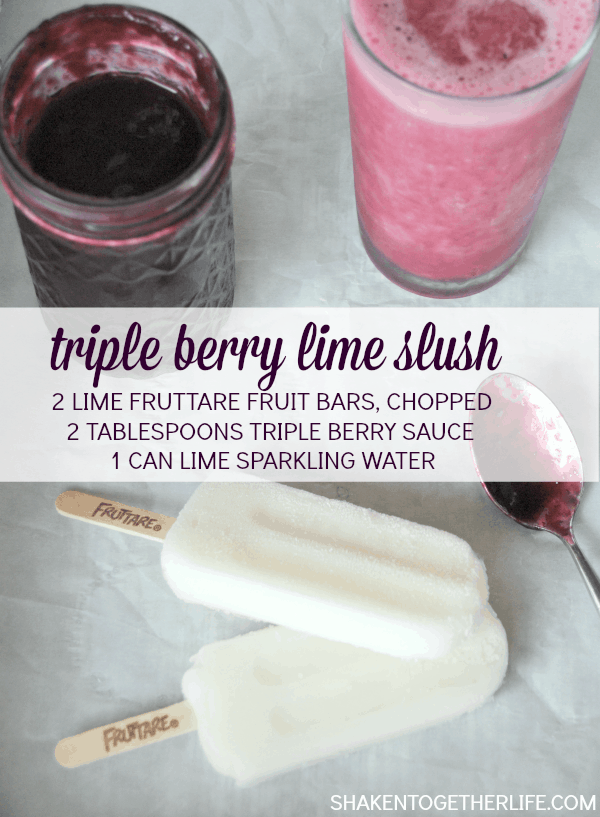 Let's do this!
In the pitcher of your blender, add two chopped Lime Fruttare bars.
Spoon in two tablespoons of your triple berry sauce. I highly recommend licking the spoon.
Add lime sparkling water  (start with 6 – 8 oz) and let 'er rip!
Pour into a glass (or two if you want to share), add a straw and aaaaaahhhhhhhhhhh!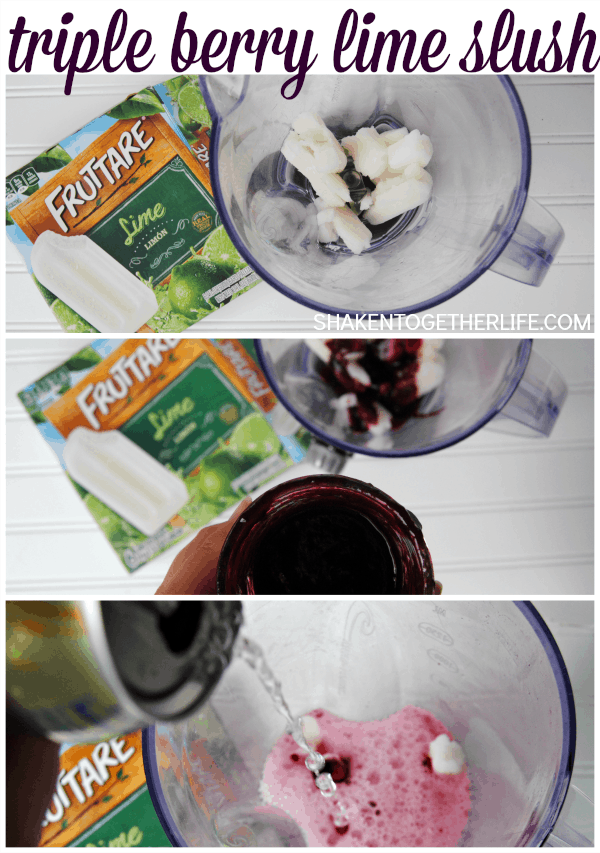 Now, if getting out your blender is a bit more effort than you want to expend (believe me, I know that there are those days), just fill a bowl with that amazing triple berry sauce, grab a Lime Fruttare frozen fruit bar and …
Dip, baby, dip!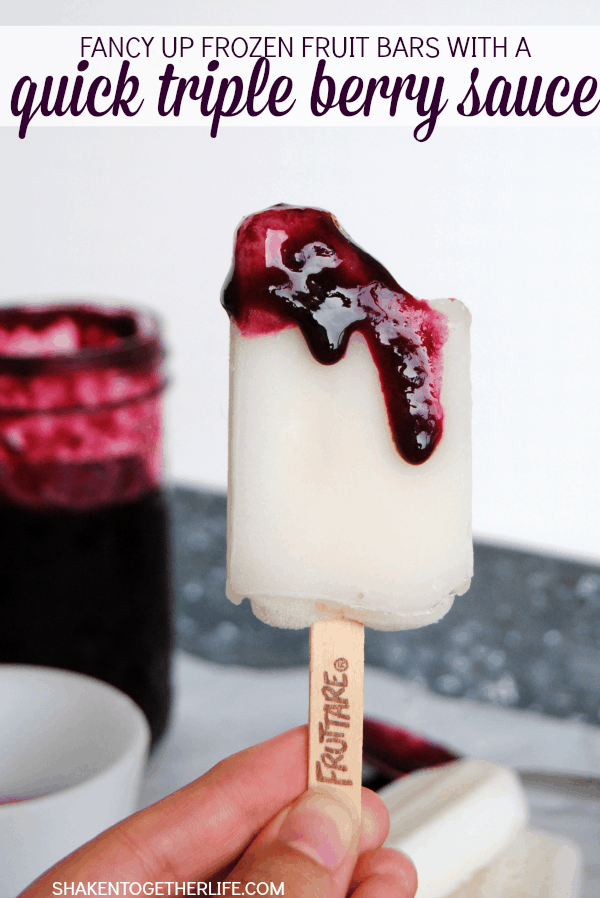 Hey, this slush is not just a 'free ticket' one trick pony!  You can make a mango berry slush with Mango Fruttare frozen fruit bars and this super yum strawberry orange sauce, too!  Brighten your Summer and pick up Fruttare bars at retailers nationwide.
I was selected for this opportunity as a member of Clever Girls Collective and the content and opinions expressed here are all my own.
This post may be shared at these link parties: