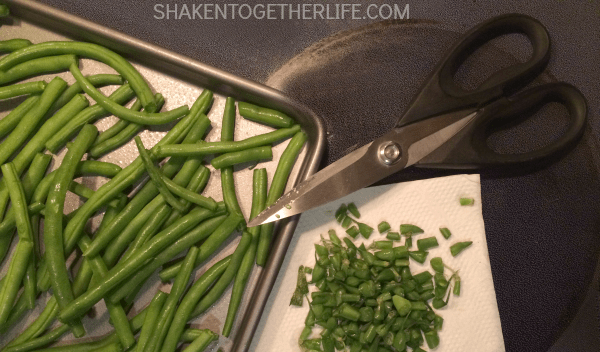 When I met Chris, I was 19.  So young … just a baby!  And my prowess in the kitchen was, well, sadly lacking in most ways.  My specialties were the basics: spaghetti, grilled cheese, ramen noodles (hello broke college kid!).  Oh, and frozen pizza!  So the first time I served him frozen pizza on my oh-so-fancy paper plates – after cutting the slices with kitchen shears! – I think I stole his heart!  "Did you just use scissors to cut that pizza?"  You BET I did!!  And I use my kitchen shears for tons of things in the kitchen!
Time Saving Ways to Use Kitchen Shears
I bet there are a 1000 ways to use kitchen shears, but here are my top 10 favorite ways to make work in the kitchen a snap!  Or a snip?  😉
Cleaning fresh green beans – kitchen shears make snipping those ends off a breeze!
Cutting pizza – seriously, try it!  So much easier than that pizza wheel!
Bite sized anything – kitchen shears make cutting up bacon, chicken, etc. into bite sized pieces so quick and easy.  Say buh-bye to the cutting board!
Cutting grilled cheese (or any messy or ooey gooey sandwich) in half or into fingers that are perfect for dipping!
Snipping herbs and chives for side dishes, main dishes and garnishes.
Cutting food for kiddos – messy spaghetti, hot dogs or string cheese are no match for kitchen shears!
Use kitchen shears to remove the crust from bread.
Making toad in a hole (you may call it eggs in a basket)? Fold your slice of bread in half and use your kitchen shears to cut a half circle – no glass or cookie cutter needed!
Easily cut a banana or grapes with kitchen shears – firm fruit cuts easier.
Cut pie crust, rolled out cookie dough, refrigerated cinnamon rolls/biscuits or portion bread dough for bread sticks, cookie sticks, dinner rolls, pie crust dippers, etc.
How to YOU use kitchen shears??
More tips & tricks!
Time Saving Ways to Use Kitchen Shears may be shared here: