Well, we've made it through another Monday and that fact alone means that we deserve something delicious, right?! Then you came to the right place because every Tuesday at pressed down, shaken together is…


This week, I am sharing my Soy & Garlic Jelly Chicken!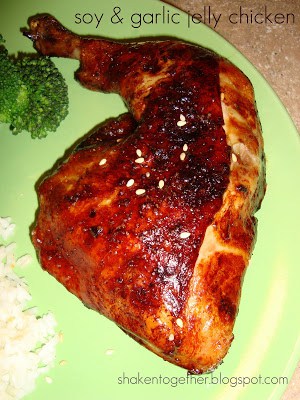 Now, if you are like me, I thought the words "garlic" and "jelly" should never meet in the same sentence! But, a few months ago, I took a trip to our local farmers' market (you can check out my pictures here.) and picked out some 1 oz. sample jars from Ginger's Jams, Jellies & Such. My 3 picks were the Peach Jam (delish!), Key Lime Marmalade (best EVER!!!) and Garlic Jelly. I must have been feeling brave when I added the little jar of garlic jelly to my basket. And I am SO glad I did!

Without further ado, the HOW-TO:

I used 4 – 5 chicken quarters but you can use your favorite cut of chicken … drumsticks, breasts, tenders, etc. or even pork. So, preheat your oven to 350* and prepare the marinating/basting sauce.


For the marinating/basting sauce: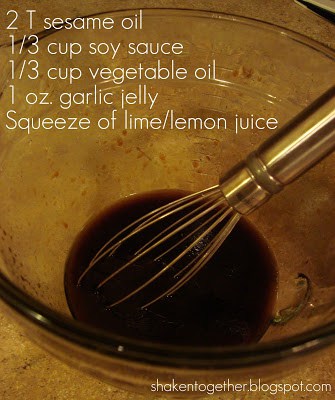 Heat in the microwave for about 20 seconds to soften the jelly and allow it to incorporate into the basting liquid. Once everything is whisked well, poke shallow holes with the tines of a fork in the chicken, pour the liquid over the chicken and marinate in the fridge for at least 30 minutes (you can let it go longer if you have time).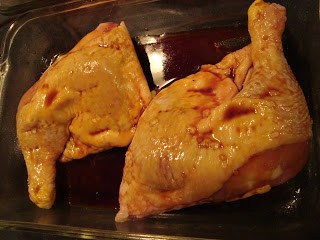 Place your chicken in the oven and continue basting the chicken with the liquid as it cooks. You chicken is done when the juices run clear and it reaches an internal temperature of 165*.

The soy sauce makes the skin a nice deep brown and the oils keep the meat moist. I served the chicken with steamed broccoli (squeeze some lime or lemon juice over it to make it tasty!) and white rice sprinkled with toasted sesame seeds. Yum-o!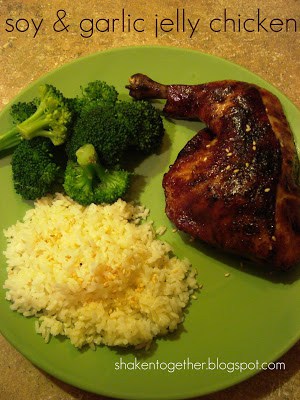 Are you hungry yet?! 😉

This post was shared at the parties on my Link page!