Need an easy weeknight meal? Or a dish to feed a pot luck crowd? This is one of my favorite easy crock pot recipes shared with me by one of my best friends, so this is definitely a tried and true family recipe!
Easy Crock Pot Tacos
One 2-3 lb roast (pork or beef, I usually buy whatever is on sale)
2 packets of your favorite taco seasoning
Place your roast in your crock pot and dust it with one packet of the dry taco seasoning. Add about 1 cup of water to the bottom of your crock pot so the meat does not dry out.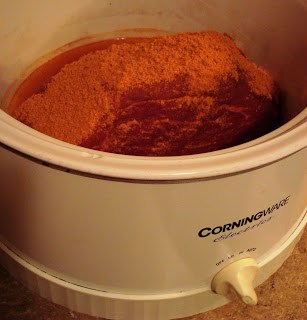 Cook time varies with the size of your roast, but you know it is done when the meat can be shredded using two forks. Shred the roast (it is a work out! And me with a Saint with a bum right hand!) and add the second packet of taco seasoning. Add additional water or beef broth if needed as you stir in the taco seasoning. You don't want crock pot taco soup, but you do want a little sauce to keep the beef moist.
I will warn you…this is not a picture of anything more than shredded beef…it just looks a little scary. The slow and low cooking leaves this beef so tender and flavorful!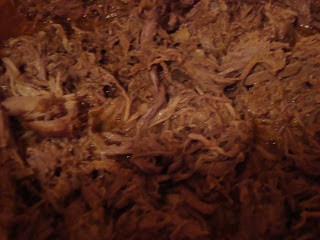 Serve with your favorite toppings on a soft tortilla, layer it over tortilla chips for seriously divine nachos, pile it on crisp romaine lettuce for a simply delicious taco salad or even roll it up for killer enchiladas…our favorite soft taco combination is sliced avacados and a squeeze of lime juice – Ole!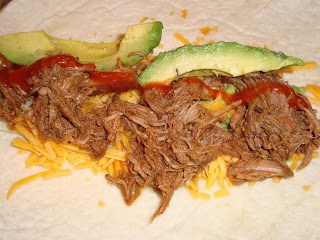 This is a perfect recipe for any get together or pot luck…host a taco bar for an easy crowd pleaser or serve in crispy wonton cups.  Add my Maybe Margarita Punch (non-alcoholic so even the kiddos will love it!) and your meal is complete!   
More Crock Pot Cooking …