Whoever created the crock pot is a genius … am I right?  Crock pot tacos, soups, stews, "one pot wonder" dinners … what could be easier?  For whatever reason, I had never equated my crock pot with breakfast until a coworker shared this recipe.  I was blown away by how easy it was to make and how much Chris and the boys raved about it!
Easy Crock Pot Breakfast Casserole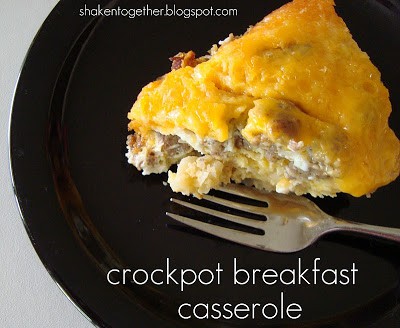 So aside from a crockpot ;), you'll need the following items to layer for this crock pot breakfast casserole: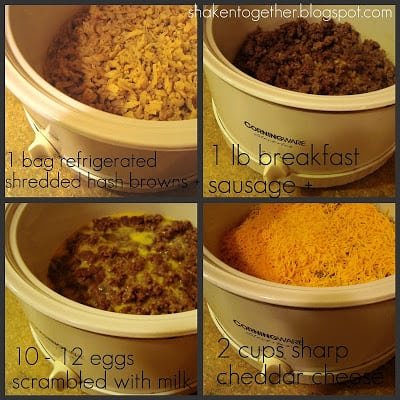 Layer in the following order:
1 bag refrigerated hash browns (I used a 20 oz. bag of Simply Potatoes)
1 lb breakfast sausage BROWNED and crumbled
10-12 eggs scrambled with milk (about 1/4 – 1/3 cup milk)
2 cups sharp cheddar cheese (or your favorite cheese)
(Just for the record, it is sorta hard to make hashbrowns and browned, crumbled breakfast sausage look appealing when dumped in a crockpot, ha ha!)  Now, set your crockpot to low and just let it cook.  (I feel like an infomercial: "Set it and forget it.")  Anyway, you know it is done when the eggs are firm and the cheese is crispy around the edges.  Mine took about 3 hours to cook, give or take (but I have a BIG crockpot, so cooking time may vary).  This is perfect for a sleepover, a large holiday gathering, brunch or a lazy Sunday morning breakfast.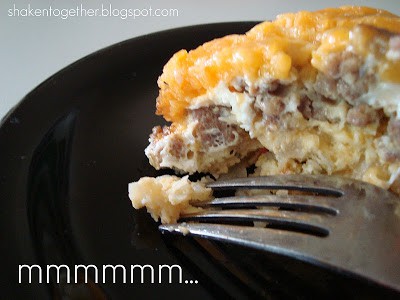 We used southwestern flavored hashbrowns and they definitely had a little kick.  You could use maple breakfast sausage for a sweet and savory combination or add sauteed veggies for a meat-free version.  It is super simple and supremely delicious!
Update 1/11/13!  This recipe was one of the top 100 recipes of 2012 over at AllFreeSlowCookerRecipes.com!!  Thanks everyone who clicked, pinned and ate 🙂