I never thought I would be so bummed to write a Taste This Tuesday post…but this is it folks, the very last take in my 6 Takes on Cupcakes series!!  The last time I'll share this fun photo: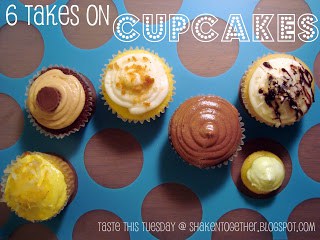 In case you missed them or just found shaken together, one of my best friends (we'll call her The Bakerista) came up from South Florida and we had a serious bake-a-thon!  We made six varieties of cupcakes that all start with a boxed cake mix and classic vanilla buttercream frosting.  We made hundreds of cupcakes, tons of frosting and had more fun that should be humanly possible 🙂  Here are the past 5 takes, just to whet your whistle…
#1 Key Lime Cupcakes with Raspberry Sauce (basic vanilla buttercream recipe here as well)
#2 Mini Margarita Cupcakes
#3 Milk Chocolate Cupcakes with Peanut Butter Buttercream
#4 Milk Chocolate Cupcakes with Chocolate Mocha Buttercream
#5 Pina Colada Cupcakes
Now that your brain is in a delightful sugary fog…here is our last cupcake…
Almond Joy Cupcakes
My favorite candy bar in a cupcake!!  A lush coconut cake, filled with hot fudge, topped with vanilla butttercream, toasted coconut and a drizzle of more hot fudge!
And without further ado, the HOW-TO…
Stuff to Buy
Vanilla cake mix
shredded, sweetened coconut flakes
hot fudge topping
Stuff you Have
Basic ingredients for cake and frosting
Stuff to Do
Whip up a batch of our classic vanilla buttercream (recipe above in #1)
Toast about 1 cup of coconut – place coconut on a sheet pan in a 350* oven (watch for it to brown – once you can smell the coconut, it's probably close to done, so keep an eye on it)Now, mix up your cake mix according to the directions on the box.  Add 1 cup of the shredded, sweetened coconut to the mix.  Fill and bake!  They should look like this…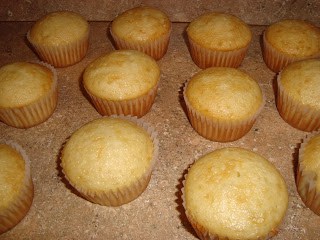 While your coconut cupcakes cool, whip up a batch of classic buttercream.  Now, you will need to core your cupcakes.  With a small paring knife or a fancy-schmancy cupcake corer tool, remove a small cone shaped bit from each cupcake and save!  Don't be tempted to nibble on these or you won't have a top to put back on your cupcakes 🙂
And now…fill each cupcake with your hot fudge topping (warmed in the microwave according to label instructions) and replace the little cupcake top…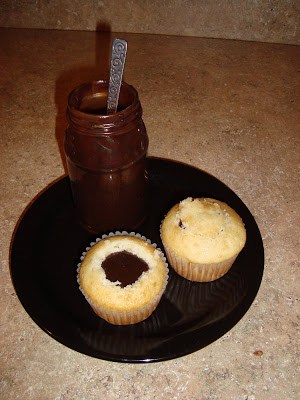 Frost your cupcakes and sprinkle with your toasted coconut.  Drizzle with hot fudge and DIG IN!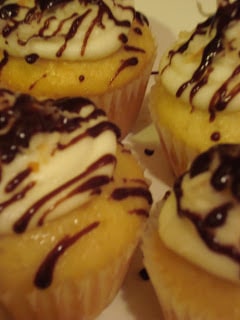 Well, there you have it…the finale of 6 Takes on Cupcakes!  One last ooey, gooey, chocolately, deliciously divine cupcakes!!
I am thinking of starting a new series…maybe Sweet Summer Treats?  Or Cookies Galore?  Would another cupcake series be right up your alley?  Or would you rather see some main dishes and savory stuff?  Any great ideas for recipes or food-inspired series that you'd like to see?
This project or recipe was shared at all the blogs on my Link page!  Go take a peek … they rock!