Welcome to another Girl Scout cookie post!! Soooo, I'm guessing you're here for these little beauties?! Which means we should be besties, because if you like Thin Mints and I like Thin Mints, it was meant to be! We can get those matching BFF heart necklaces and sing to Debbie Gibson together while we paint our nails! Too much? Right. Let's talk Thin Mints. That seems to be a safe topic.
Thin Mint Ice Cream Sandwiches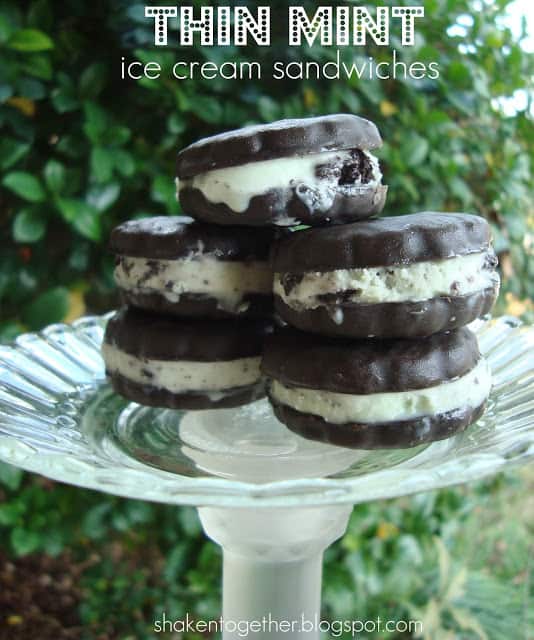 Since we have already established that you like Thin Mints (even if you don't want to be my best friend), you really are going to want to make these 2 bite, super delicious Thin Mint Ice Cream Sandwiches!! And these are even easier than my Thin Mint Pudding Trifles!
We keep our Thin Mints in our freezer (doesn't everyone?!) so when our local grocery store had ice cream on sale B1G1F and I caved to supported the Girl Scouts outside and came home with 2 more boxes of cookies … this seemed a natural partnership!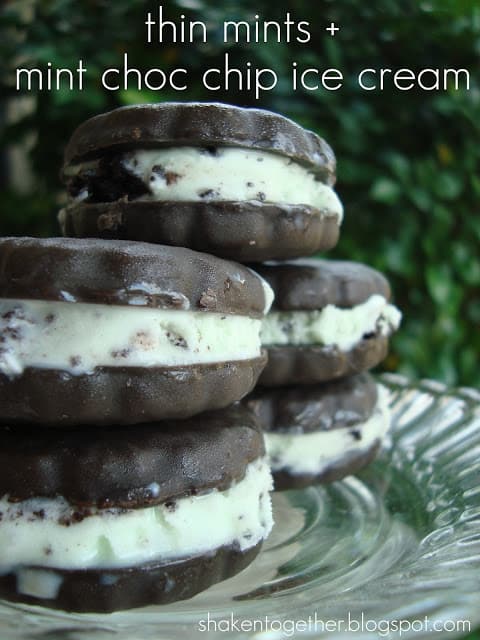 There really isn't really a "recipe" but more of a process. That is a little messy and might require you to lick your fingers afterwards and oh darn! eat any broken Thin Mints you might come across 😉
So, here goes!
Smoosh a little scoop (maybe around a tablespoon) of mint chocolate chunk ice cream between 2 Thin Mint cookies. Press the cookies lightly together to even out the ice cream. Use your finger to smooth around the cookies and remove any extra ice cream. Pop these little minty bites of perfection back in the freezer to firm up a bit before serving.
I can tell you that a little birdie told me this probably won't be the last time you see a tasty treat made with Girl Scout cookies … in fact, here are all 5 recipes made with Girl Scout cookies!