Maybe this isn't a "new to you" recipe, but until recently, I had never made monkey bread.  Can you believe it?  I've made pizza roll ups with crescent rolls and chocolate nutella popovers with refrigerated biscuits and waffles from refrigerated cinnamon rolls … I am the queen of refrigerated dough!  But no monkey bread.  Until now!
So, in case you may not be versed on all things monkey bread, it is traditionally made with refrigerated biscuits cut in quarters, dipped in melted butter, rolled in cinnamon sugar and piled in a Bundt pan to bake.  It's pretty much one of the yummiest things ever.  And then … I decided to make it with cinnamon rolls.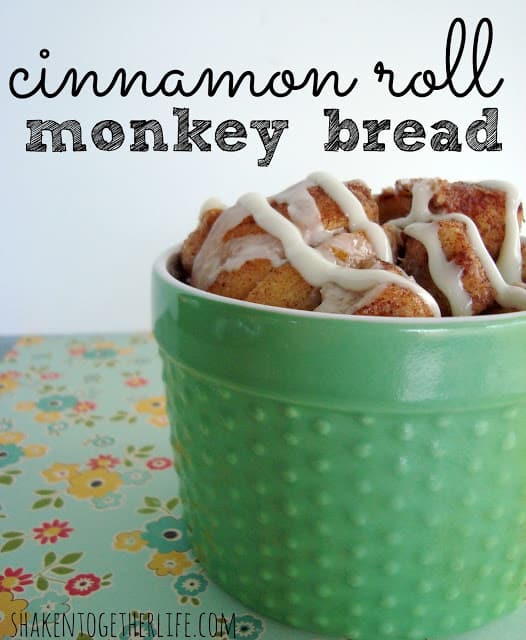 Yep, that is cream cheese icing drizzled over the ridiculous deliciousness of baked cinnamon roll monkey bread.  This could save the world … or at least breakfast!
cinnamon roll monkey bread
Yield:  One 9×13 pan of crazy good

2 cans of refrigerated cinnamon rolls (8 count each) with cream cheese icing
About 1 cup of cinnamon sugar – I usually mix 3 parts granulated sugar to 1 part cinnamon
Cut the cinnamon rolls in quarters and break apart slightly.  Set the cream cheese icing aside for later.  Roll the quartered cinnamon rolls in the cinnamon sugar and pile into a 9×13 baking dish (or large Bundt pan) sprayed with non-stick cooking spray.  I didn't use melted butter and the cinnamon sugar stuck just fine – so you can save the calories if you want.  Bake at 375* until the rolls are baked through.  Drizzle cream cheese icing on while warm.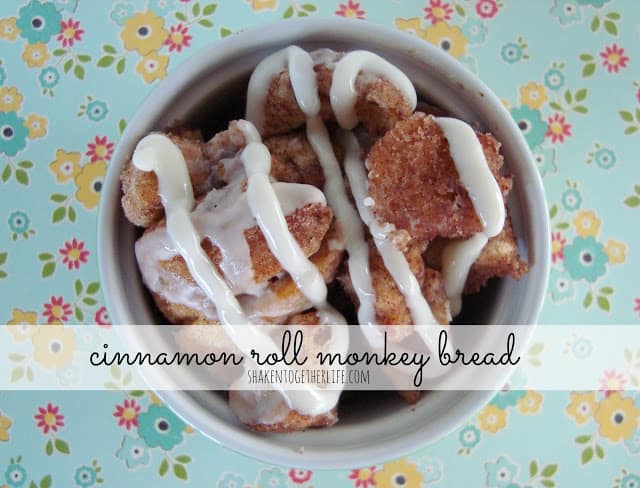 Everyone who tried this LOVED it and it couldn't be easier.  I mean, what could be better than cinnamon rolls with caramelized cinnamon sugar and warm cream cheese icing?!  Pot luck?  YES!  Easter morning breakfast?  YES!  Just because?  Definitely YES!
Need more easy cinnamon roll recipes?  (The answer to that question is also YES!)
This post was shared with the blogs on my Link page!