Valentine's Day doesn't just mean decadent desserts, right?  What better way to say, "I Love You" to your Valentine than with a moist, pudding infused bread brimming with bananas, pineapple and pecans and drizzled with a cream cheese glaze?  That's what I thought, too!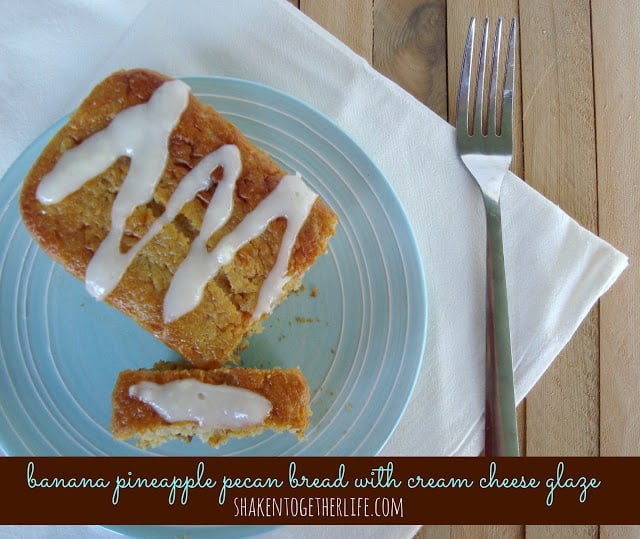 I saw this recipe for pineapple banana hummingbird mini loaves in our local coupon flyer and tracked it down on the Dole website.  It is full of bright pineapple and banana flavor, studded with pecans and topped with the perfect cream cheese glaze.
banana pineapple pecan bread
Yield: 5 mini loaves (6 slices each)
1 box yellow cake mix
1 small box instant vanilla pudding mix
4 eggs
1/4 cup vegetable oil
1 teaspoon cinnamon
1 20 oz. can of crushed pineapple (undrained)
2 ripe bananas, mashed
1/2 cup chopped nuts (pecans or walnuts would both be yum!)
Mix all ingredients together and pour into 5 mini loaf pans prepared with non-stick cooking spray.  Bake at 350* for about 40 minutes (mine took a little longer) or until a toothpick inserted in the center comes out clean. Allow to cool and prepare cream cheese glaze.
My notes:  Just in case you pop over to the website, neither the website or printed recipe indicated where to add the cinnamon, so I added it to the batter.  Also, the 350* baking temperature was in the printed recipe but not on the website.
cream cheese glaze

2 oz. softened cream cheese
1 tablespoon milk
1/2 cup powdered sugar
splash of vanilla extract
Mix together until smooth and drizzle over cooled loaves.
The little sunshiney yellow mini loaves were just perfect for gift giving, so after they were wrapped with plastic wrap, I added a bright piece of patterned scrapbook paper and a set of wooden utensils (I absolutely adore these!) tied on with bakers twine.  Just.so.cute!!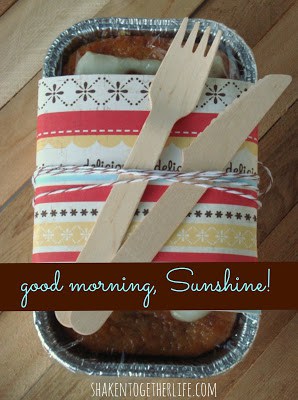 These sweet little breakfast loaves would be a great way to start the day for teachers and co-workers or waiting for your family at the breakfast table on Valentine's Day!!
Here are a few more easy, delicious breakfast recipes:
This post was shared at all of the blogs on my Link page!