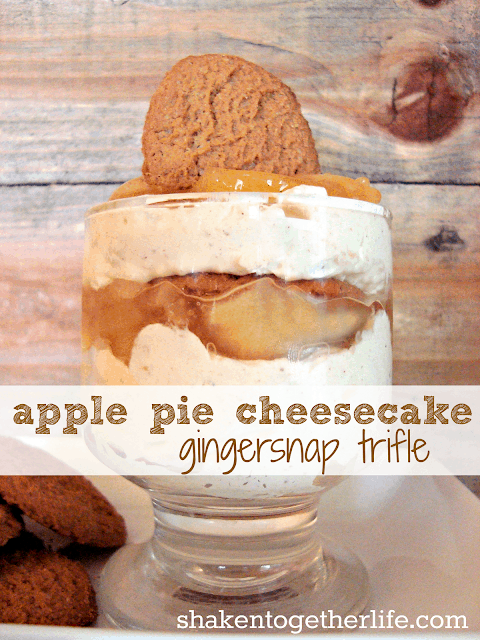 Don't worry – these are super easy!  First, you'll need to whip up no bake cheesecake filling and then just layer ginger snaps and apple pie filling … YUM!!

no-bake apple pie cheesecake

8 oz. cream cheese, softened (I used low fat)
½ cup granulated sugar
1 teaspoon vanilla extract
½ cup apple pie filling (store bought or homemade)
½ – 1 teaspoon cinnamon (adjust to your personal taste)
1 tub Cool Whip, thawed

In a bowl, cream together the cream cheese and granulated sugar.  Add vanilla extract, apple pie filling and cinnamon.  Mix together until the apples are broken down and everything is incorporated.  On the lowest setting on your mixer, mix in the Cool Whip.  You don't want to over mix or the Cool Whip will break down a little.  You can chill this mixture until you are ready to serve the trifles.  

To serve, use small trifle cups or ramekins and layer a gingersnap, apple pie cheesecake, a dollop of apple pie filling and repeat!  Top with a smidge of pie filling and another gingersnap.  Just look at all these lovely layers …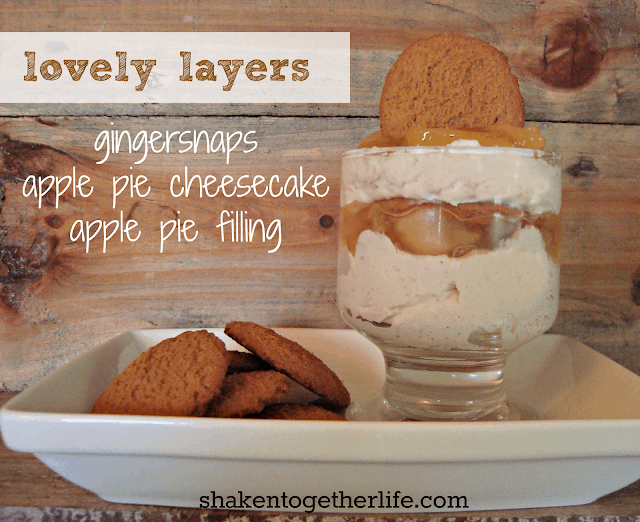 These got two thumbs up from the Little Bug 🙂 I layered them in foil cupcake wrappers for work … they gone before lunch time!!  This would make an easy no-bake dessert for a Fall party or Thanksgiving dinner!