I have always been a bit of a bookworm.  There was always a book in my back pack (even throughout college).  I grew up loving Where the Wild Things Are, the Ramona Quimby series, all of the Judy Bloom books and The Babysitters Club.  I rarely buy books because I read them so fast and I haven't yet taken the plunge for an e-reader.  I still love the feel of a book in my hand and turning pages.
So, it was a little painful to cut into the beautiful pages of a book to make an Easter garland.  But luckily, I didn't deface a priceless treasure or even an old book destined for the yard sale pile.  Nope, I took a $1 book from the Target Dollar Spot and turned it into a sweet little Tale of Peter Rabbit story garland for Easter!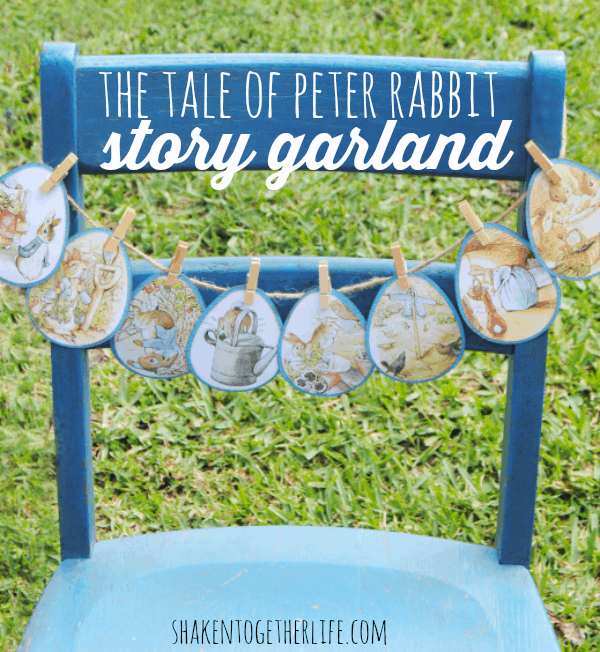 This quick and easy paper Easter garland tells Beatrix Potter's story of a mischievous little bunny who loses his blue jacket and shoes in Mr. McGregor's garden in dreamy vintage-y pictures!  And since I was always the "goody goody" while growing up, I just had to include a photo or two of Peter's well-behaved sisters 😉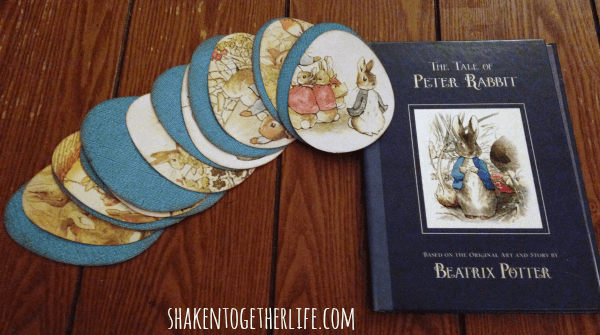 This super simple DIY starts with The Tale of Peter Rabbit book that I found for $1 in the Target Dollar Spot.
I picked out 8 pictures that highlighted the main points of the story and cut them into egg shapes.  I used my old trusty Creative Memories cutting system, but you could easily cut out an egg shaped template, trace it around the pictures and cut them out with scissors.
Then, I used a piece of scrapbook paper the very color of Peter's prized blue jacket and cut out egg shapes just slightly larger than the pictures.
I used a brown ink pad to "ink" the edges of all of the paper pieces – I like the definition it gives to the edges of the pictures and that it lends a little age to new paper.
I layered the pictures on top of the blue eggs and used scrapbook adhesive to stick them together.
Finally, I clipped my story eggs in order onto a piece of twine with mini clothespins.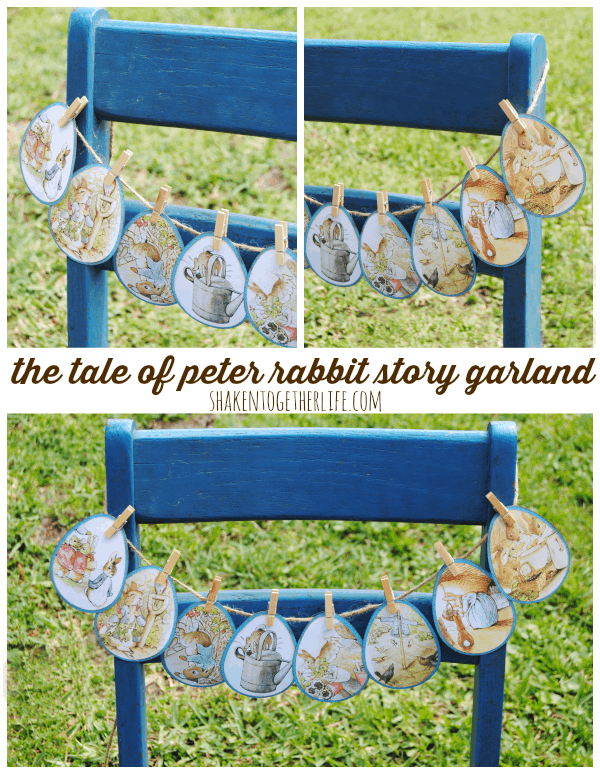 This garland is quick and simple but is such a charming little addition to my Easter decor!  I just redecorated my hutch for Easter and I'll be showing it off soon.  You can bet that The Tale of Peter Rabbit story garland is front and center!
Quick & Easy Easter DIYs …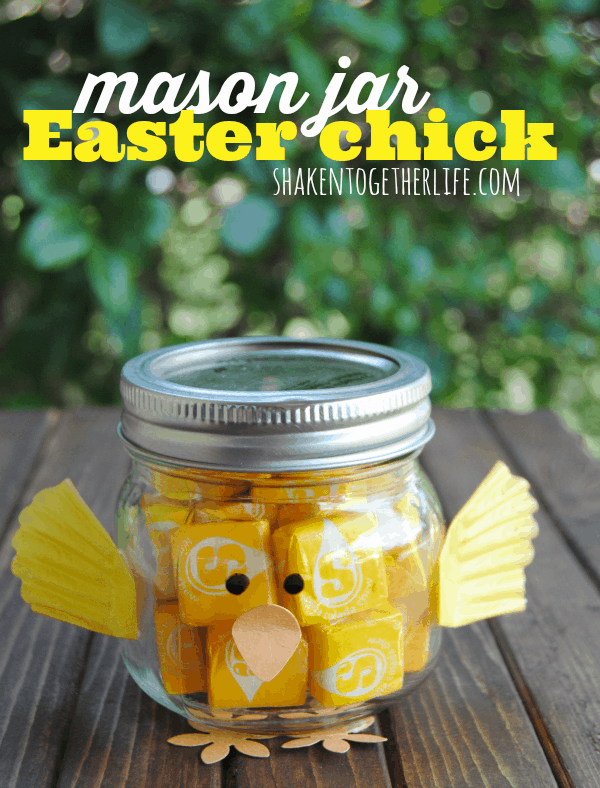 Candy Carrots, Mason Jar Easter Chick & Friendship Seeds {with FREE printable}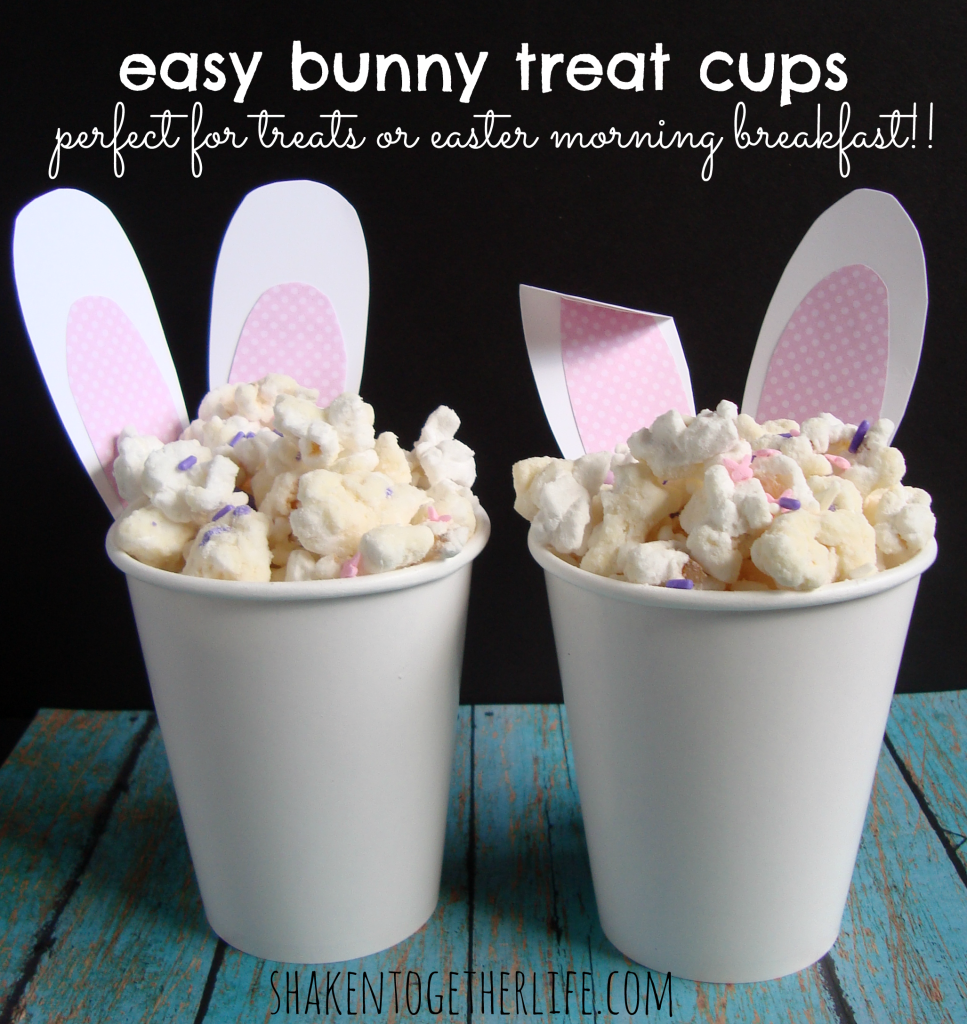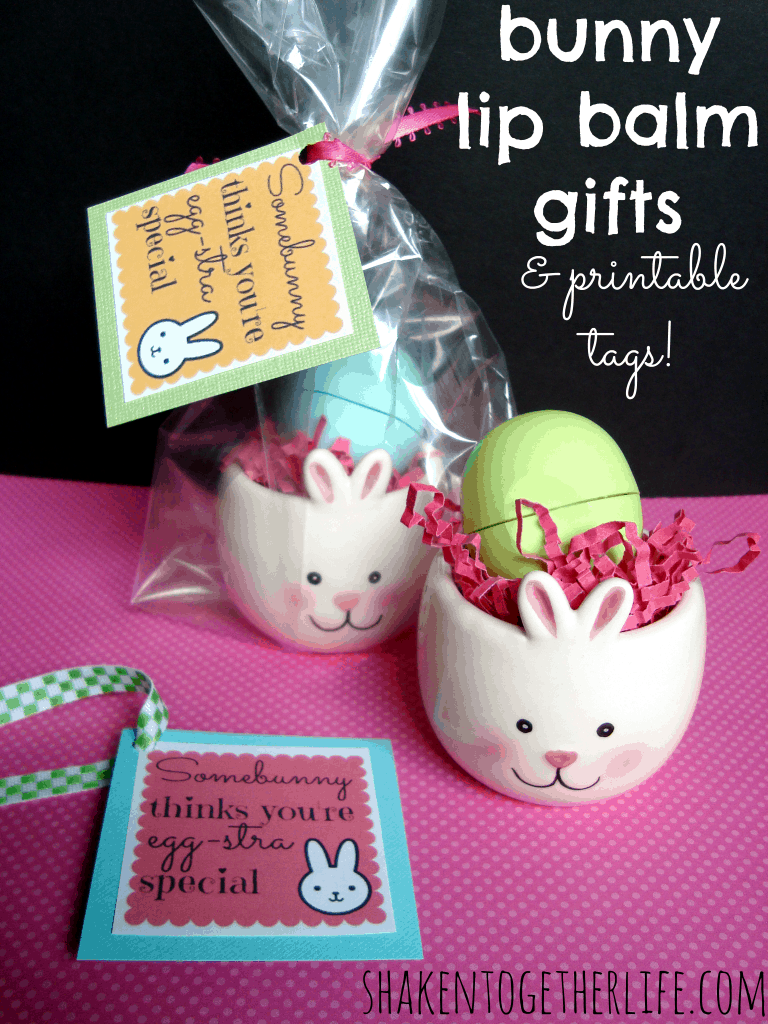 This post may be shared at these link parties: