I have pretty much always been a creative crafty soul.  I made journals in elementary school.  (Which were really just copy paper folded, stapled and decorated within an inch of their lives with doodles and sparkly gel pens.)  Embroidery thread friendship bracelets in middle school.  I remember making a huge poster board sized collage for my room in high school that took me hours and hours.  My craft room (and dining room and desk and closest) is filled with felt and fabric, paint and paper, wood and washi tape and that makes me a happy, happy girl.  And now, thanks to a generous box of goodies provided by DecoArt, it is filled to the brim with  DecoArt glass paint and supplies!!
Despite my previously mentioned crafty history, this was the first time I used glass paint.  But the process was so much easier than I expected and I can't wait to show you what I made with it!!  With all of the get togethers and events that happen this time of year, this Summer Beverage hostess gift is a thoughtful handmade gift for your favorite hostess!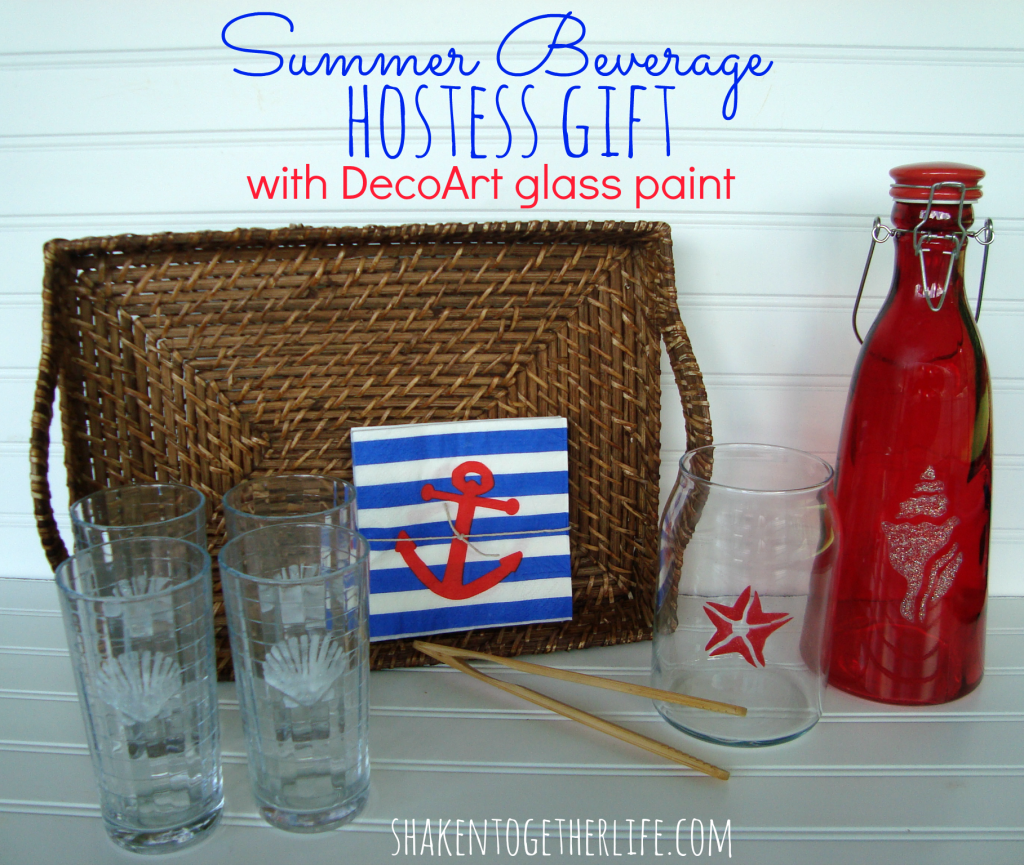 My first stop was my local Old Time Pottery and picked up the red glass carafe, the small glass jar, tray and napkins.  The set of drinking glasses was from my stash and I think they are from Ross or TJ Maxx.  All in all, I only spent about $15!  Your local thrift store would be a great place to pick up glass items as well.
To get started, I wiped the surface of the glass with rubbing alcohol and let it dry completely.  Then, I picked out the stencils and and the paint I wanted to use: Fun in the Sun Stick-On Stencil, Crystal Gloss Enamel Glass Paint in White and Crystal Gloss Enamels Glitter Glass Paint in Red and Crystal Clear.    The stick on stencils are so cool – they form right around any curves in the glass.  I applied paint and then carefully removed the stencil.  For the shells, I used a combination of the White and Crystal Clear to paint the shells for a bit more texture.  Now – this was the tough part for me – allow paint to dry for f-o-u-r days.  Then, bake according to package directions.  I didn't bake my red carafe since it had a stopper and rubber seal that I couldn't figure out how to remove.  The moral of that story is read the directions before buying your glass, ha ha!
How about a quick picture collage to show you how easy it is to add some nautical charm to plain glassware with DecoArt glass paint? Great!  I just happen to have one!
I followed these same techniques for all of my finished pieces and I LOVE how they turned out!  The hint of shimmer and sparkle in the paint turned very simple everyday glass ware into pretty serving pieces that look custom and expensive!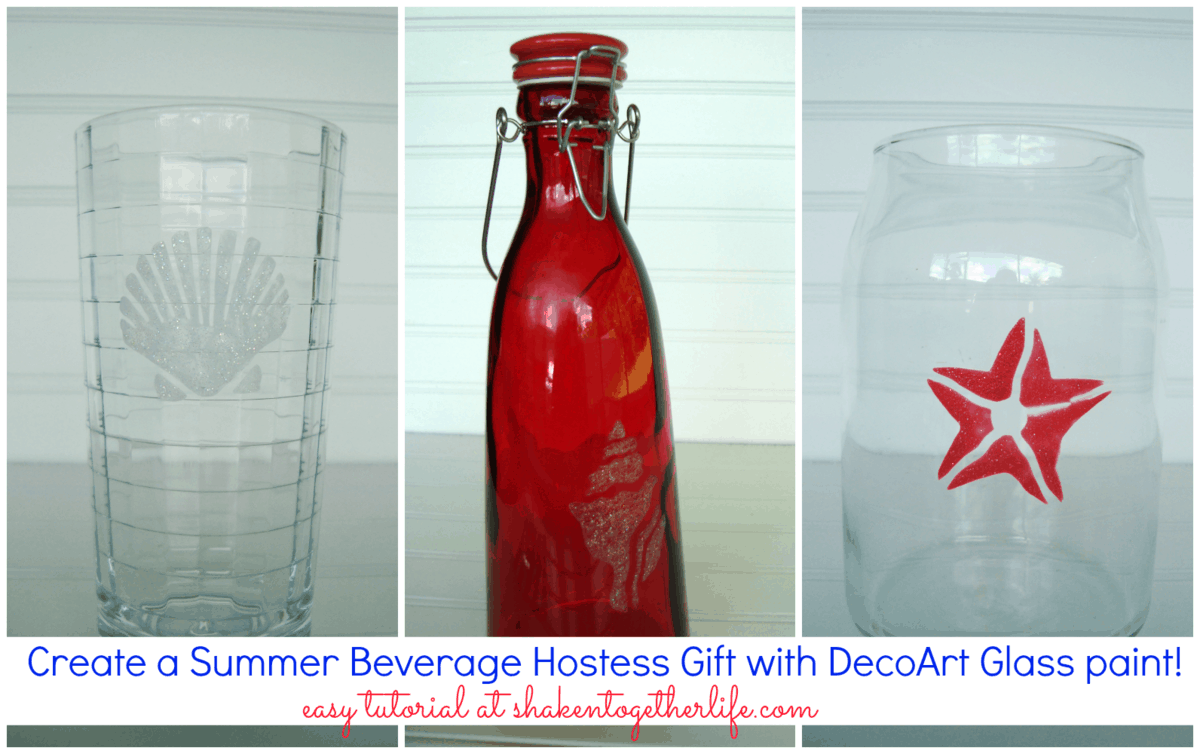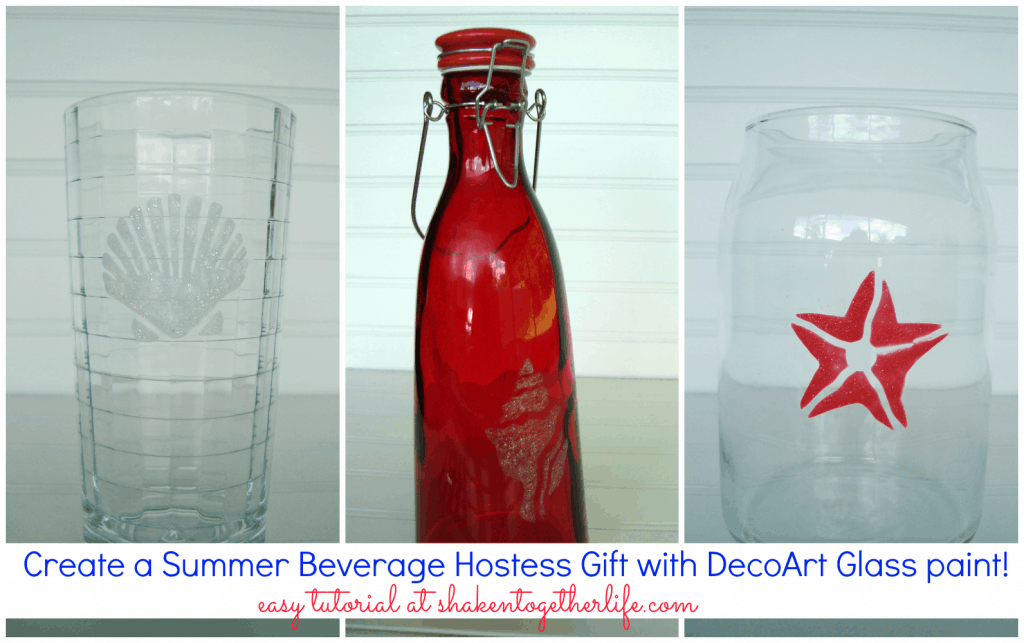 To complete the Summer beverage hostess gift, I tucked the shell carafe, scallop shell glasses, starfish jar (great for ice, lemons, garnishes, etc.), a pair of bamboo tongs and the nautical napkins in a wicker tray.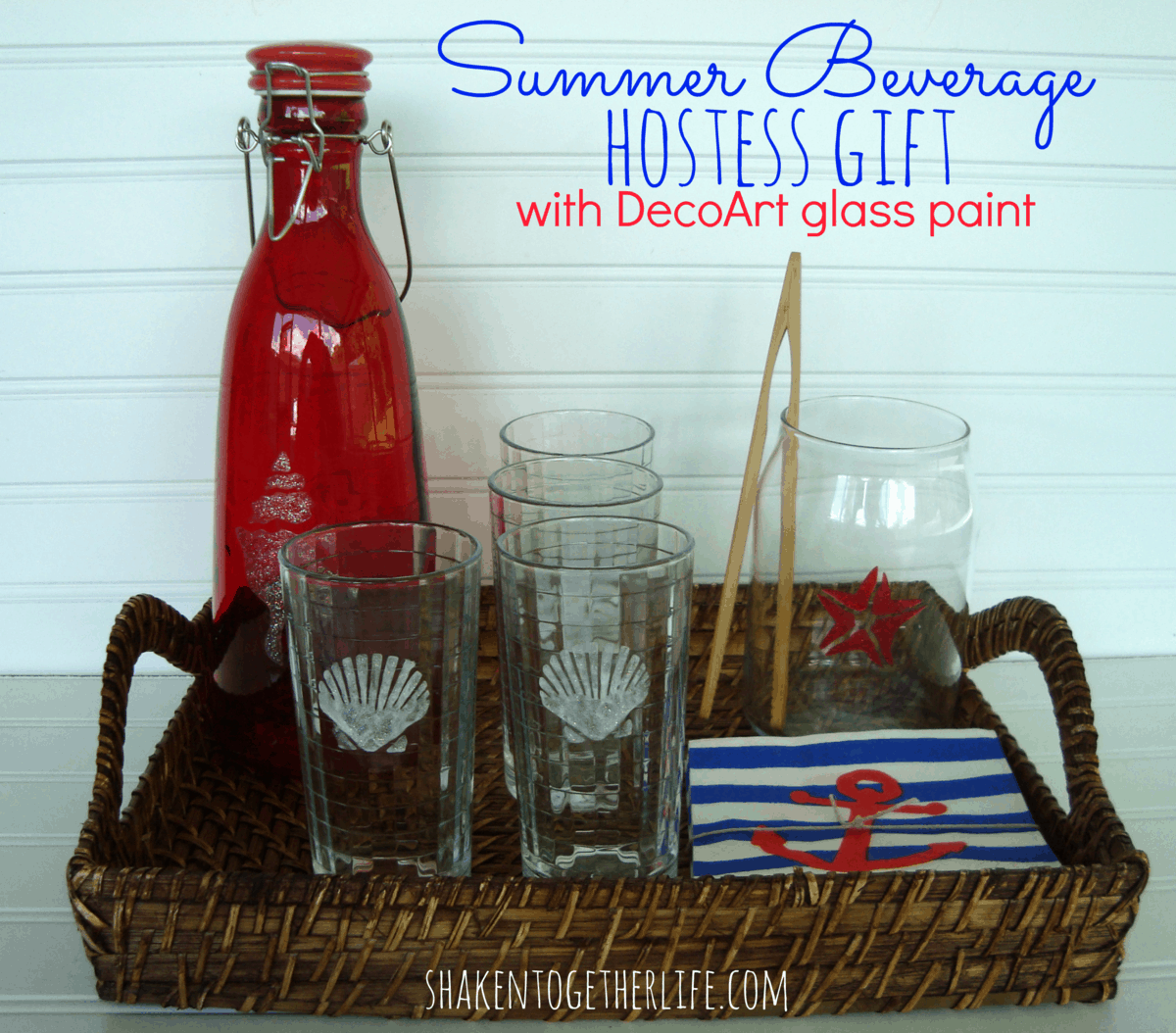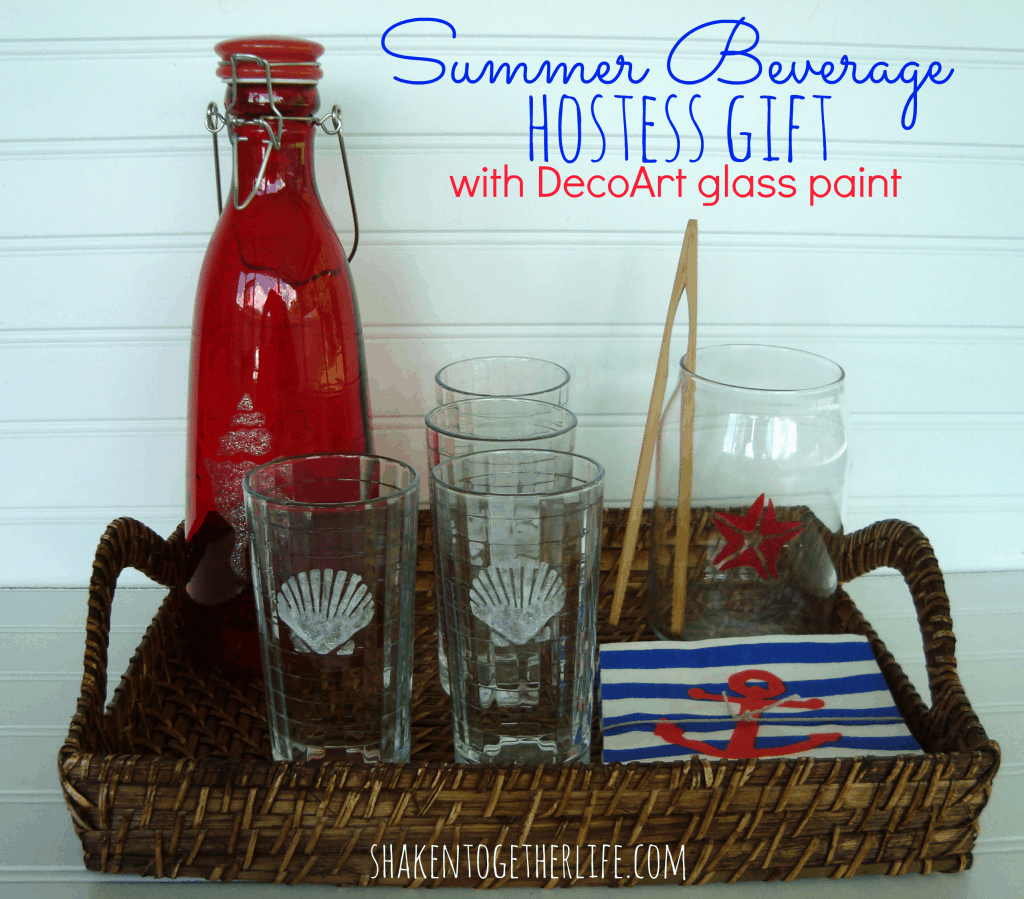 If you are ready to shop, Americana Glass Paints are available at Michaels, JoAnn Fabric and Craft Stores, Pat Catan's Craft Centers, A.C. Moore, Beverly's, and other fine craft retailers.