Chips and salsa are staple snacks in our house, so I knew that the boys would love a sweet fruity twist on their favorite savory snack!  And I love that the fruit salsa is packed with strawberries, bananas and apples and the easy to make cinnamon sugar chips do not require any butter or oil!  This sweet and tangy fruit salsa would be a welcome addition at a Spring brunch or Mothers' Day breakfast!
Strawberry Salsa & Cinnamon Sugar Chips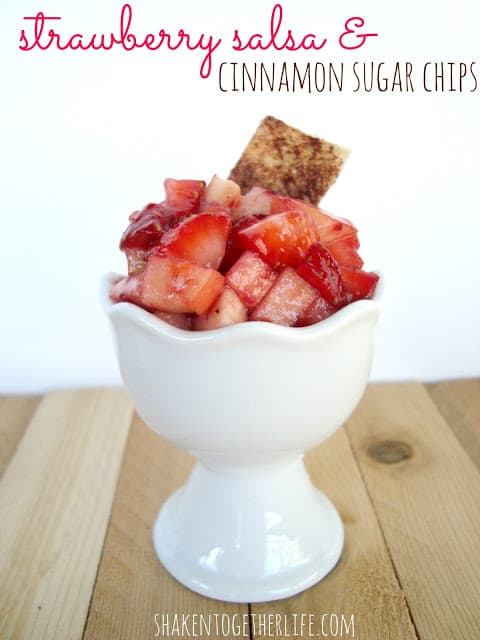 strawberry salsa
One 16 oz. carton of strawberries
One large gala apple
One medium banana
Squeeze of lemon juice
3 tablespoons of brown sugar
3 tablespoons of strawberry sauce (or strawberry preserves) – recipe below
Finely dice strawberries, apple and banana and squeeze lemon juice over the fruit to reduce browning while chopping.  Stir in brown sugar and preserves.
strawberry sauce
Now, if you want the most mac daddy strawberry salsa, stir in three tablespoons of this strawberry sauce!    Place a small bag/container of frozen strawberries (my container was 15.5 oz) and a teaspoon of cornstarch in a small sauce pan and reduce until sauce is thickened and berries are broken apart.  Cool completely.  Use the rest of the sauce over yogurt, ice cream, waffles or as a filling for cupcakes.  I used this same strawberry sauce for my pb&j mini donuts!
cinnamon sugar chips
Three 10-inch flour tortillas, cut into strips/triangles/shape of your choice.  Arrange the chips in a single layer on a sheet pan (or two) and spray with non-stick cooking spray.  Sprinkle generously with cinnamon sugar and bake at 375* until crispy.  Allow to cool and dip to your heart's content!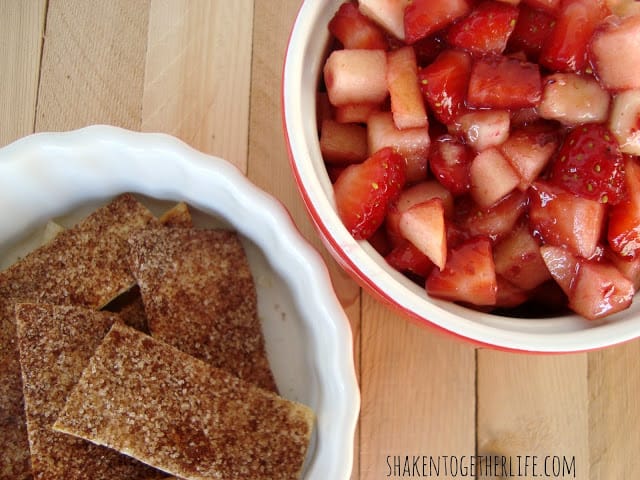 Here are a few more of my favorite sweet strawberry recipes: