Well, I've finally done it. The first project ... OF FALL!! Maybe it's wishful thinking that some Fall crafting will usher in some cooler weather or maybe it's just because it is my favorite time of the year. Whatever the reason, I am so inspired to craft with brown, gold and orange, leaves and owls, spiders and skeletons and all things BOO! So today, thanks to a big, colorful shipment of Americana Multi-Surface Satin paint and Mixed Media stencils (available for purchase at Michaels, A.C. Moore, Hobby Lobby, and other fine craft retailers), I am sharing an easy DIY home decor tutorial for easy stenciled Fall pillows!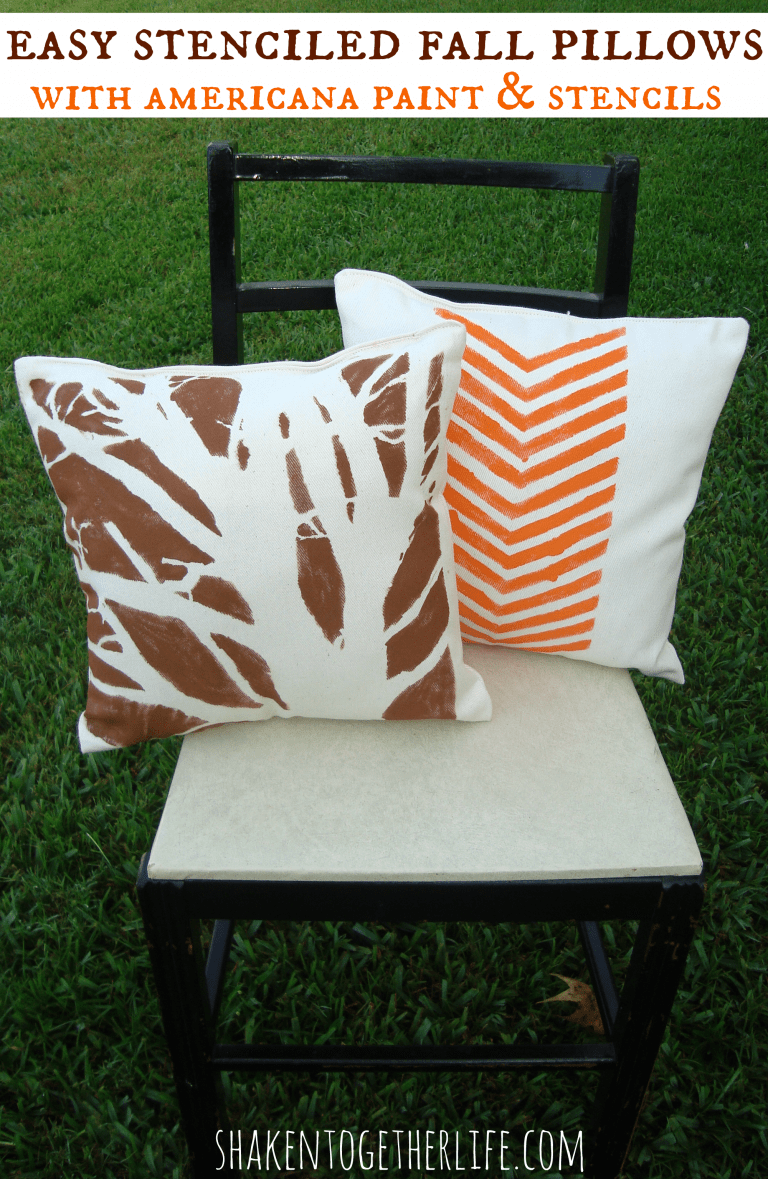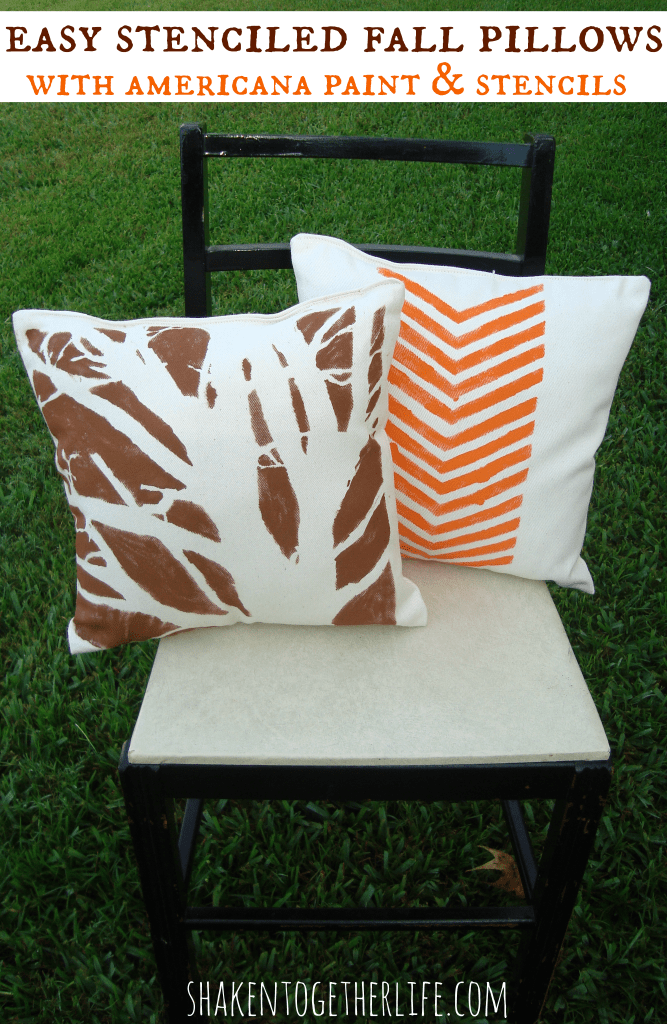 These easy stenciled Fall pillows started with two basic 13x13 cream colored canvas pillows that I found at my local Old Time Pottery store - they were a steal for $2 each! Since the Americana Multi-Surface Satin paint is designed for almost any surface (most metal, wood, plastic, glass and fabric), I decided to try it out on these pillows. Especially after I saw the Angular Motion and Branching Out 12x12 stencils.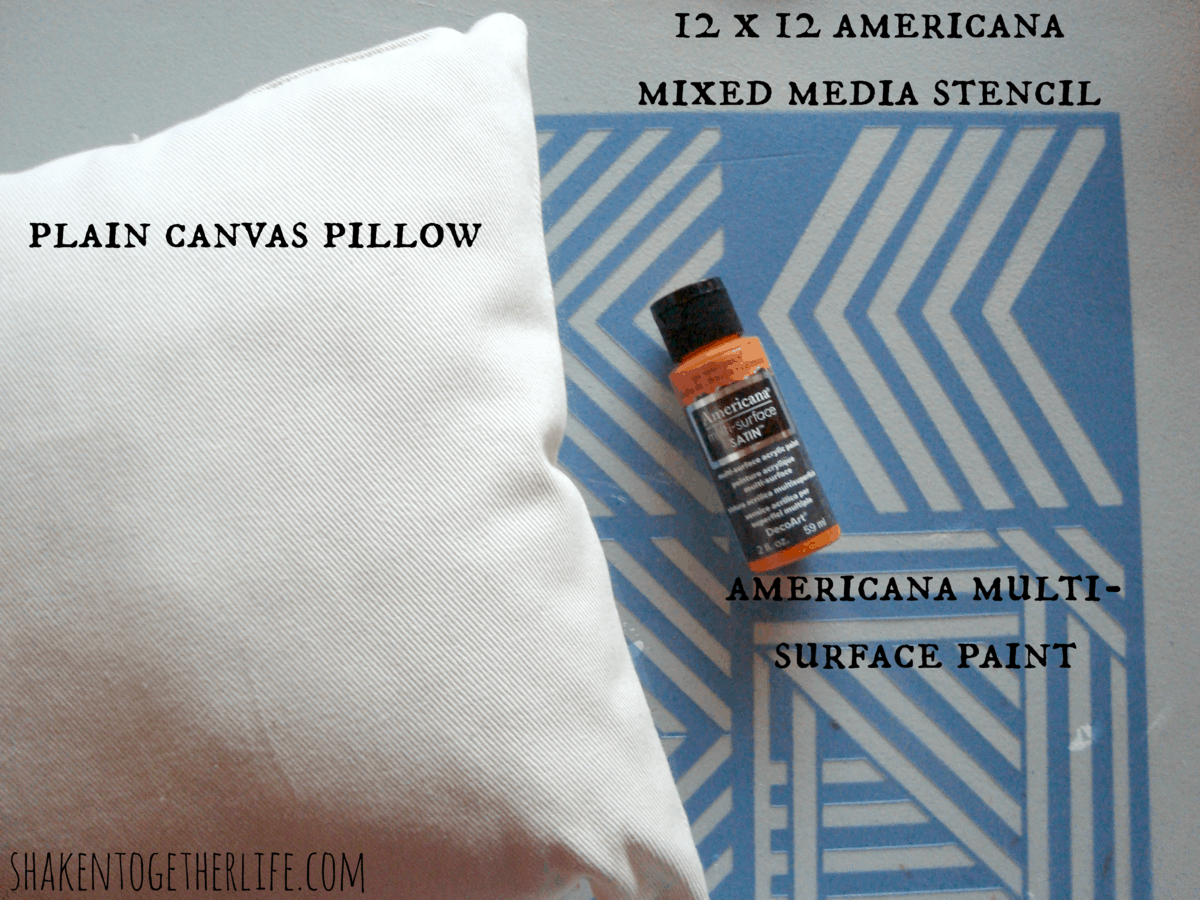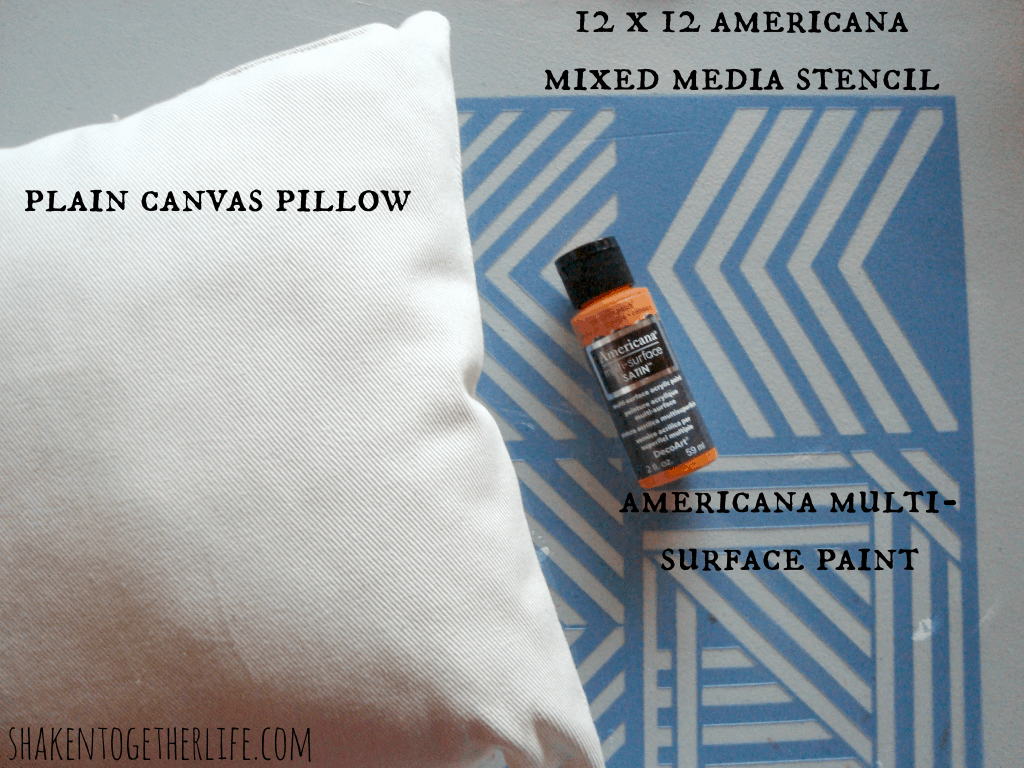 After I centered the part of the stencil that I wanted to use, I secured the Angular Motion stencil to the pillow with painters tape and it worked like a charm. I used a foam brush to add Pumpkin Patch paint in the herringbone design - such an appropriate color for this time of year! Since the pillow was somewhat curved, there were a few places that I painted outside of the lines, but I am okay with it. After all, I love rustic and hand made! Once the first section of the herringbone was dry, I re-positioned the stencil and painted another section. Once more, and the bright orange design was done!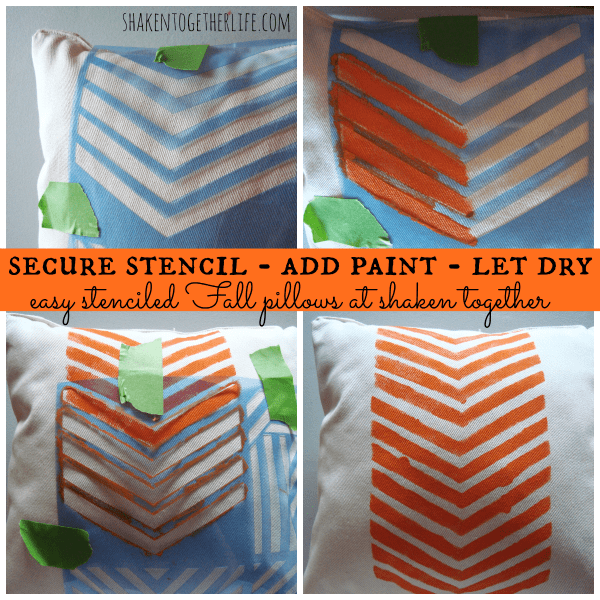 I followed the same basic steps to add the Branching Out tree stencil to the second pillow. This one was a little more time consuming due to the details that make up the tree branches, so just be patient and coax the stencil around the curved edges of the pillow. Once the entire tree was stenciled, I used a small paint brush and a little more Cocoa Bean paint to fill in any of the spots I missed or where I was light-handed with the paint.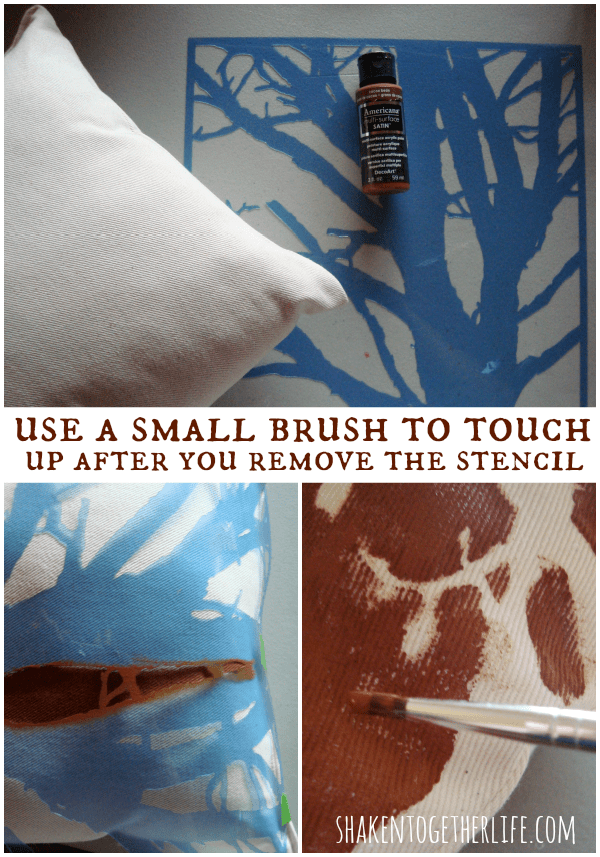 These stenciled Fall pillows were such a fun and easy way to kick off my holiday crafting season! While they were inexpensive to make, I love their rustic Fall look and they make the perfect addition to our entry way. The best part about this project was that because the paint dried quickly, both pillows were stenciled and dry in less than an hour. That is almost instant gratification crafting - this impatient girl's favorite kind of crafting! Just in case you are wondering, the paint did not seep or bleed on the canvas fabric and the lines are still as crisp as when I painted them. They look fantastic in the little rustic vignette in our entryway and I hope to show it to you soon!
Now is the perfect time to get a jump start on your holiday season crafting, too! Why? Well, the generous folks at DecoArt have a great promotion - buy 5 of the new Americana Multi-Surface Satin Paints and receive $3 back! Details are found below.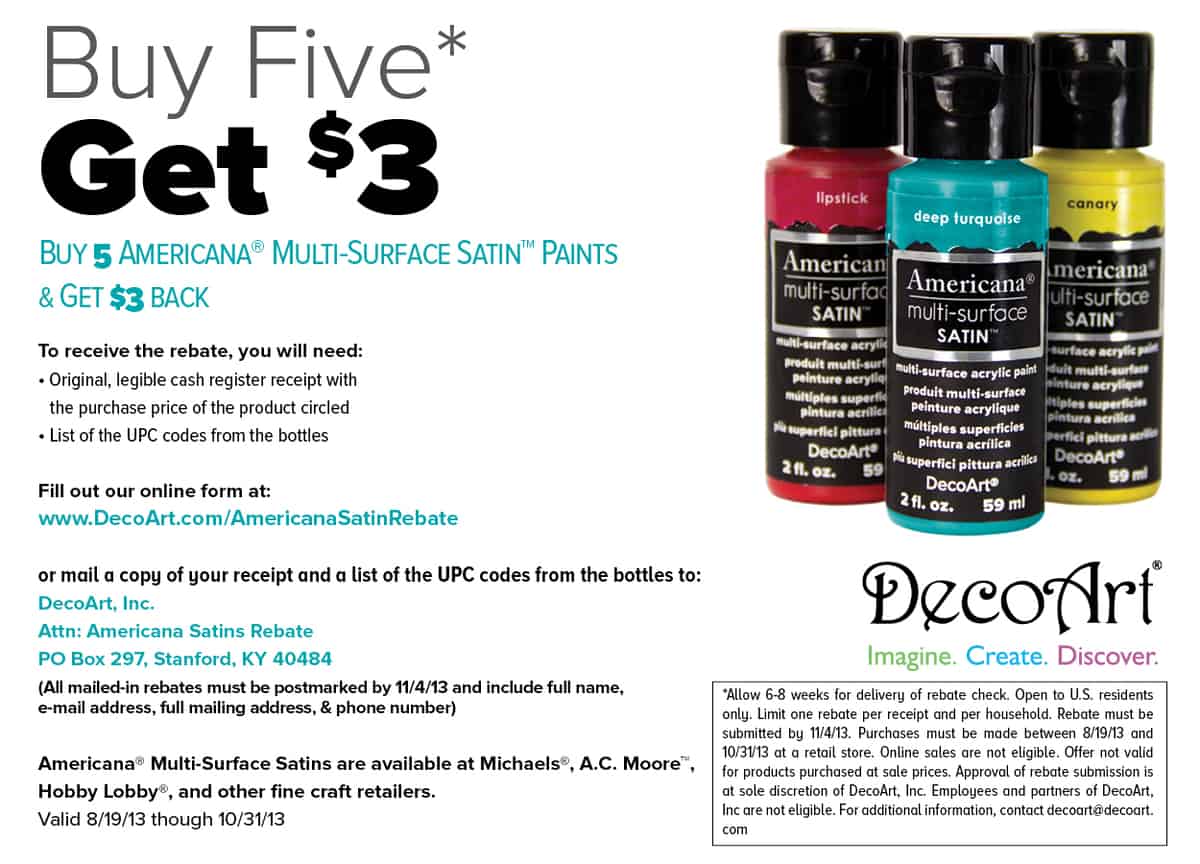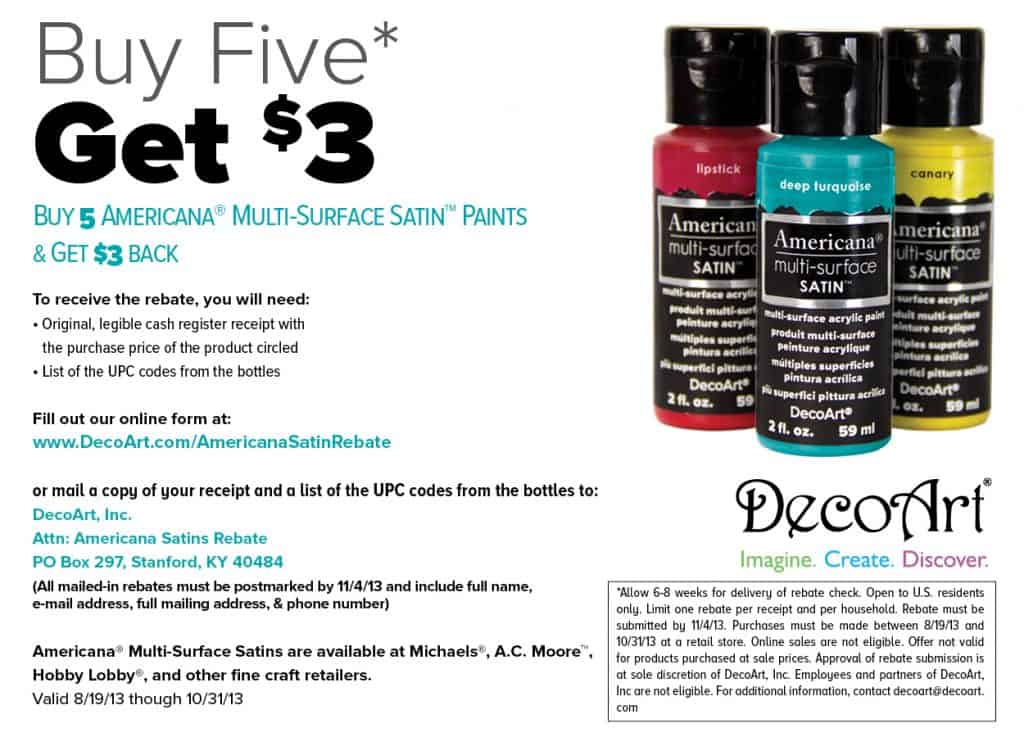 Since the Fall crafting has officially begun ... here are a few more of my favorite Fall projects from years past!!
Frightfully Easy Halloween Banner
Coffee Filter Bunting
3 Minute Bat Wreath
Disclosure: I received amazing products from DecoArt in order to create this fun tutorial, but all ideas and opinions are 100% my own!
This post may be shared at these awesome link parties:
>