This easy rustic stamped felt apple banner – that is practically perfect for your Fall decorating – was created as part of a compensated partnership with Martha Stewart Crafts and Lays Kettle chips.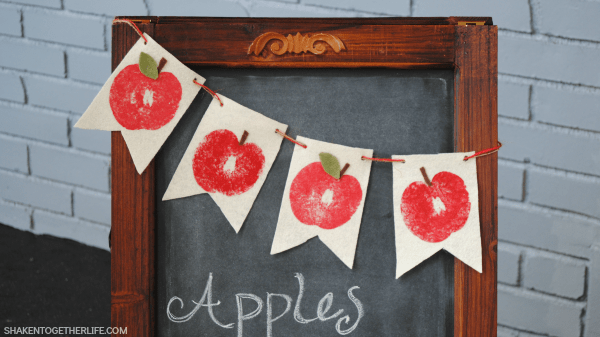 Now that it is officially Fall, I am dreaming of mugs of steaming apple cider, toasty warm scarves, jeans and sweaters.  Tis the season for football games and Fall festivals.  Hay rides and hot chocolate.  Piles of pumpkins and bushels of apples.  The glorious early morning weekend trips to our local farmers' market are one of the things I enjoy most when Fall finally hits Florida.  I was inspired by the bushels of crisp apples, the hand written signs and just the overall friendly welcoming feel at the farmers' market to create a simple, rustic Stamped Felt Apple Banner!
Stamped Felt Apple Banner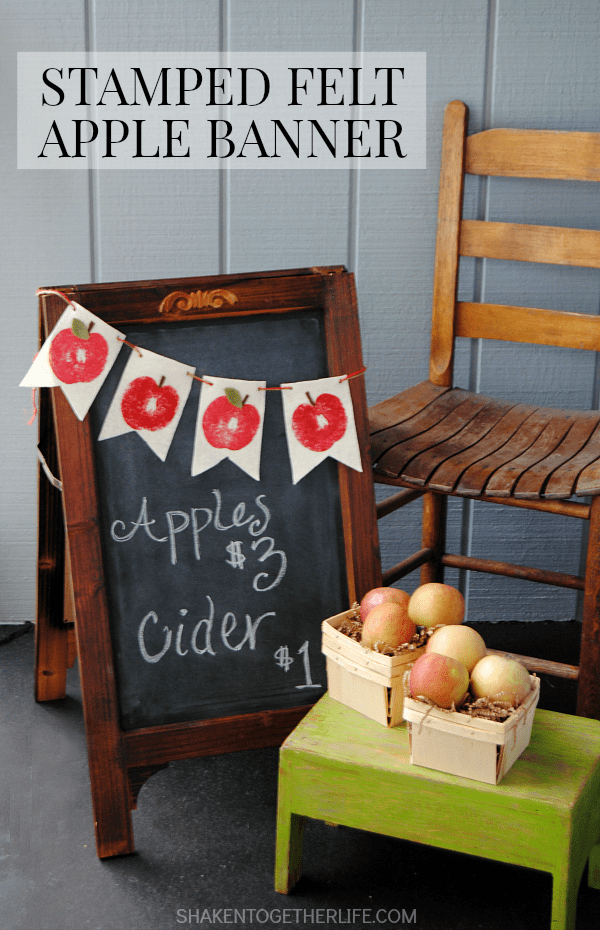 Easy projects like this stamped felt apple banner are perfect for an afternoon craft session.  I put on my favorite music, grabbed a salty snack (always my go-to) and a few supplies.  In about 45 minutes, this banner was ready to hang!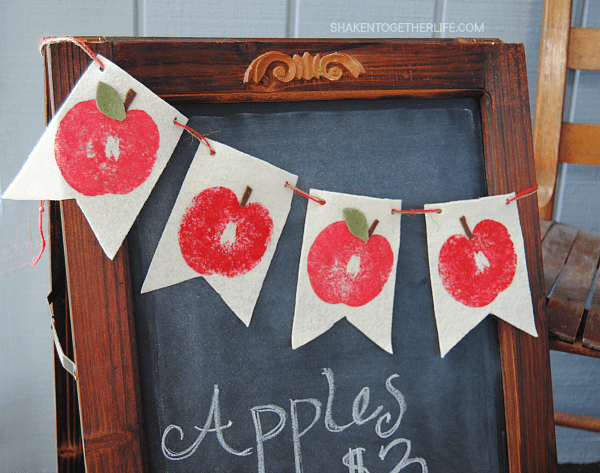 Supplies
Four felt banner flags (I used cream felt.)
One apple
Martha Stewart Multi-Suraface Satin acrylic craft paint in Tartan Red and Wild Salmon
Small paint brush
Brown and green felt scraps
Craft glue
Red and natural twine
A snack (totally a must when crafting, right?!) – these super crunchy Lays Jalapeno Kettle Cooked Chips had a delicious kick!  I love to have them on hand for Saturday crafting and Sunday football – they are the perfect dippable chips!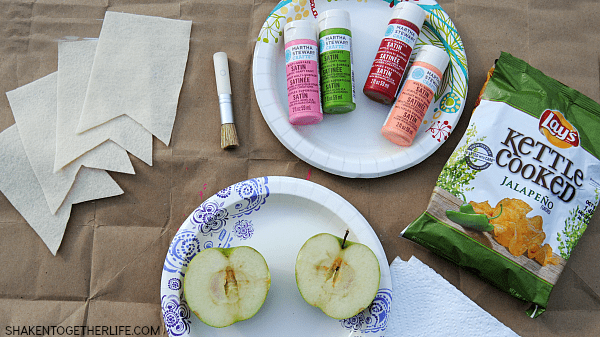 The How-To
Cut the apple in half – take care to cut straight so your apple 'stamp' is flat and you get a good impression.
Use a paper towel to pat the cut side of the apple dry.
Cover the flat surface of the apple with paint – it was easy to use a small brush to evenly cover the apple.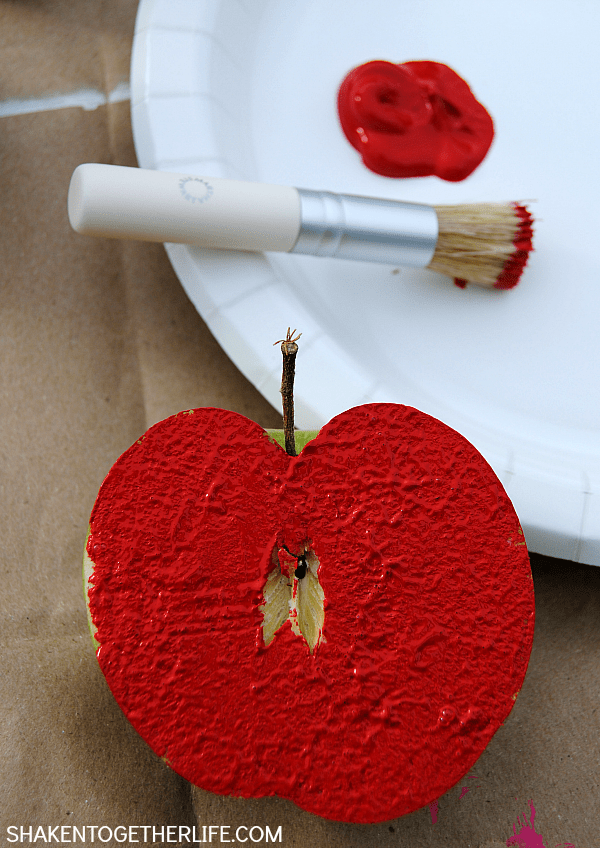 Press the painted side of the apple firmly onto the felt banner flag.  Lift the apple away from the flag and move the flag to dry.  Reapply paint to the apple prior to each 'stamp'.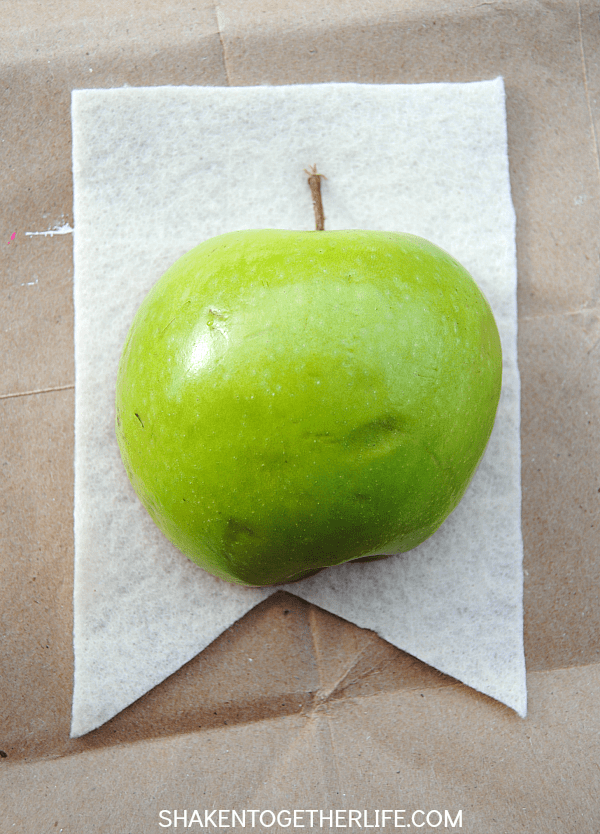 Repeat for all 4 felt banner flags – I tilted the apple a bit for each flag so they were all just a little different.  For two of the stamped apples, I mixed the Tartan Red and Wild Salmon paint to get a rosy pink color, too.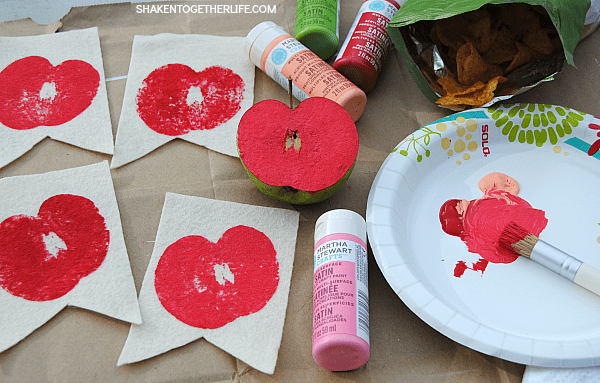 Once the stamped apples were dry, I used a Crop-O-Dile (a heavy duty craft punch) to punch holes in the corner of each banner flag.  You could also use sharp craft scissors to cut small holes.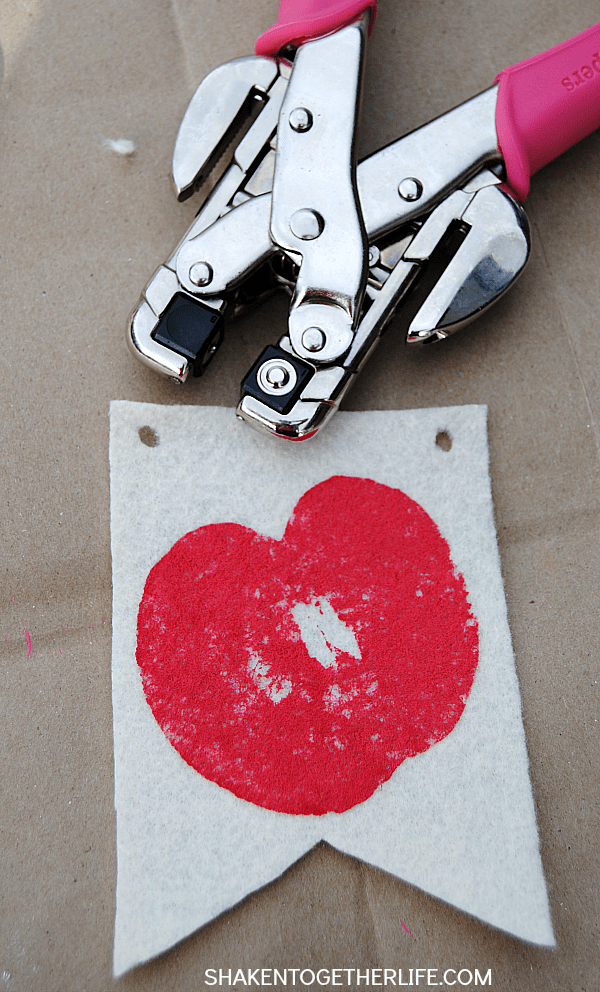 Finally, cut stems and leaves from scraps of brown and green felt and use craft glue to attach them.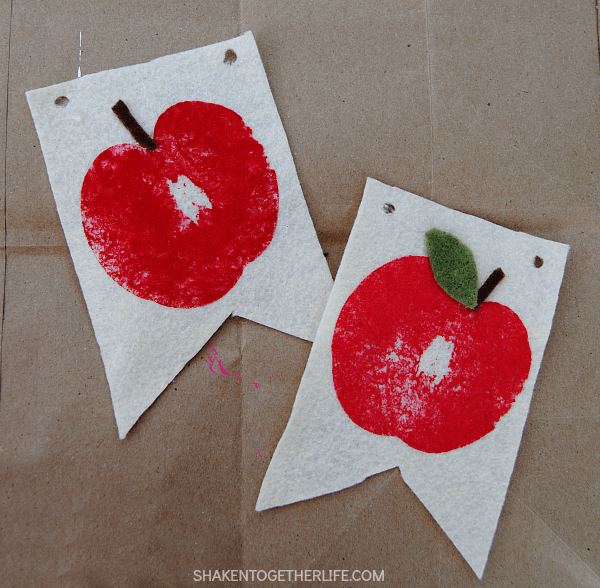 Connect the flags of the banner together with red and natural twine.  A gingham ribbon would also be so cute to use to connect the banner together.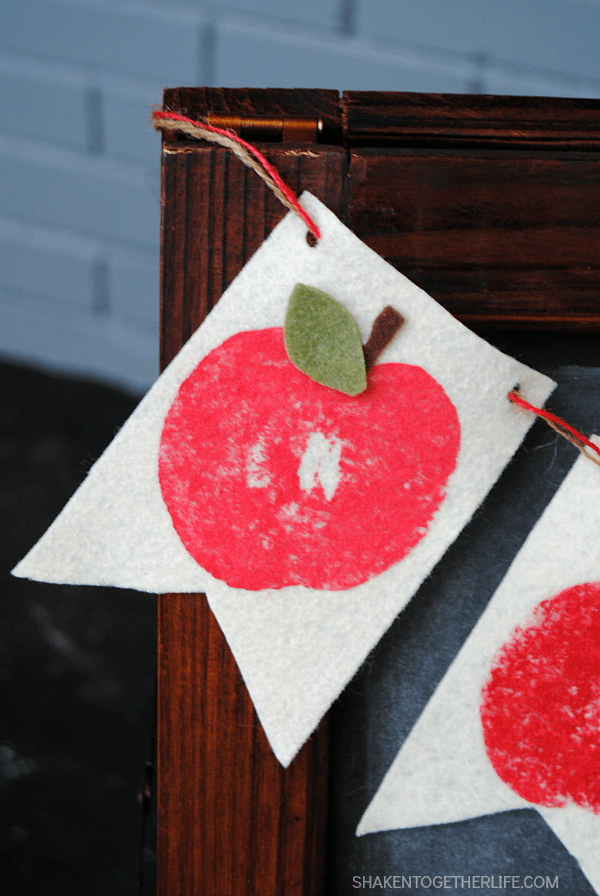 I hung my banner on a cute chalkboard easel (that you might remember from my Rustic Fall Front Porch), added some swirly lettering advertising crisp Fall apples and homemade cider and put together a few bushel baskets of apples.  Now, this says Fall …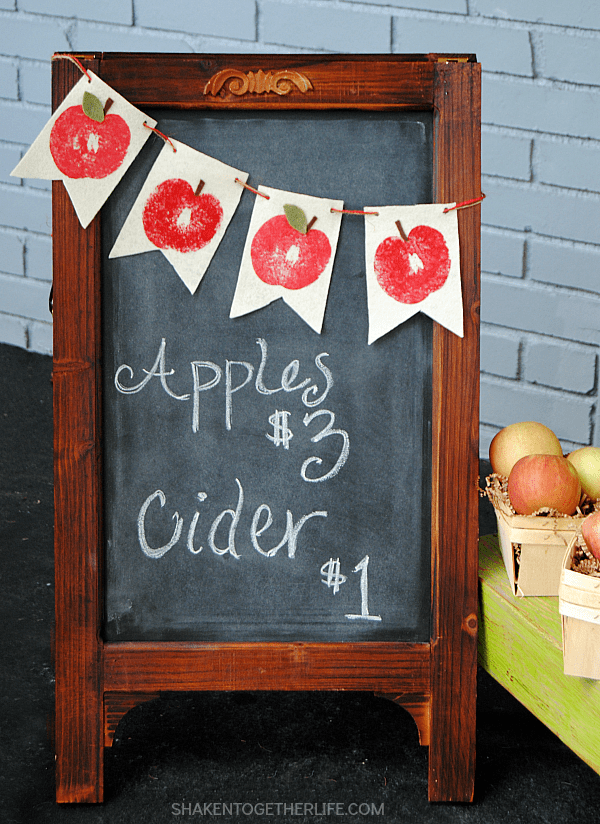 More Autumn Apple Projects & Recipes!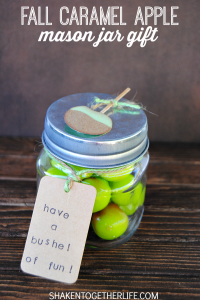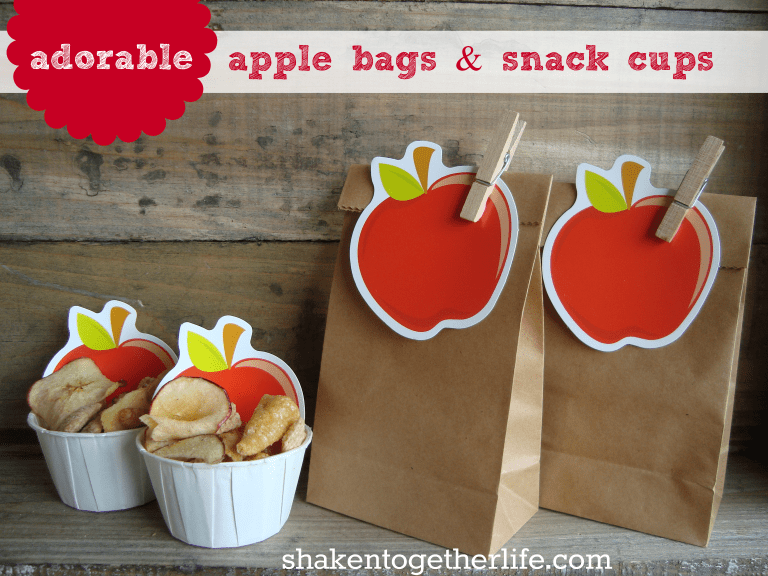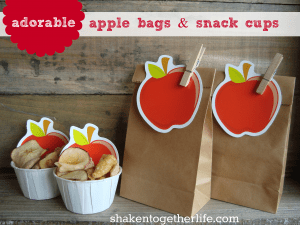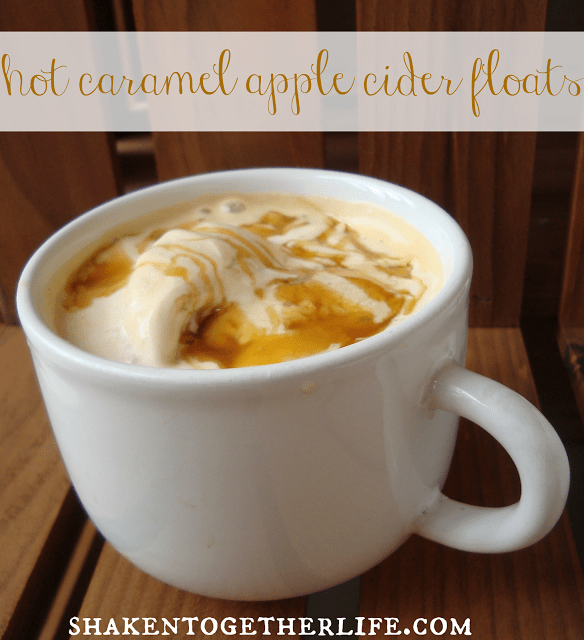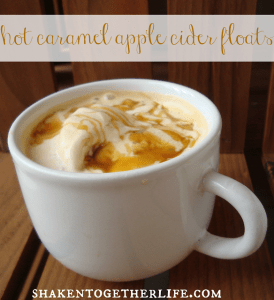 Hot Caramel Apple Cider Floats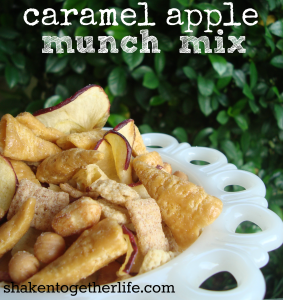 Our Stamped Apple Felt Banner may be shared here: