Can I get a little mushy on you?  It is the month of love, right?  While I love being able to share recipes from my kitchen, crafts from my craft room and sweet, cheesy gifts from my heart, there is nothing I love more about being a blogger than YOU!  That's right – each and every one of you!   My bloggy heart skips a beat to see a new comment, a like on a Facebook post or a pin added to one of your Pinterest boards!  Thanks, ya'll.  Really.  I couldn't do this without you!
Since we are spread from coast to coast and all across the globe, I can't really send each of you a candy tackle box or lemon drop mason jar gift.  Hmmm … SO, I figured that none of you would mind if I joined with some other fantastic bloggers to spread the love with a big ol' giveaway!!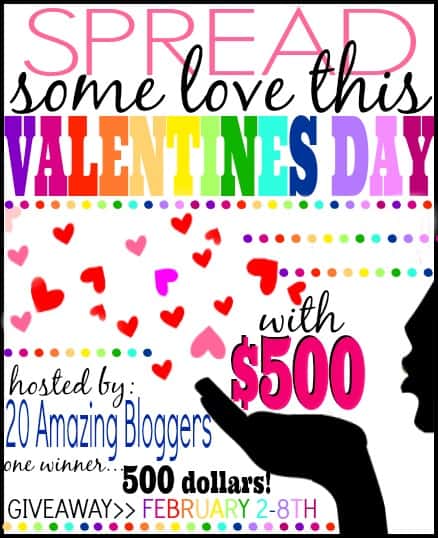 Sweet, right!?  Whether you would treat your spouse to a fancy dinner, take the kids to the theme park, throw a party for your closest friends or just take a much needed day of R&R, this $500 giveaway is ALL about showing that special someone a little love!  And because we big fat pink puffy heart LOVE OUR READERS we're picking up the tab!!!
Yep – one winner can have $500 sent to them via PayPal or pick a $5oo Visa gift card!  Wouldn't that be a seriously happy trip to your inbox or mailbox?!
Giveaway ends at 8pm EST on February 8th. The winner will be picked that night and have 24 hours to respond to the email notification to claim their prize, before a runner up is picked.  Enter using the Rafflecopter widget below (give it a second to load) and then cross your fingers!
Spread the love and good luck, loves!!