This post brought to you by FrogTape brand painter's tape. All opinions are 100% mine.
Now that the Fall and Halloween crafting has started, I just can't stop!! So when I was sent a roll of FrogTape painter's tape and asked to make a project, I knew that deliciously spooky orange and black stripes were definitely in order! So I transformed a thrift store find into this fun and funky, spooky striped Halloween plaque with FrogTape®!!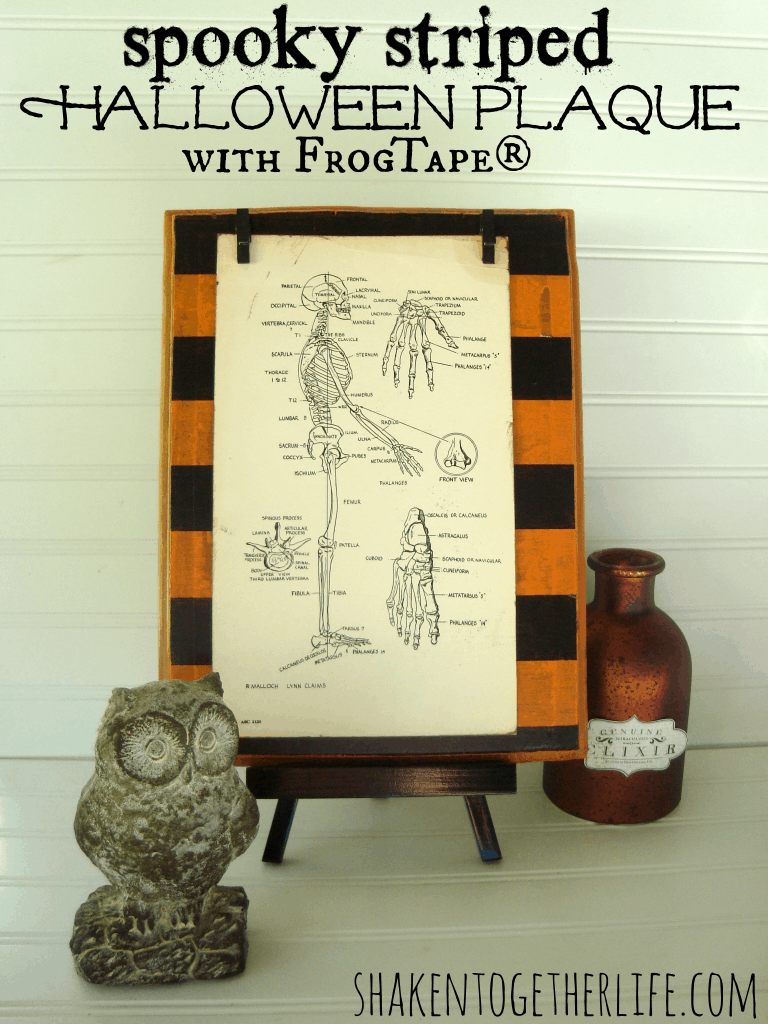 Want to see the thrift store find that sparked my interest and was the starting place for that spooky striped Halloween plaque? Take a look at this rustic 1970s beauty! And only $1 - score!!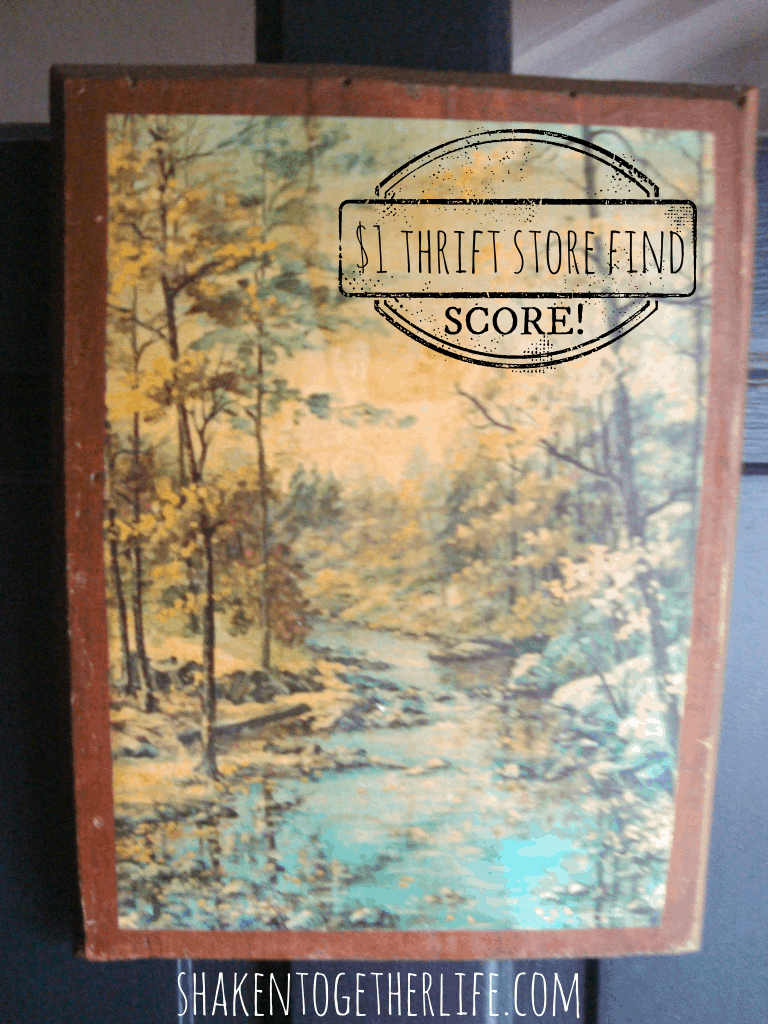 To get started, I used my orbital sander to sand down any rough edges and to create a surface for my paint to adhere to. I wanted the trees to peek through the paint so I was not concerned when I could still see their outlines through two coats of orange acrylic paint. Once the paint was dry, it was time to get my stripes on!
FrogTape® Multi-surface is a medium adhesion painter's tape designed for use on a variety of surfaces including unfinished wood, metal, glass, carpet and stone. It is treated with paint block technology that forms a micro-barrier that seals the edges of the tape, which helps prevent paint bleed. Just wait until you see how crisp and clean my stripes turned out - no bleed at all!!
In order to keep my stripes straight and evenly spaced, I used a small piece of FrogTape® on either side of my plaque as a spacer. It worked like a dream!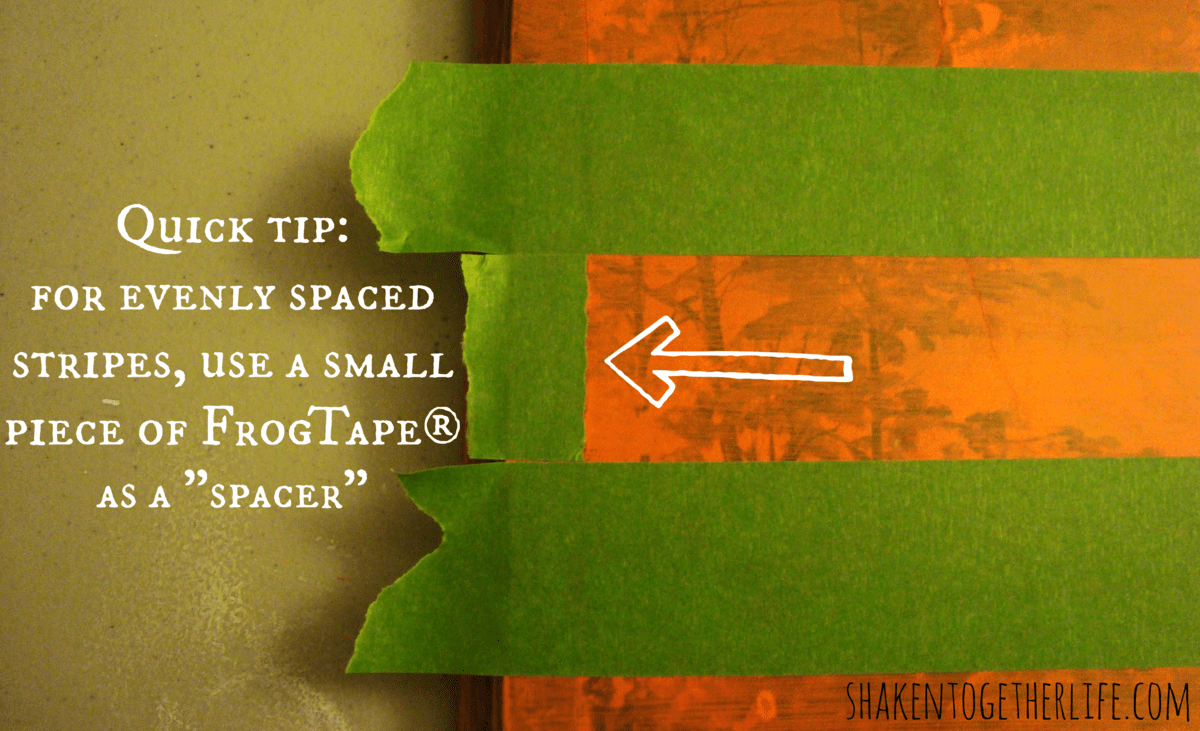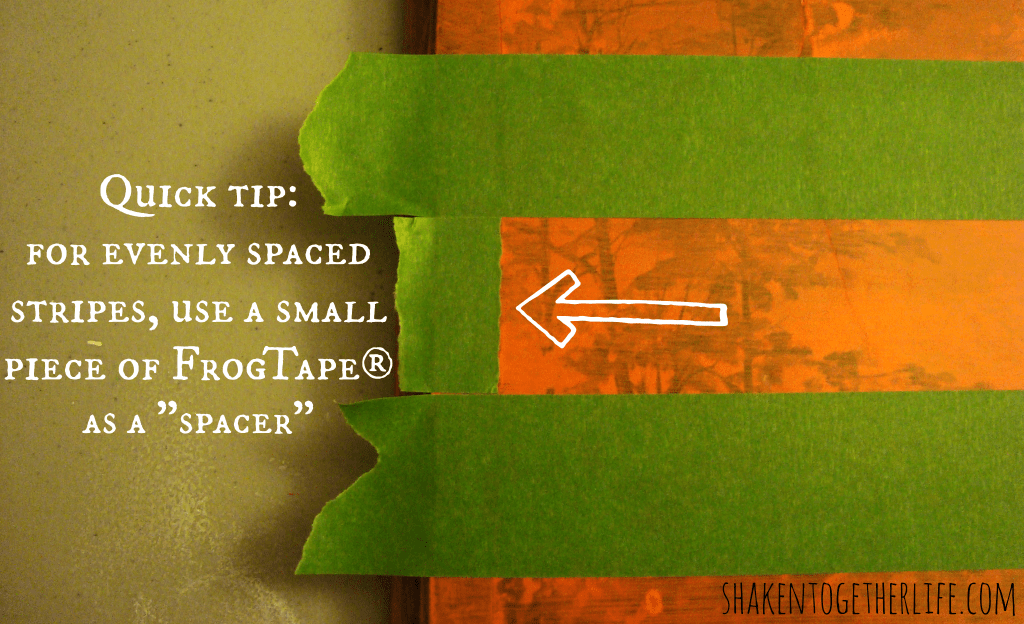 Once I taped off my project, I removed my tape spacers and painted the exposed surface with three coats of black acrylic paint.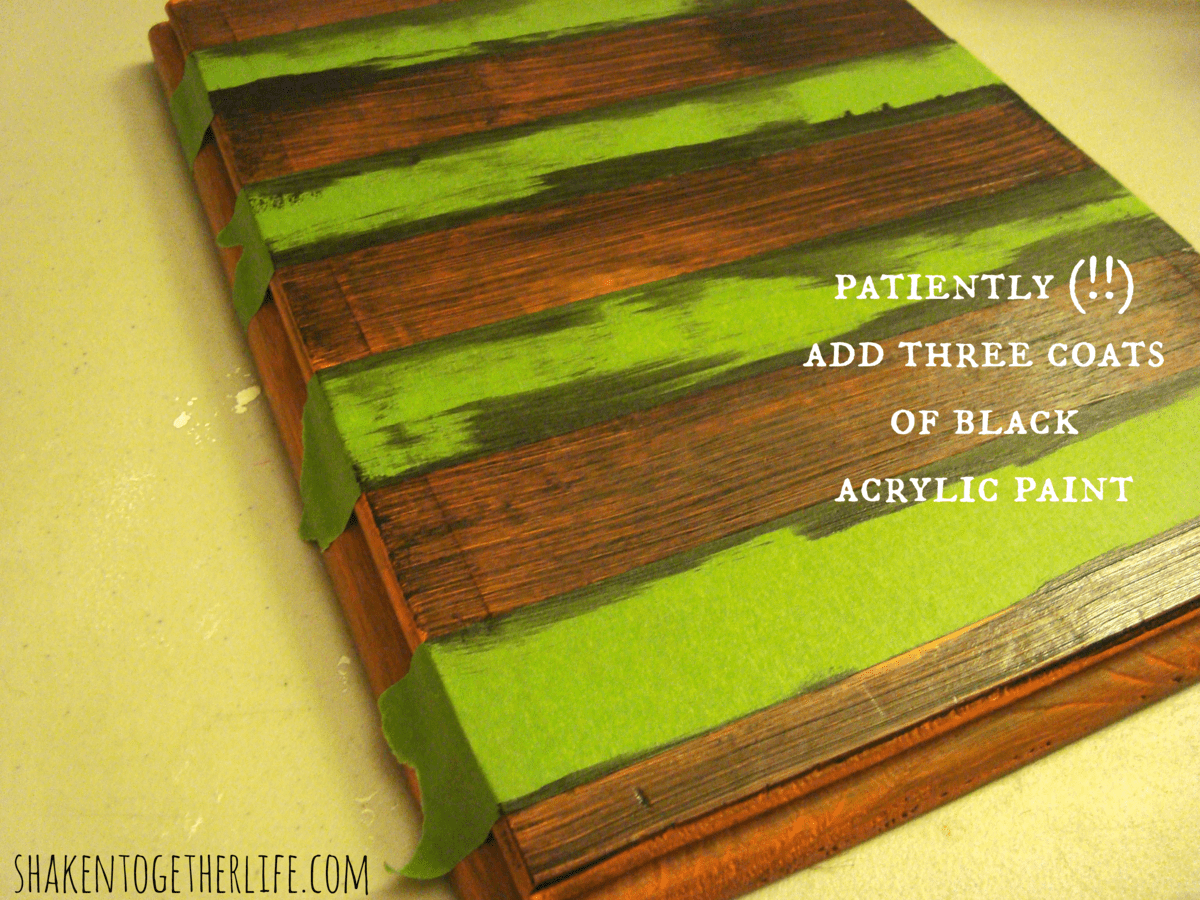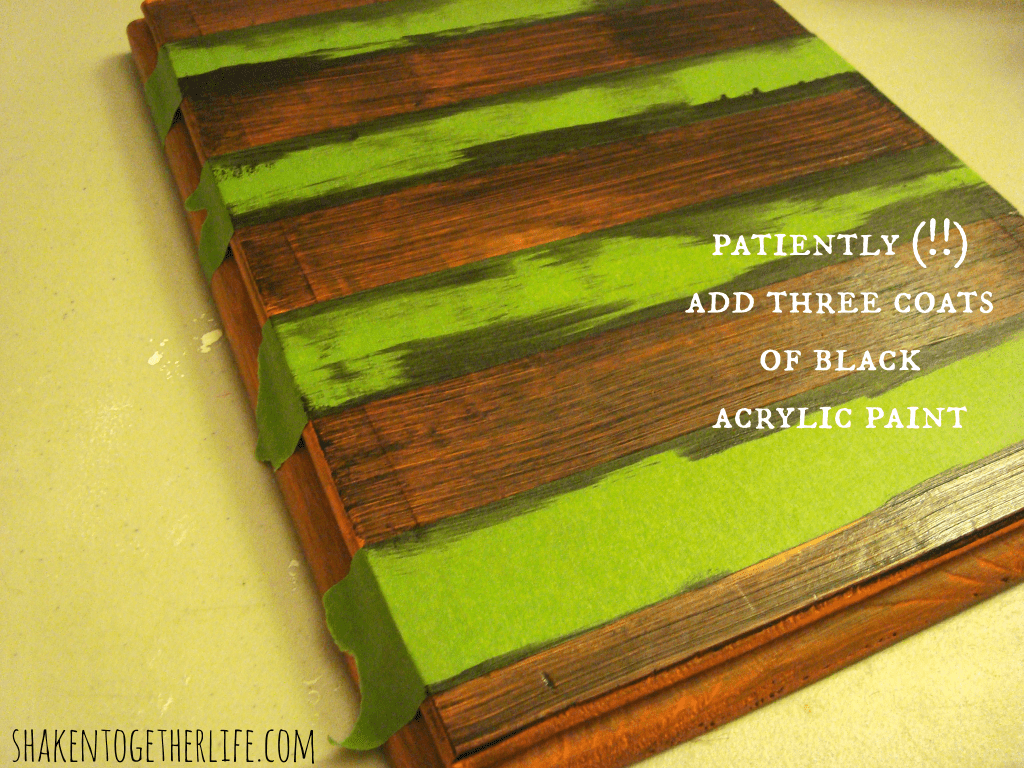 Finally, once the black paint was dry, it was time to peel back the FrogTape®. It peeled off easily, did not pull off any of the orange paint and left behind clean, crisp black stripes ... I was SO happy with the final result!!
While the black stripes were drying, I painted two mini clothespins with the same black acrylic paint. When those were dry, I glued them onto the top of the plaque to hold photos, artwork or Halloween printables!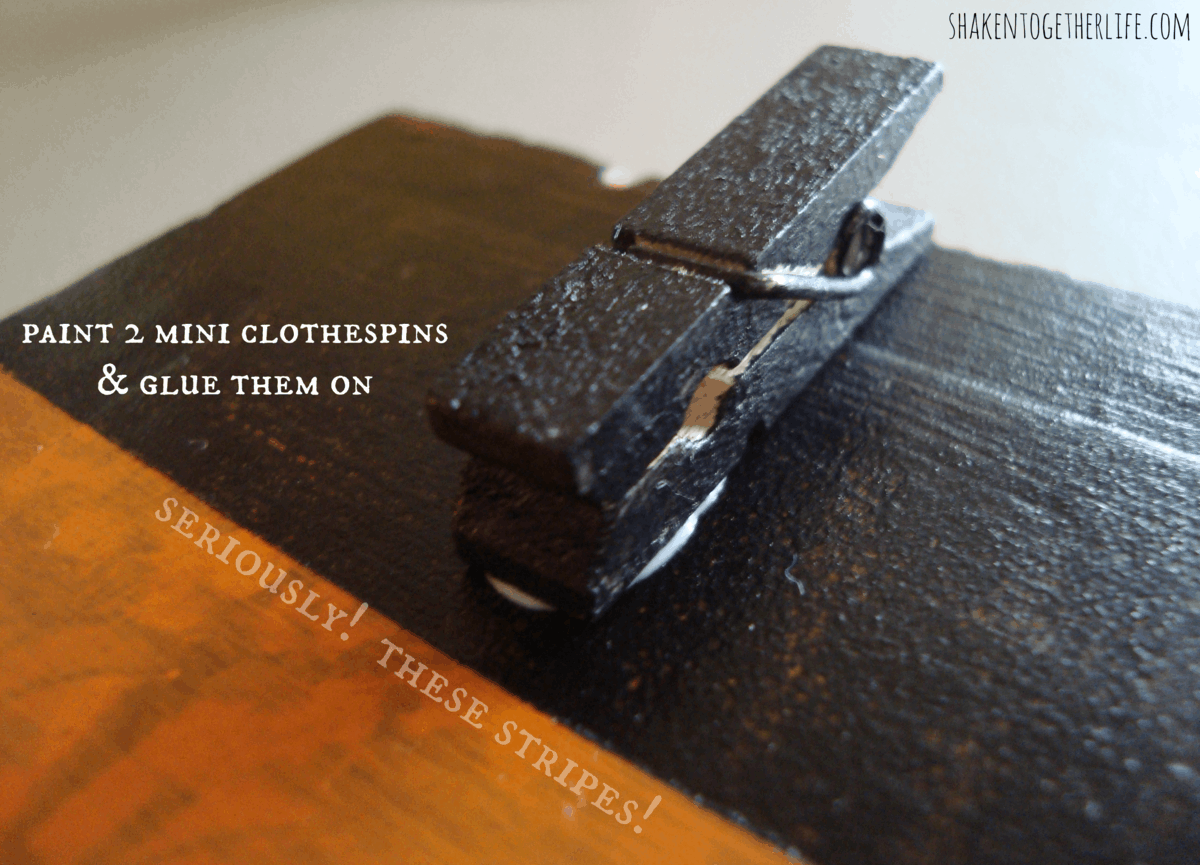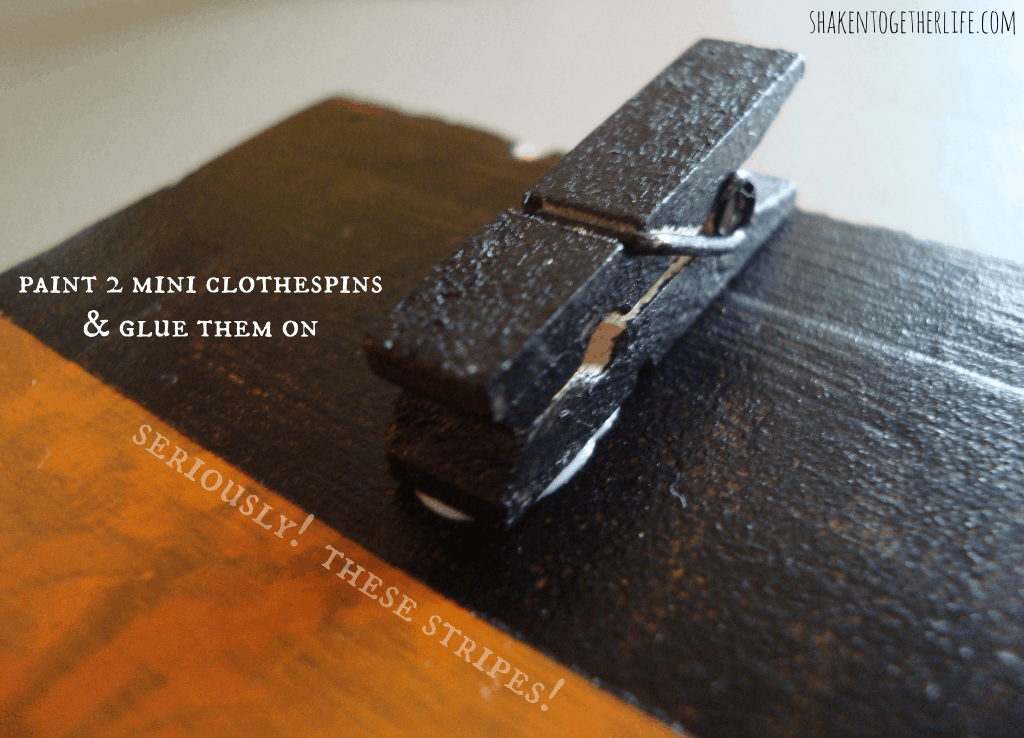 Instead of photos, I hung up a cool skeleton diagram and I inked the edges of the paper to give it a little age and character. The Risk Manager at my office found the diagram when she was going through her filing cabinets; she used to use it adjust workers' compensation claims. Cool, huh?! I've had this tucked in my craft room for years just waiting for the right project! I was pretty excited when it fit perfectly on my spooky striped plaque!
**Updated 9/5/13 - I haven't had much luck finding info about the skeleton card that I have hanging on my plaque. BUT, The Graphics Fairy has a really cool skeleton anatomy graphic that would be pretty close!!**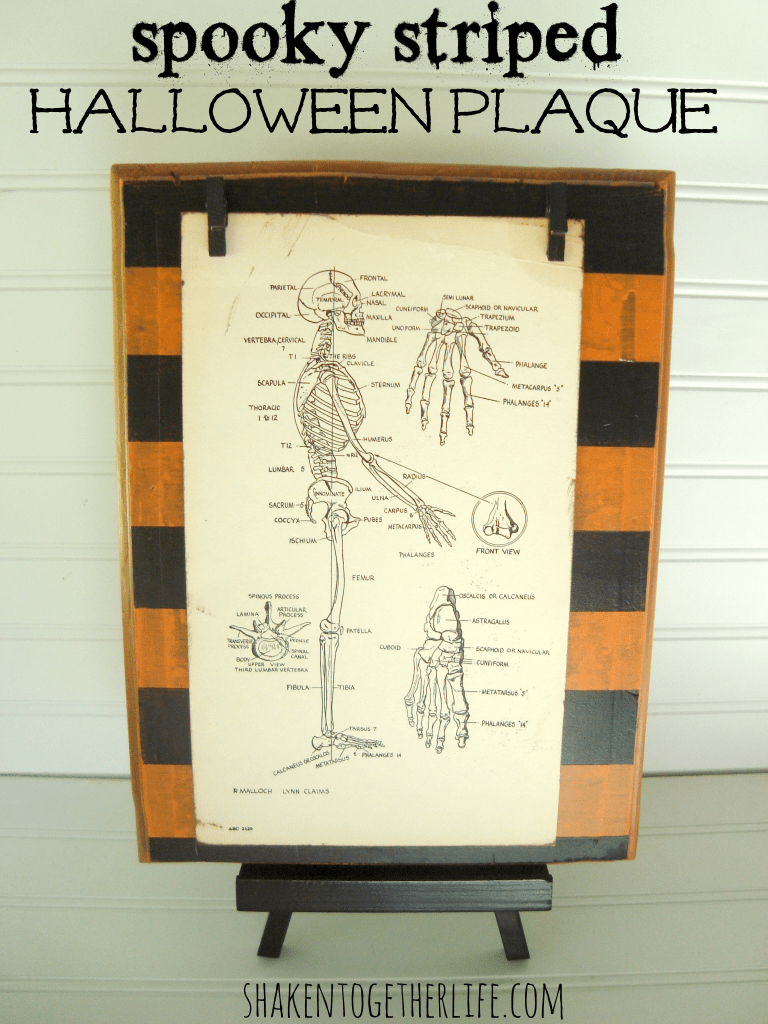 I am adding this spooky striped Halloween plaque to the eerie decor in the nook in our dining room ... I decorate it each season and I can't wait to show it to you!
So, are you stuck on FrogTape®? Stay connected with FrogTape® on Twitter for lots of creative inspiration!
This was shared at the awesome link parties on my Link page!