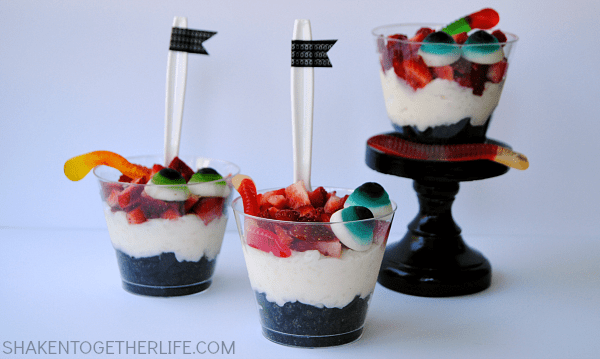 This post made possible in part by Driscoll's but the terrifying treat recipe is 100% my own.
You didn't think we were done with Halloween just yet, did you?!  Oh no … I've still got a few things up my sleeves!!
So, every year our neighborhood association throws a big ol' Halloween pizza party.  We all head over to the cul de sac, chow down on pizza, catch up on neighborhood happenings and get a sneak peek of some of the kiddos' costumes – it is one of the reasons why we love our neighborhood!  This year, I thought we would cap off the pepperoni fest with an easy, no-bake dessert.  You know, to counteract all the walking.
Scary Berry Halloween Parfaits
Just look at all those lovely layers!  Well, if you consider dirt, guts and worms lovely.
I, for one, love layered desserts – nothing to frost, nothing to pipe, and no need for perfection! Is there anything better than digging down through delicious layers of cookies, pudding and berries for the absolute perfect bite?  And you can definitely find that perfect crunchy/creamy/tangy bite in this easy dessert … once you dodge the gummy worms and ignore the stare of those gummy eyeballs, that is!
Our Scary Berry Halloween Parfaits are layered with terrifying tasty things!  In a plastic cup (or mason jar) add layers of these eerie ingredients:
Graveyard Dirt (crushed Oreos)
Ghastly Goo (rice pudding – it has a great creepy consistency!)
Gory Guts (Driscoll's strawberries)
Gummy worms and eyeballs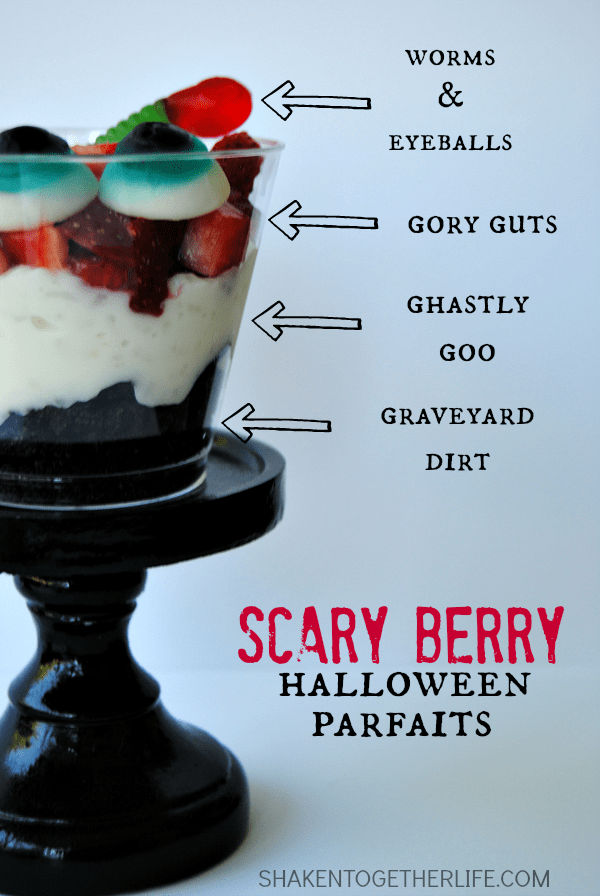 I love using a clear cup so you can see the "innards" of these parfaits!  I added a plastic spoon with a washi tape flag in each parfait.  Just fold a length of washi tape around the handle of the spoon and use a pair of scissors to cut away a triangle – instant adorable washi tape flag!
Well, I think the eyes have it!  These Scary Berry Halloween Parfaits would be the perfect addition to your Halloween party or get together!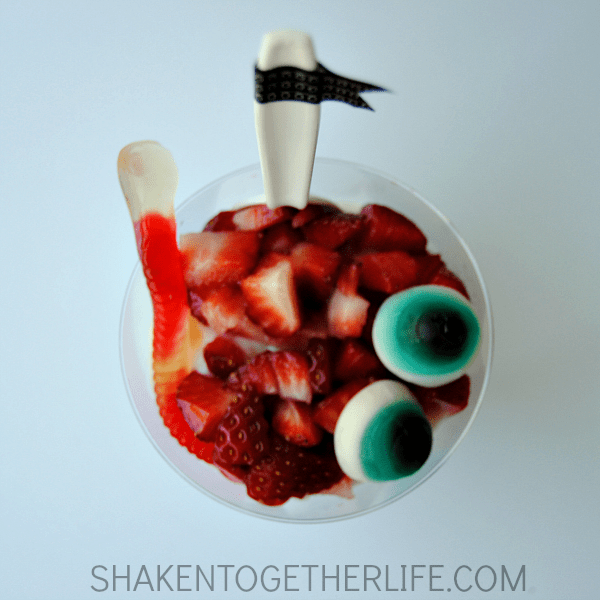 More Halloween Eats & Treats!
Our Scary Berry Halloween Parfaits may be shared here: