Packed with savory sausage and fresh, tangy blueberries, these Sausage & Blueberry Pancake Muffins are a simple breakfast or brunch recipe that will wow your family and friends.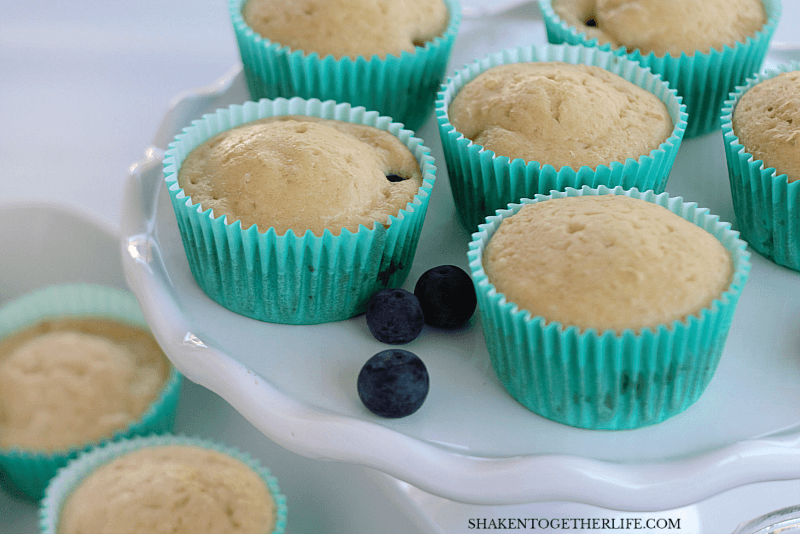 There is just something about brunch that I can't get enough of. It takes place during that glorious time of day where a slice of frosted banana muffin cake is completely acceptable next to a chicken salad croissant, a cocktail at 10:30am is the norm and starting a little late is expected. What better way to capture the laid back, sweet and savory vibe of brunch than in a perfectly portable, no extra syrup required pancake muffin studded with crisped sausage and tangy blueberries?!
Sausage & Blueberry Pancake Muffins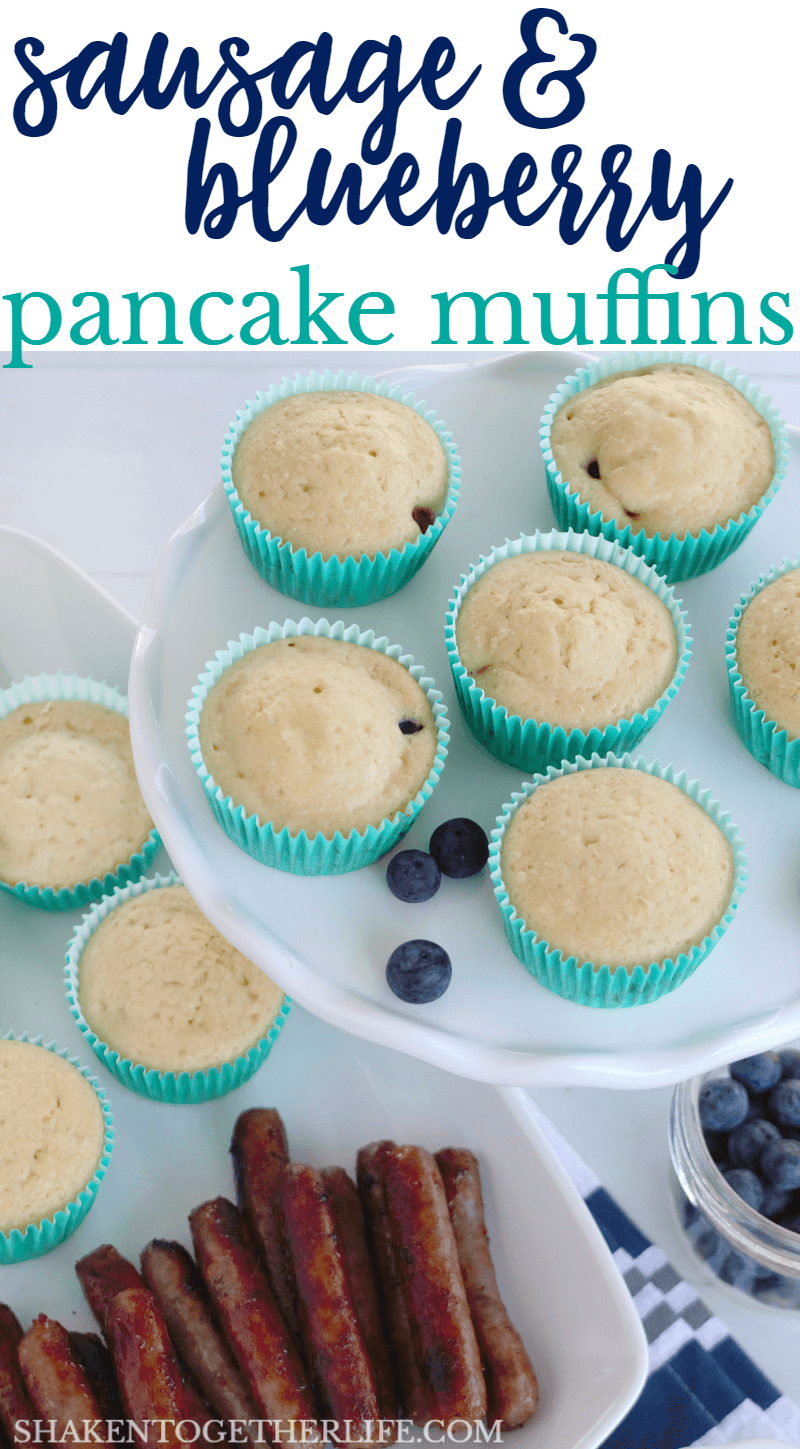 With no-fuss brunch recipes like these pancake muffins, we can brunch in our PJs at home while we binge watch our favorite shows! Hello lazy Sunday!
This recipe starts with a skillet of Smithfield Hometown Original Fresh Breakfast Sausage Links. We use Smithfield products a lot around our home: diced ham in a broccoli Alfredo gnocchi skillet, bacon wrapped around our favorite appetizer or skewered on these brunch kabobs. Their new fresh breakfast sausage is made with premium pork, has no MSG and is gluten free. Since it comes in links and patties in flavors like Hometown Original, Maple and Bacon, it is easy to incorporate into your family's favorite recipe. (You better believe there is bacon sausage and chocolate chip version of these pancake muffins happening soon!)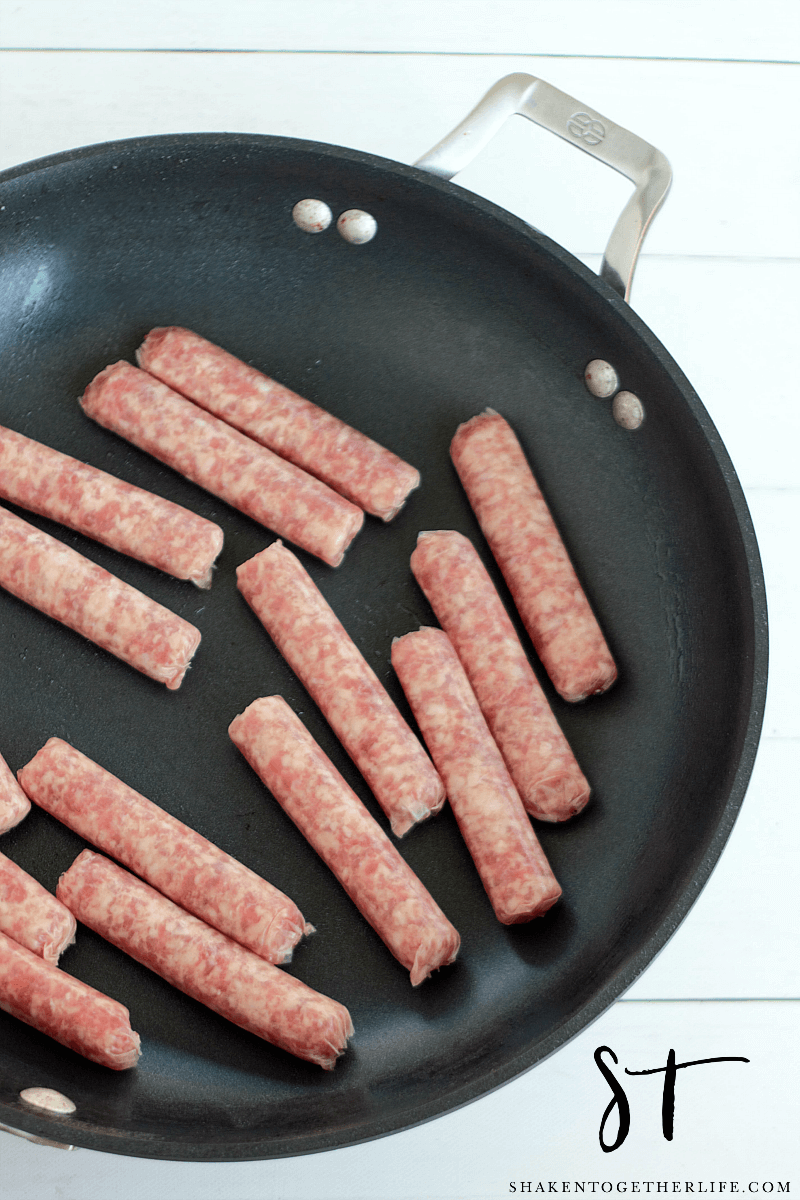 While the sausage was cooking, I mixed up the simple pancake batter. Since the syrup is stirred right in, these muffins definitely have the sweet familiar pancake flavor.
Once the batter was ready, I filled the muffin papers about ½ way full and then added a few blueberries. (Tip: I used foil cupcake wrappers for a second batch of these pancake muffins and it was easier to peel wrappers off.)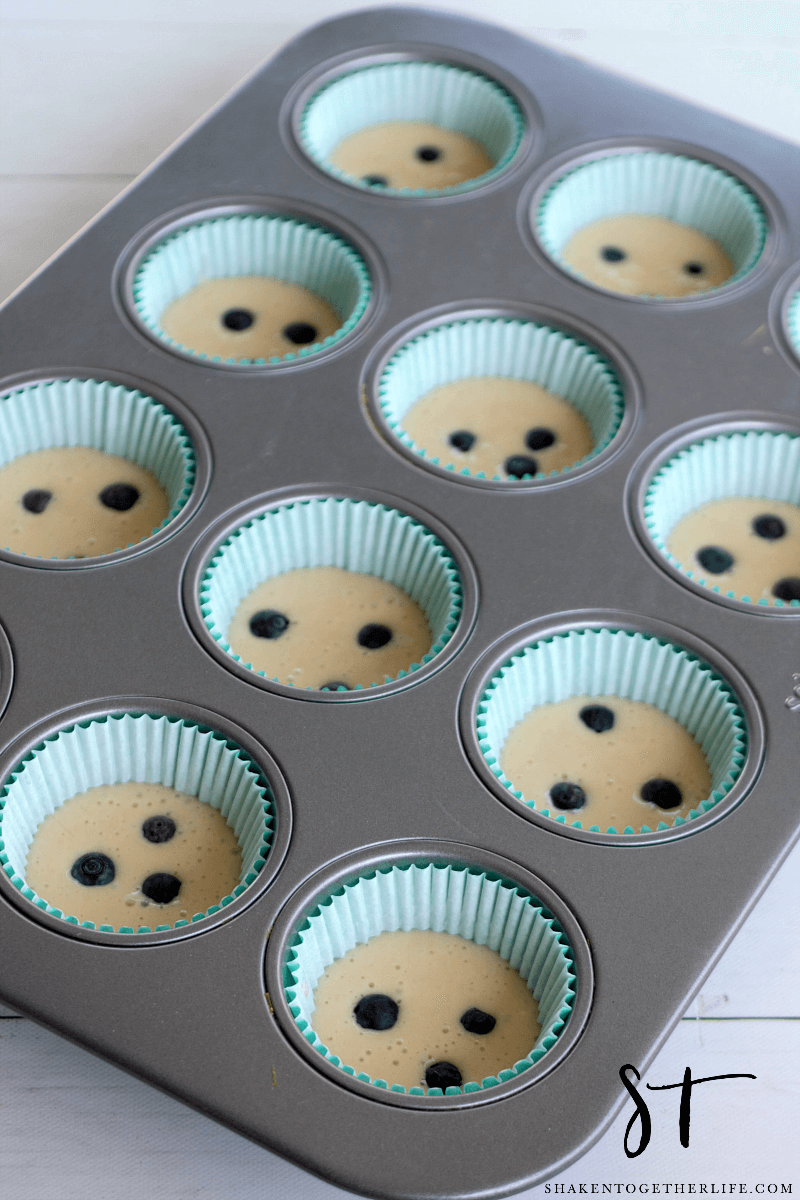 Next comes the sausage! When it cooled down, I chopped it into bite sized pieces and added it to the pancake muffins.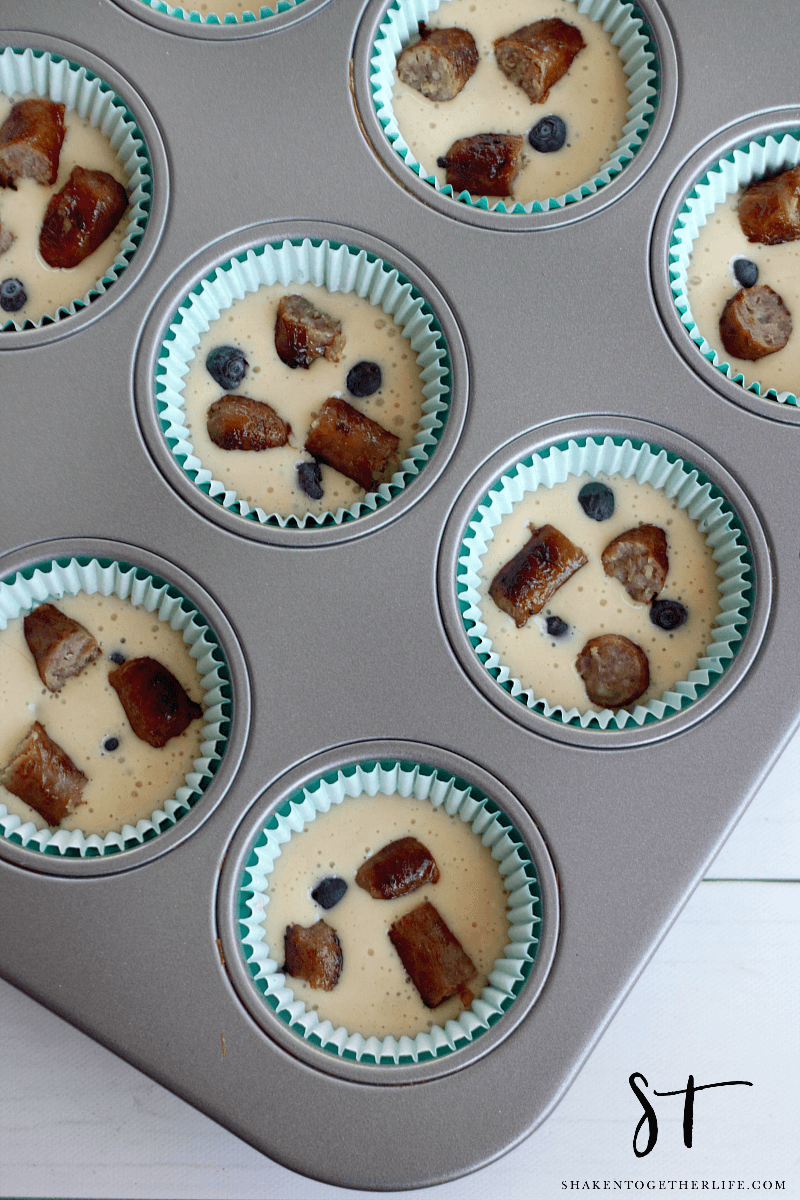 I added about a tablespoon of batter on top of the berries and sausage and these pancake muffins were ready to bake!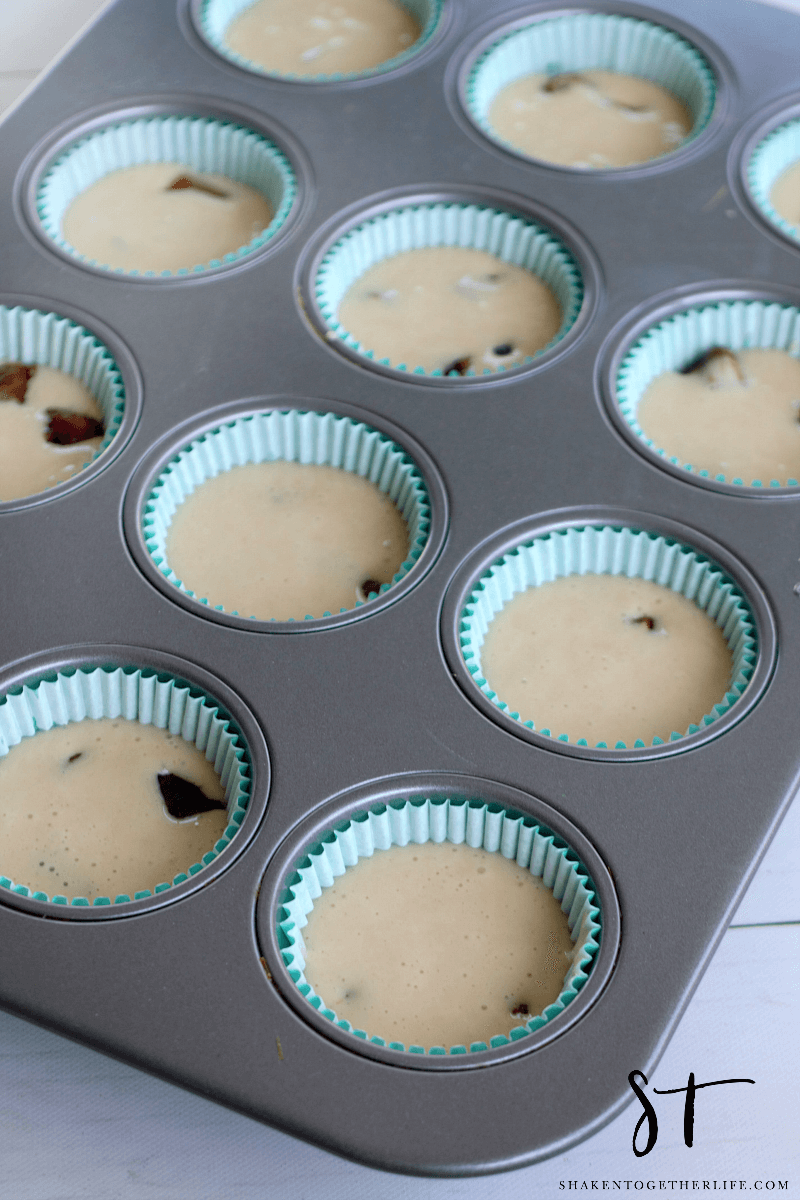 The soft fluffy pancake + syrup muffins are so delicious and each bite is a different combination of sweet, savory or both!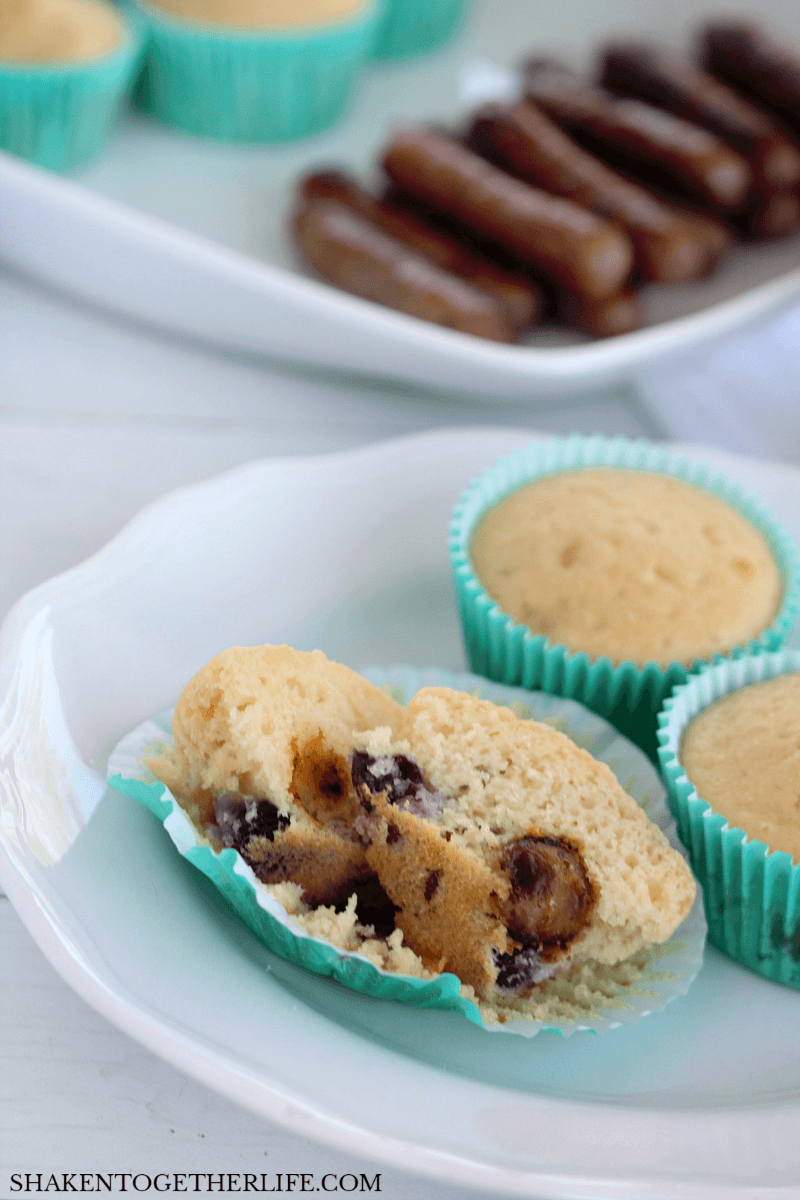 Since my boys are both active teenagers, I cooked an additional package of Smithfield sausage links to serve alongside these muffins – my guys never say no to a little extra protein and I love the crispy texture of the fresh breakfast sausage, too. And maybe, just maybe, they'll leave a few of these Sausage & Blueberry Pancake Muffins for me 😉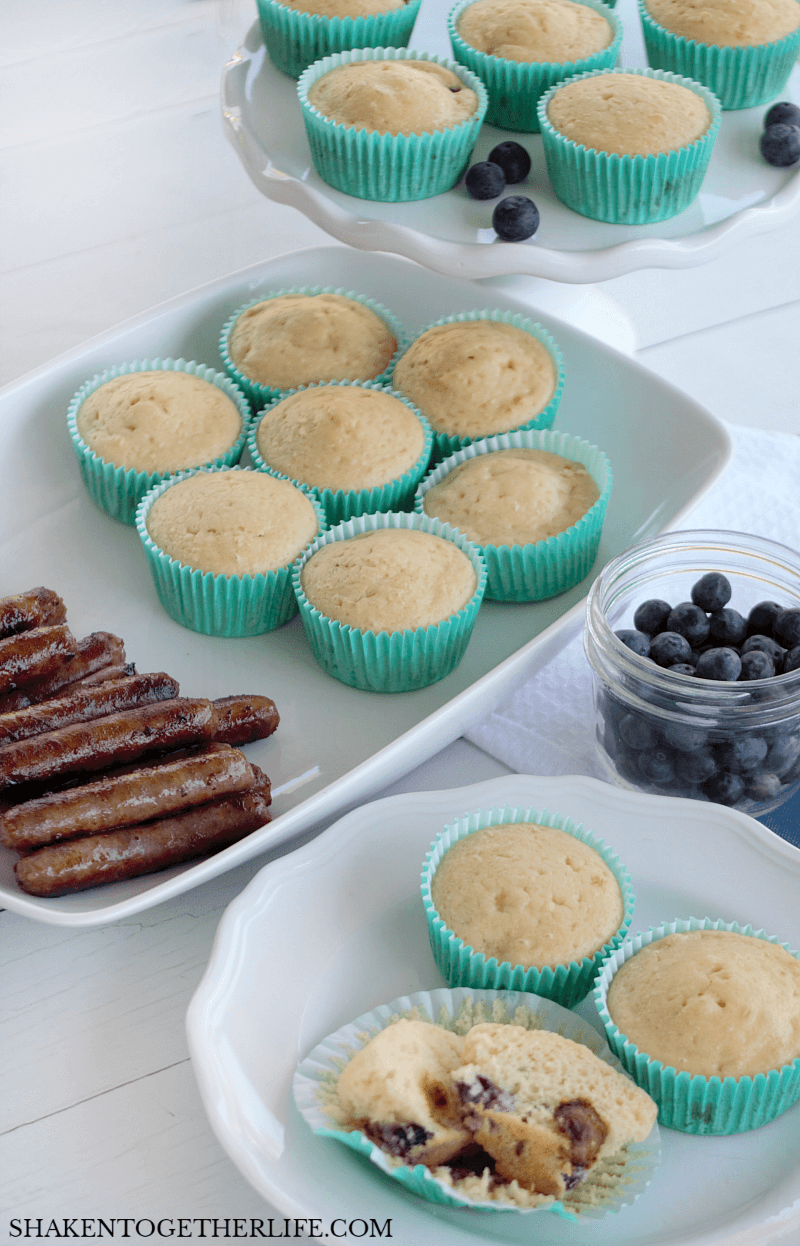 Print
Sausage & Blueberry Pancake Muffins
---
2 cups

buttermilk pancake mix

⅔ cup

milk

2

large eggs

⅓ cup

maple syrup

1 teaspoon

vanilla extract
One package Smithfield Hometown Original Fresh Breakfast Sausage Links
Fresh blueberries (3 – 4 berries per muffin)
---
Instructions
Preheat oven to 350 degrees F.
Prepare muffin pans with non-stick cooking spray or use foil cupcake wrappers.
Cook sausage links according to package direction and allow them to cool enough to handle.
Chop cooled sausage links into bite sized pieces.
While the sausage is cooking, mix together the pancake mix,milk, eggs, maple syrup and vanilla.
Fill the wrappers about halfway full with pancake batter.
Place 3-4 blueberries and 3-4 pieces of chopped cooled sausage in each muffin.
Spoon about 1 tablespoon of additional pancake batter over the berries and sausage.
Bake for 13-15 minutes or until a toothpick inserted into the center of the muffin comes out clean.
---
These Sausage & Blueberry Pancake Muffins were a HUGE hit with my family. Each batch makes about 18 pancake muffins, so these would be perfect to make ahead for weekday breakfasts or to add to a lazy Sunday brunch.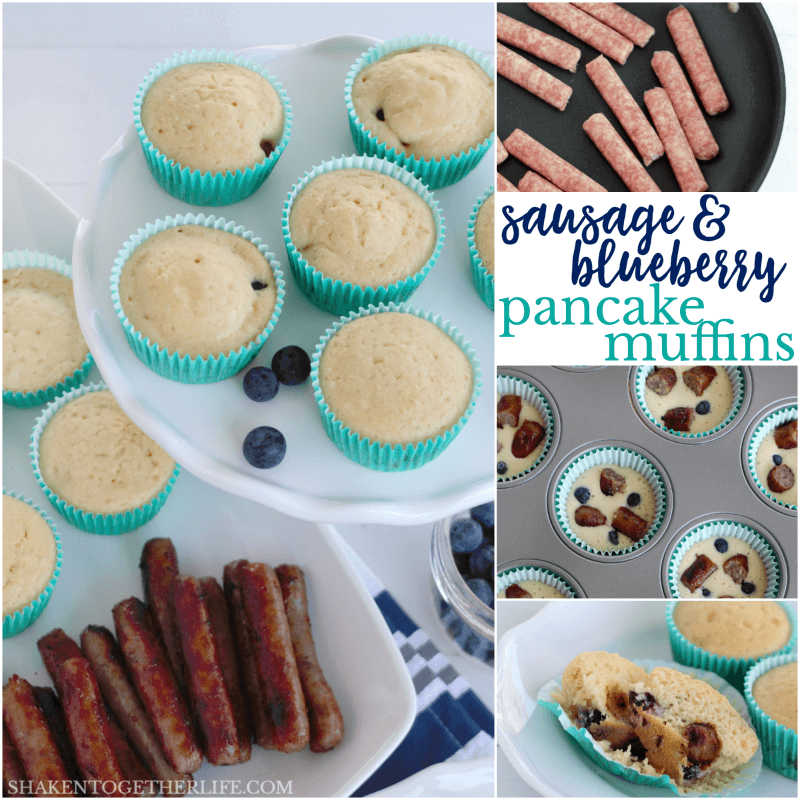 You can find more brunch recipes here at Shaken Together.