Here we are, just six days before Christmas (say what?!?!).  Two days away from the boys' winter break (no homework or projects!). Close enough to a nine day vacation from work that I feel like a senior in high school getting close to graduation day, ha ha!  Now, you may already have your tree up and decorated.  But after today's post, I'm pretty sure you will have to make a little room on your tree! Because I think you are going to love this rustic wood slice snowman ornament!!
I shared wood slice snowman ornament over at By Stephanie Lynn – Under the Table & Dreaming last week as part of her Handmade Ornament series, but I wanted to make sure to post it here just in time to add it to your tree this year!
This year, I am sort of obsessed with rustic, warm and cozy.  Think pine cones, woodland creatures, cable knit sweaters and hot chocolate by the fire!  And this sweet little snowman with a plaid flannel scarf fits right in!!  (Does that flannel fabric look familiar?  Yep, I tied it all over the trees in the Pick Your Own Snowball Patch perched on top of my hutch!)
Now, here is what you'll need to add this rustic wood slice snowman to your tree:
The Merry Materials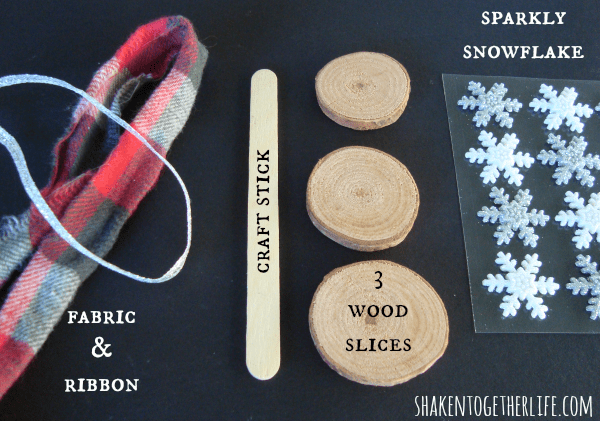 I found a bag of these mini wood slices (the smallest round slices are about the size of a quarter) at my local teacher supply store but you could also cut thin slices from sticks in your back yard.  And I highly recommend having a few more of these little wood slices handy – there is another project coming up soon that uses them!
The How-To
I selected three wood slices in gradually larger sizes and glued a craft stick to the back of them to hold them all together.  (Yes, I broke it – I couldn't find my snips, ha ha!  You don't have to go all Hulk smash on yours!)  Then, I added a knot of silver ribbon with craft glue and allowed everything to dry.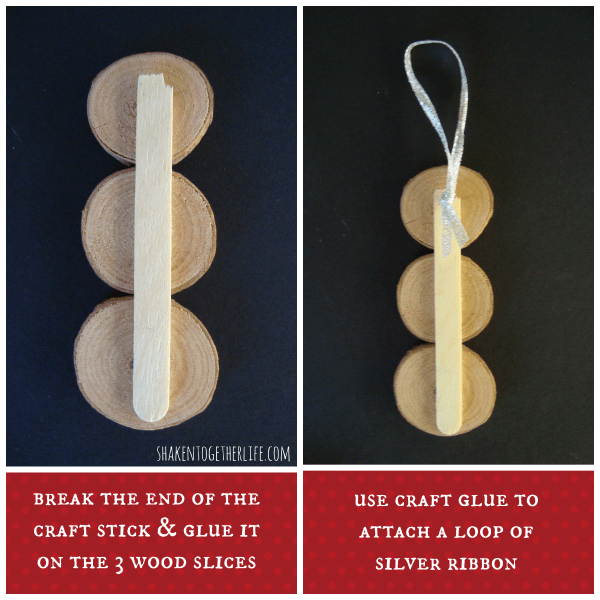 Once the snowman has dried, you'll add the scarf and the sparkly snowflake brooch!  I used a red and gray plaid flannel scrap for the snowman's scarf and knotted it between the first and second wood slices.  The final touch is the silver snowflake.  While the snowflake had adhesive on the back already, I added a dab of craft glue to make it a little more permanent.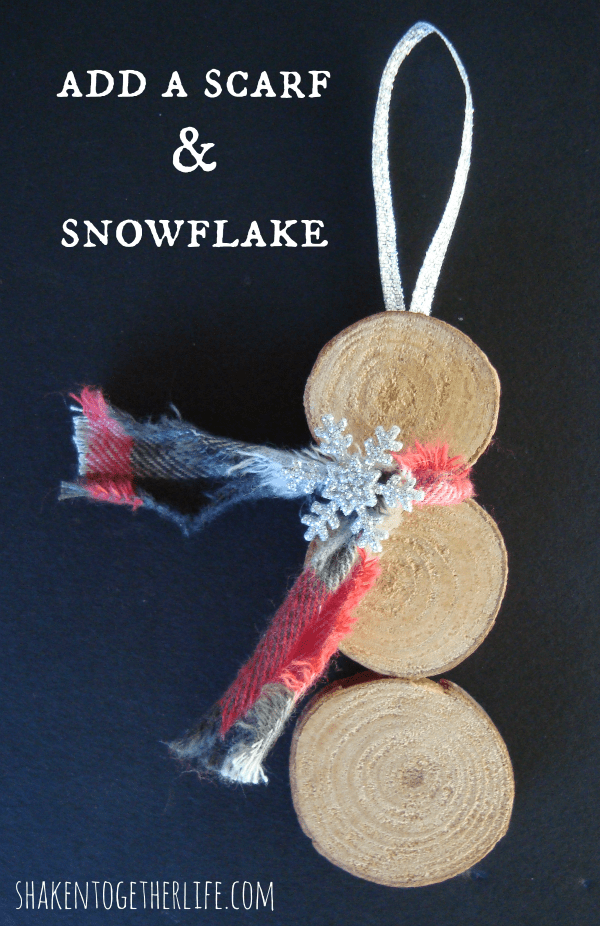 I just love seeing this simple little guy tucked in the branches of our tree and that snowflake catches the twinkling lights just right!  You can add a little face or even buttons down his tummy, but I really do like the clean simplicity of my rustic wood slice snowman.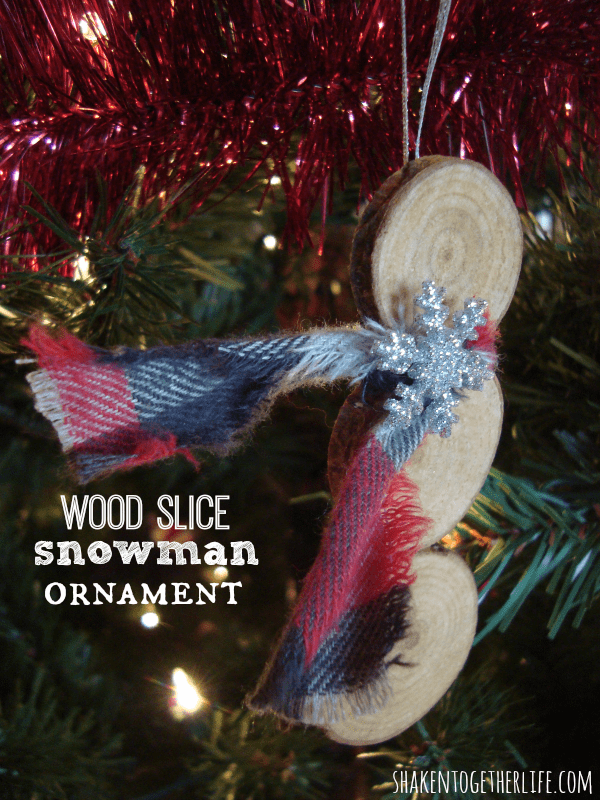 If you need a few more ornaments to make with the kids over winter break or just want to add a touch of hand made to your tree, you may want to take a peek at these ideas, too!
Cinnamon Stick Icicle Ornaments
12 Days of Handmade Ornaments at Sew Woodsy – (I shared my Cinnamon Curl Canning Ring Wreath Ornament & there are 11 other fun tutorials that you don't want to miss!)