This Rustic Wood Block Snowman is so cute and perfect for your holiday and winter home decor! Just grab some wood, paint and a few other supplies and this sweet little snowman will melt your heart!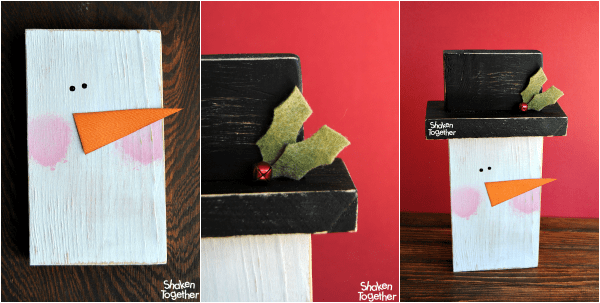 I may have mentioned it before, but each year, my mom and I host a Pinterest Party. You can see some of the party prep on Instagram and we start inspiration boards on Pinterest, but basically, my mom and I prep about 8 or 10 crafts, put all of the supplies in a bag and our guests show up and buy a bag for $10 or $15 and we all craft the afternoon away! Last year, we had about 30 ladies show up – gulp!! This cute rustic Wood Block Snowman was one of the projects we made, so I thought I'd share it with you! We can all pretend we are at a crafty Pinterest party together, right?!
Rustic Wood Block Snowman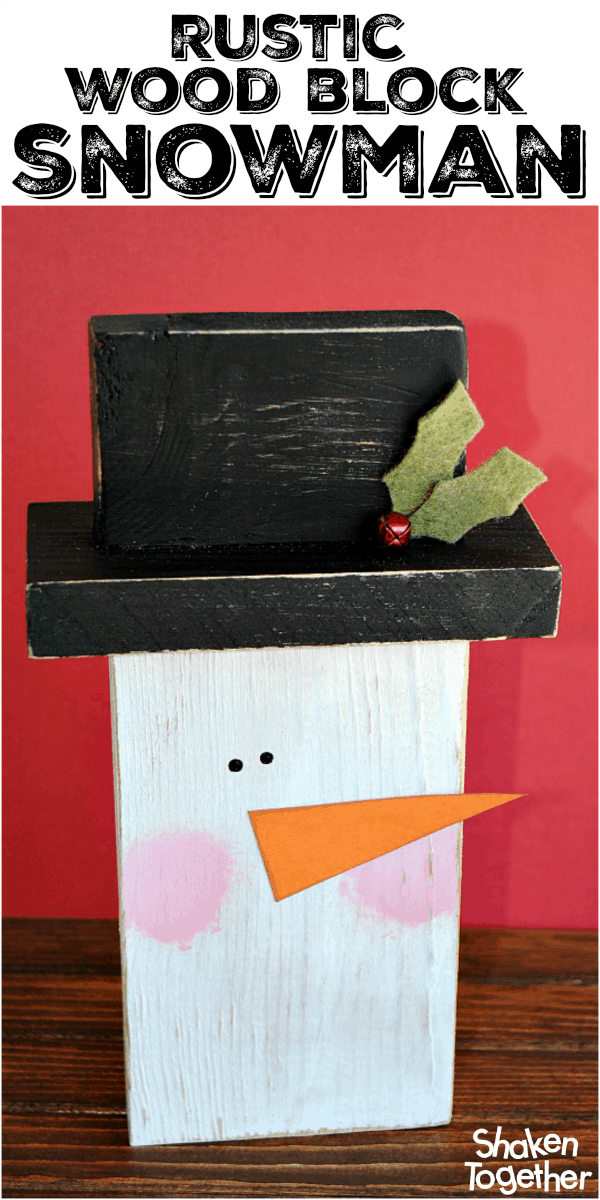 Just grab a few supplies and this little snowman will come to life quickly!
Supplies:
3 wooden blocks (these are approximate sizes – you can alter them if you want your snowman bigger or smaller): 6in x 3.5 in x .5 in (body) / 5 in x 2.25 in x .5 in (hat bottom) / 3.5 in x 2 in x .5 in (hat top)
Acrylic paint – white, black, pink
Sand paper
Orange scrapbook paper (or another small thin piece of wood cut into a triangle for the nose and painted orange)
Green Felt
10 mm red jingle bell or small faux red berries
Hot glue gun + glue sticks
Craft glue
The How-To
(I decided to take pictures and share this tutorial with you mid-craft last year, so I don't have pictures of all the steps, but it fairly simple to make this guy. If you have questions or if I missed something, just let me know!)
First, paint the large 'face' block with white acrylic paint and allow to dry.
Use the sandpaper to distress the edges and surface of the face block.
Use the end of a small paint brush or a Q-tip to make two black eyes (see placement in photo below).
Use a small stencil brush or even a wadded piece of paper towel to sponge/pounce two cheeks with the pink acrylic paint.
Allow cheeks and eyes to dry.
Cut a long triangle from the orange paper.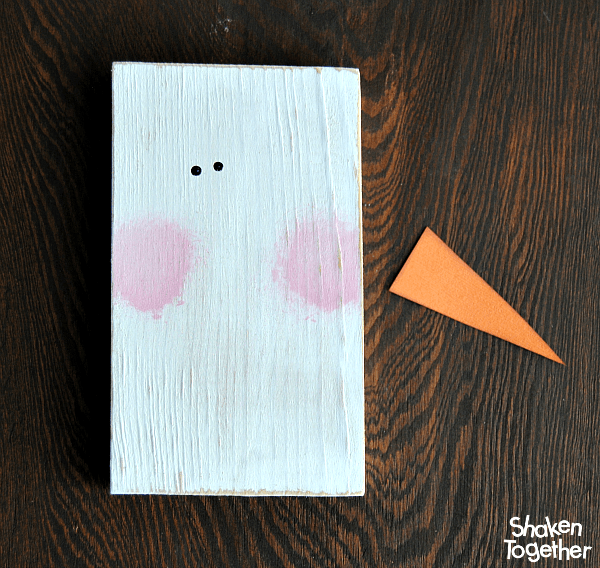 Attach paper nose with craft glue.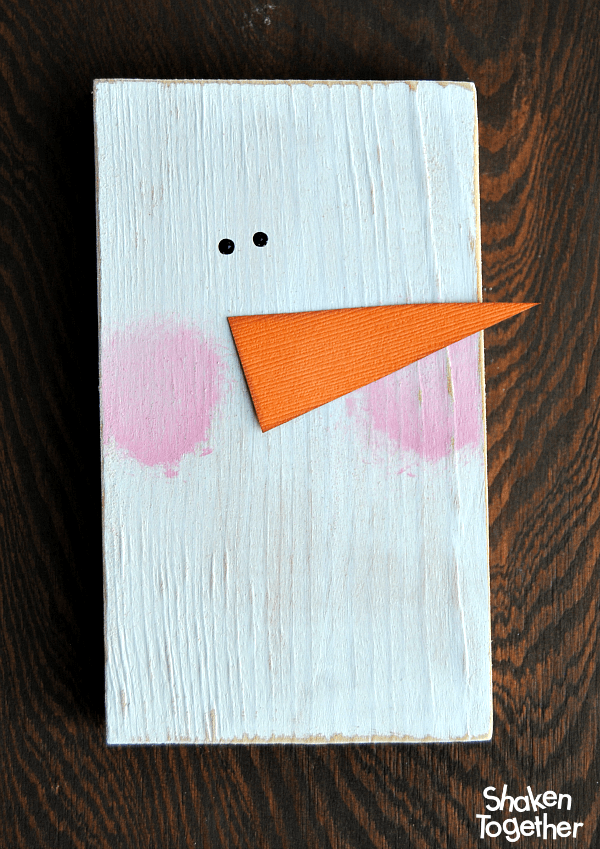 Now, the hat!
Paint both 'hat' pieces of wood with black acrylic paint and allow to dry.
Use the sandpaper to distress the edges and surfaces of the hat, too.
Glue the smaller piece of the hat on its side in the center of the larger hat block with craft or wood glue. (See picture below.)
Cut two small holly leaves out of green felt.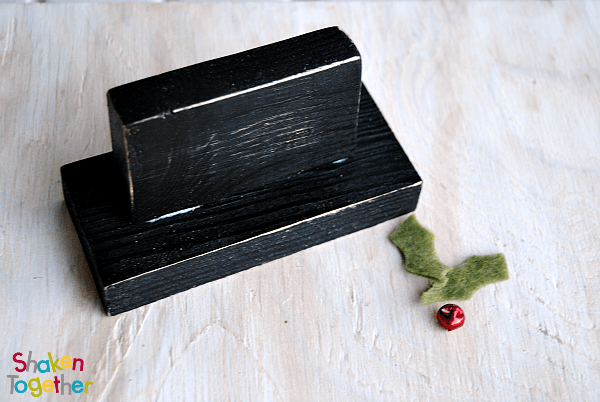 Hot glue holly leaves and jingle bell to the hat once it is dry as pictured below. You can also use a sprig of faux holly or any wintery faux floral pick to add to his hat. I am just in love with this pretty mossy green felt and red jingle bell.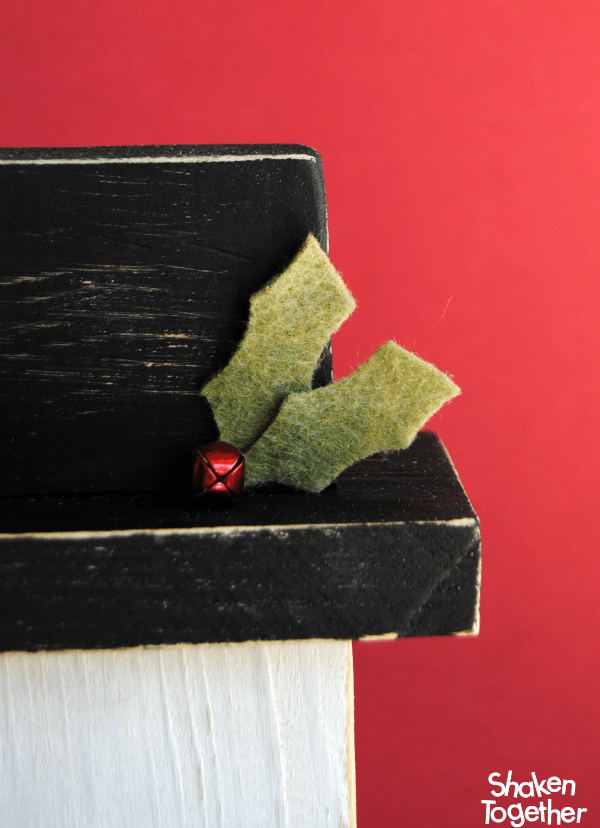 Now, attach the hat to the top of the snowman face. Craft glue is your best bet – just give it time to dry before handling. Take care to center the hat so the snowman is balanced and doesn't tip right over.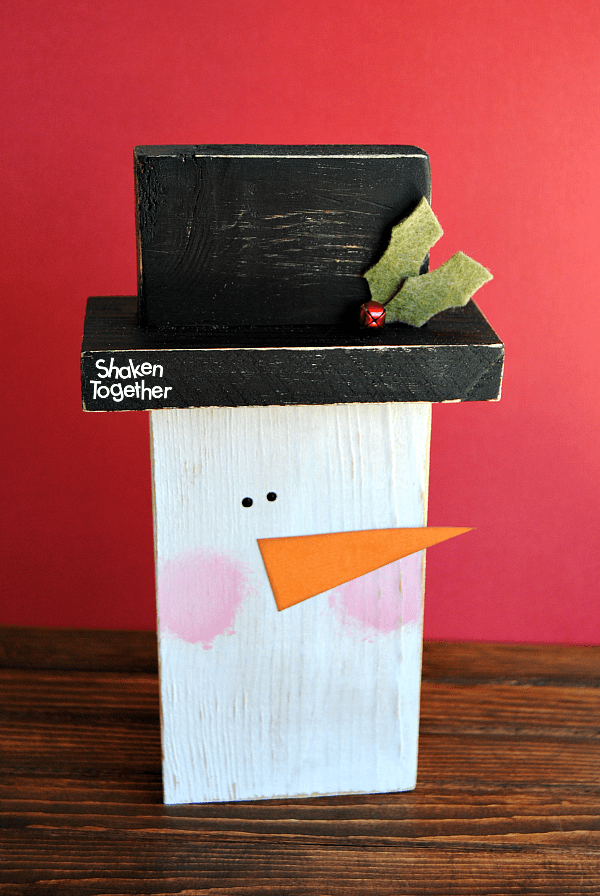 Once everything is dry, this cute Rustic Wood Block Snowman is ready to grace your mantel!
A few more Pinterest Party projects from years past!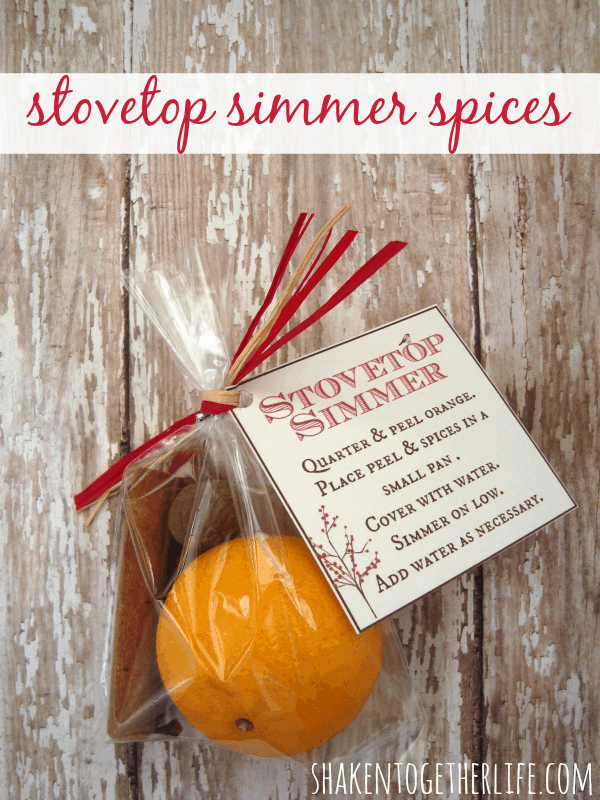 Stovetop Simmer Spices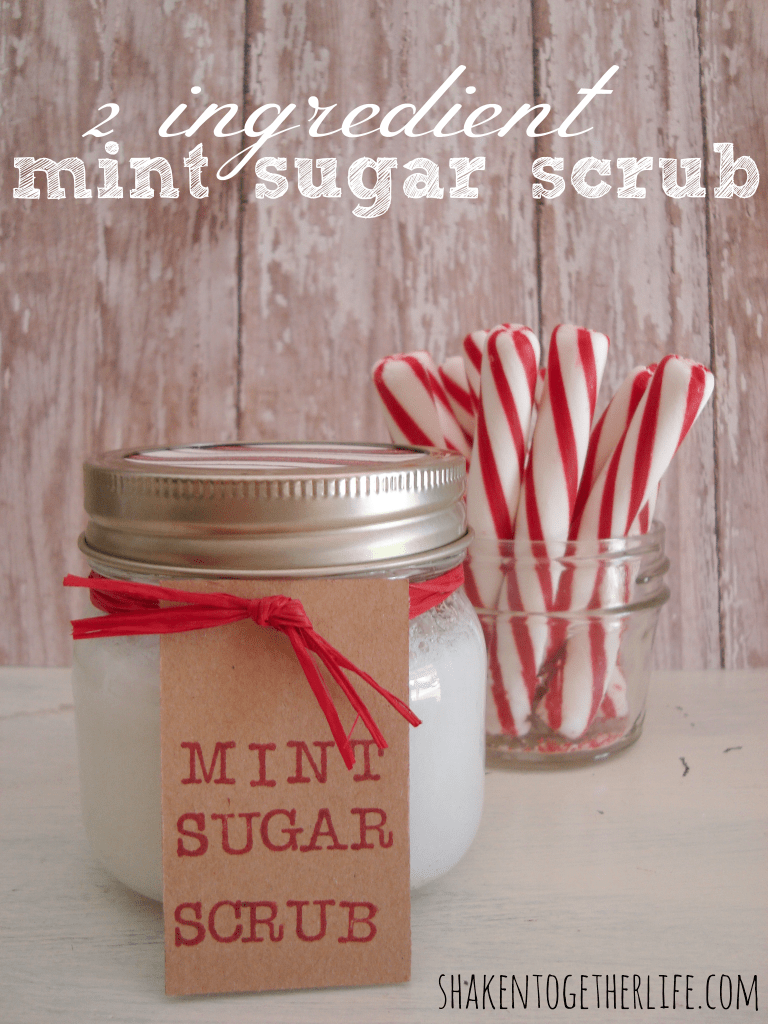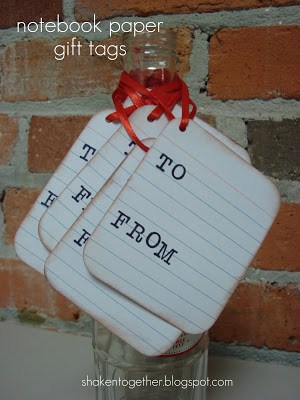 Pretty Packaging Pinterest Party -tons of cute gift giving projects! Part 1 and Part 2
Our Rustic Wood Block Snowman may be shared here: