I am going to preface this post with that statement that I do not claim to be an interior designer. BUT! I love to update the vignette by our front door as the seasons change. I pulled together a rustic, cozy, homey Valentine vignette to welcome guests without purchasing a single item!

Our front door opens right into our dining room, so there is no formal foyer or entry way … come right on in, ha ha! We do have a cool built in "nook" that I painted green – you can see part of it when I shared an easy Halloween banner – that lends itself to bright pops of color and its reveal is coming soon. But since our fireplace doesn't have a mantle (boo!), I use this space in our home to add a little seasonal decor.

So, take a look at this year's rustic Valentines vignette!!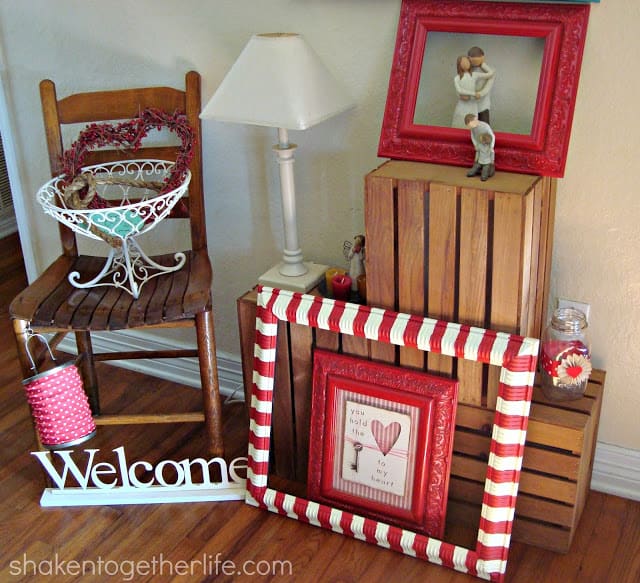 I started by stacking up three simple wooden crates. I leaned this striped frame against the crates and added my "key to my heart" Valentine's art. I love the look of layered frames!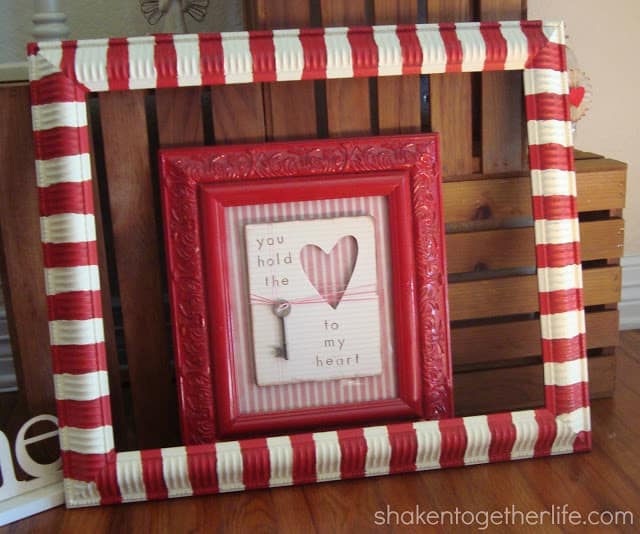 At the top of the stack of crates, I selected a few of my Willow Tree Angel figurines to represent our family of four and placed them in front of and behind another chunky red frame. (This frame held my DIY glitter reindeer art that is carefully tucked away for next Christmas.) This simple frame and figurines make up one of my favorite parts of this arrangement!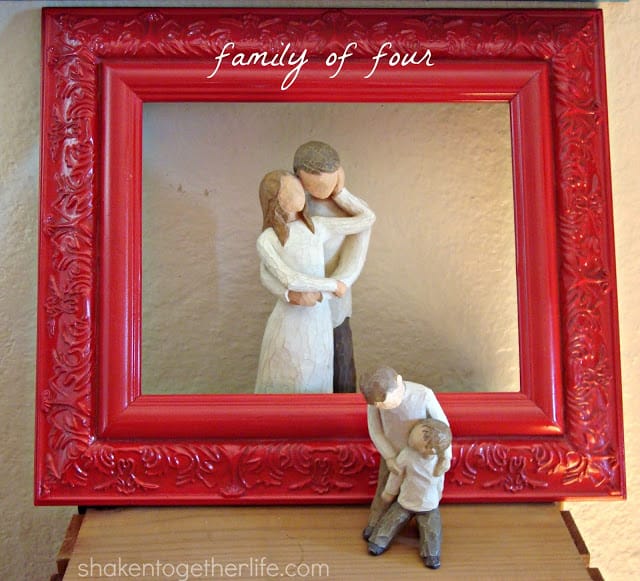 Mid-level, I added a basic cream lamp (yeah, yeah … I probably need a cooler lamp) and another Willow Tree angel with three candles on a rustic metal candle plate.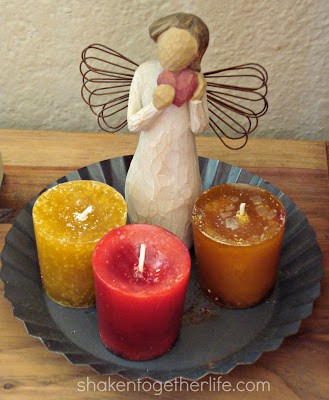 To the left of the crates, I added a wooden chair that I picked up at a yard sale and hung a vintage polka dot lantern from it. The cream colored welcome sign is versatile and I always use it to greet visitors, so this time, I set it on the floor. In the seat of the chair, I placed a cream colored footed metal bowl from an thrift store, tucked in a heart shaped berry wreath, a knotted length of heavy duty rope and a little metal hope sign. This is my other favorite part of this arrangement because every time I look at it, I see love, hope and marriage (get it – tie the knot!).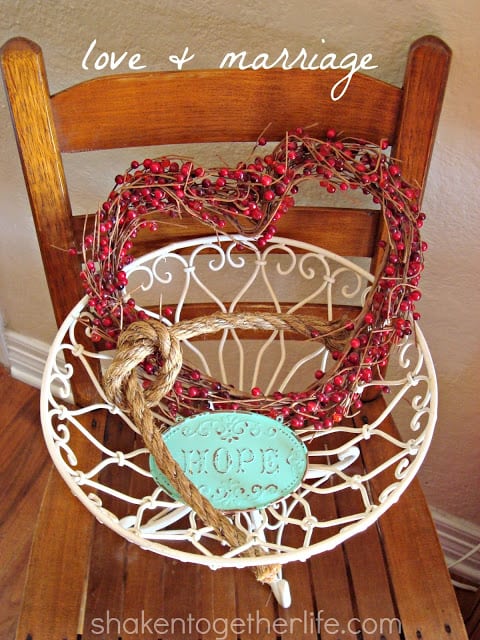 I am really happy with the simplicity, the pops of red and cream again the wood and the meaningful references to our family! And now … I guess I better get brainstorming for Spring!!


SO, have you decorated for Valentine's Day? What do you think about my entry way decor? This was the first year I decorated (well, decorated and shared it!), so go easy on the newbie 😉
Need a few more crafty projects to help you decorate or celebrate Valentine's Day?