This Rustic Harvest Yogurt Bar is the perfect do-it-yourself breakfast idea for any Fall get together, brunch or breakfast! The beautiful serving pieces were provided by Uncommon Goods but this autumnal entertaining idea and opinions are 100% my own.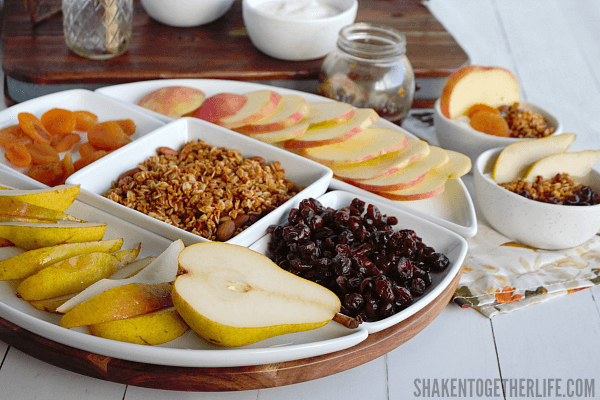 It's finally Fall! Well, at least the calendar says so. Football for our boys is wrapping up, the holidays are right around the corner and it's time for time with friends and family. So, throw on a scarf, make some homemade apple cider, call the girls and be prepared to gab while mixing and matching the flavors of Fall with this easy entertaining idea!
Rustic Harvest Yogurt Bar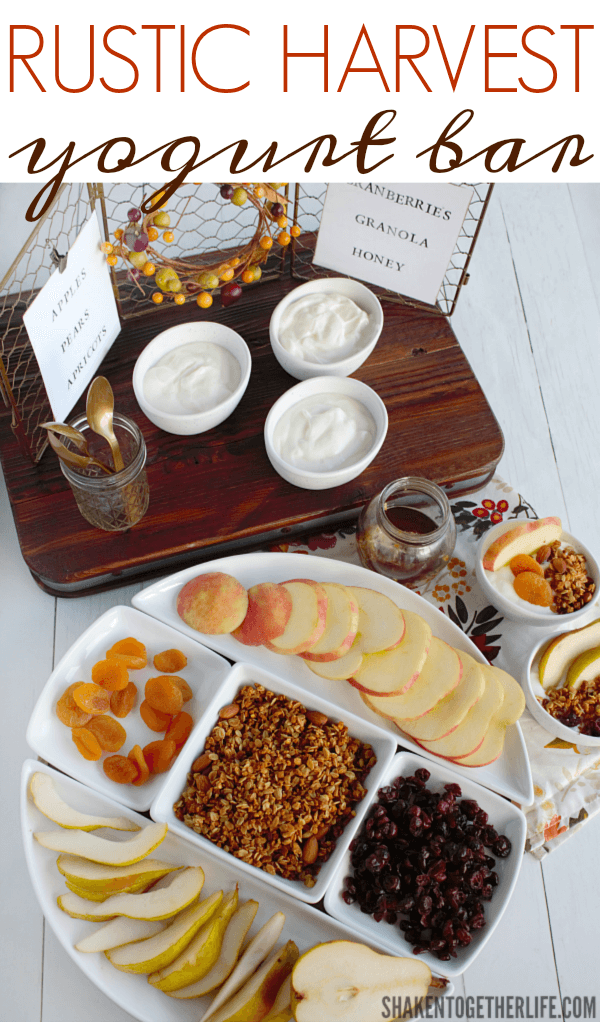 So, any sort of "bar" is my go-to entertaining staple. I've hosted a dessert bar, a pizza dippers bar, a pasta salad bar, a sangria spritzer bar, a 'kitchen sink' brownie bar, a cookie bar and even a sloppy joe bar! I love a big ol' smorgasbord of toppings, add ins and choices … who doesn't love the opportunity to sprinkle on, stir in and top with their favorite things?!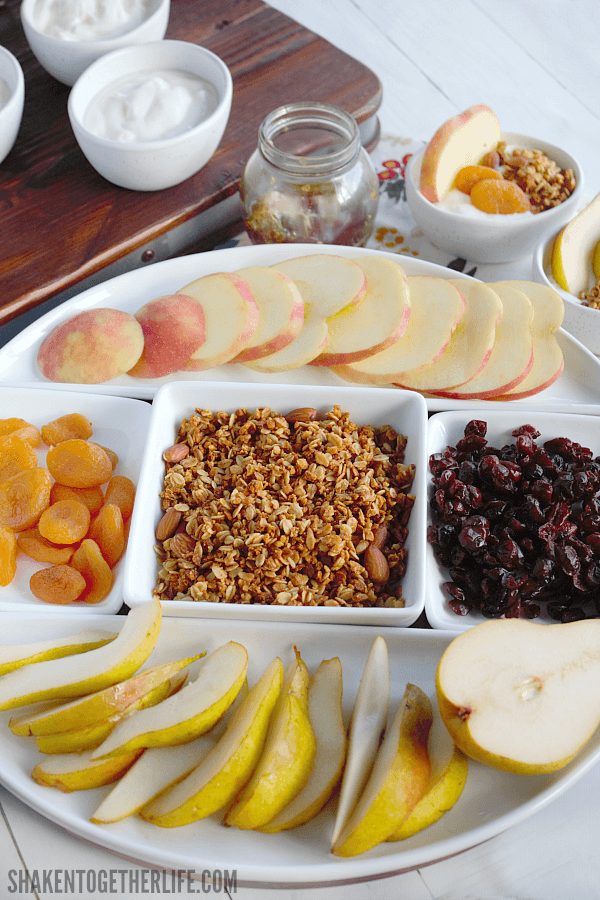 One of the keys to effortless entertaining is to let a bar be as self-service as possible. So, I used my favorite alphabet stamps and a black ink pad to create a few card stock signs with all of the ingredients to mix in the yogurt. I added a small wreath and the signs to a tri-fold picture holder and popped it on this chunky reclaimed wood cutting board (find it here). I added a few bowls of yogurt and a mason jar with gold plastic spoons, too. Now, guests will know exactly what to expect.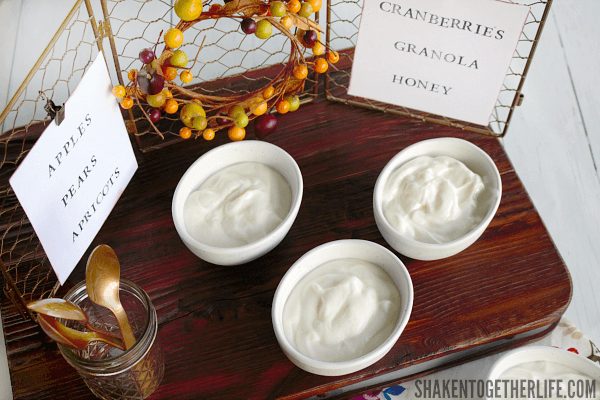 I love to find pieces like this cutting board for entertaining because it it so versatile … use it for a meat/cheese platter, anchor the table and serve the main course, line up glasses for a mimosa bar or showcase a beautiful dessert. I love its heft, that gorgeous dark wood and the metal trim detail … swoon!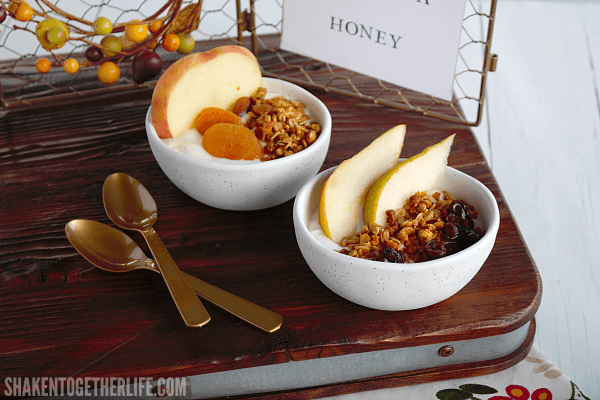 I tucked a jar of honey – complete with a honeycomb cube – next to the cutting board and filled a Lazy Susan (found here) with sliced apples and pears, dried cranberries and apricots and a spiced honey almond granola. My pumpkin pie granola or apple crisp granola would be a delicious addition, too!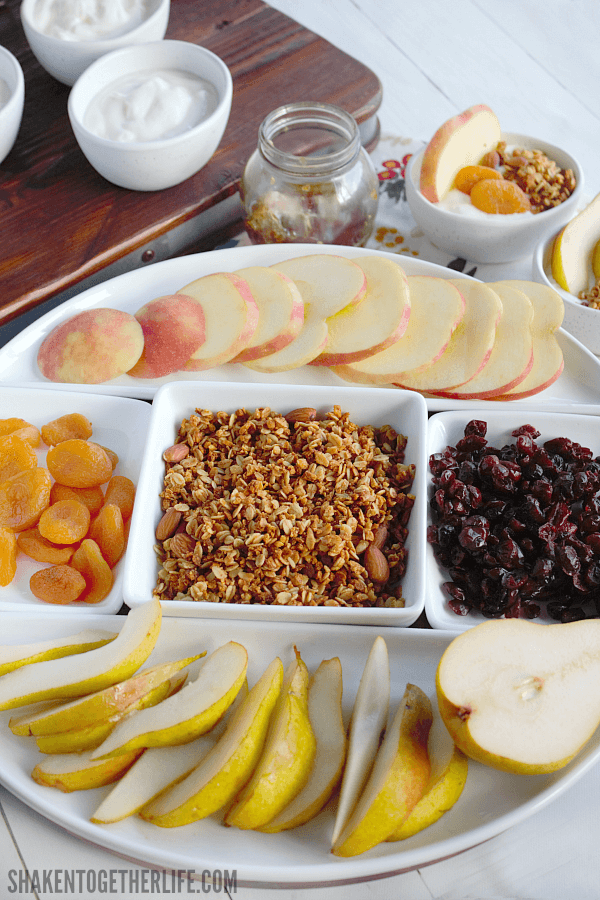 Since the serving pieces on this Lazy Susan are removable, it is easy to refill empty sections quickly as guests serve themselves at the Rustic Harvest Yogurt Bar.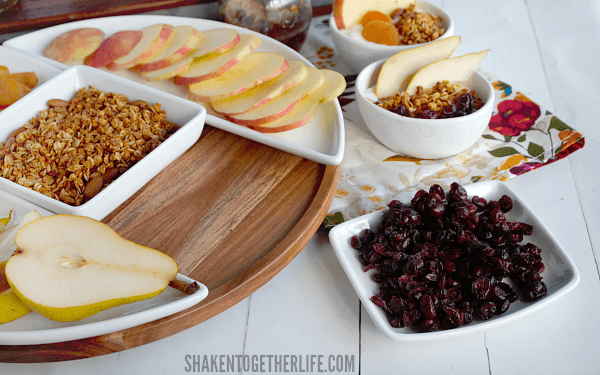 I'm sort of obsessed with pretty serving pieces like the ones I picked out from Uncommon Goods. It does my heart good know that I am supporting a company that strives to be socially responsible, offers products made from recycled and repurposed materials and has supported non-profit organizations with over $1 million dollars in donations. And let's not forget all the pretty things!! I can't wait to shop for personalized wedding gifts (found here), anniversary gifts (browse here) and baby gifts (see them here) for our friends and family.
Speaking of my favorite people, once the yogurt bar is stocked full of yogurt, honey and all of the Fall flavored toppings, everyone can enjoy a yogurt bowl from the Rustic Harvest Yogurt Bar.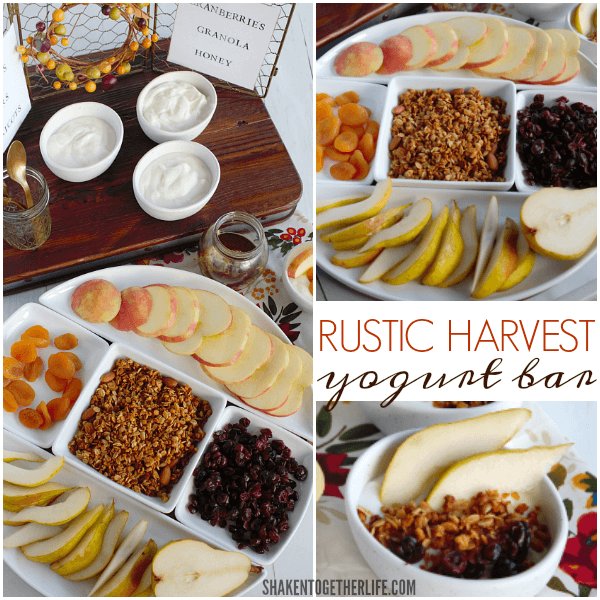 My favorite combination was fresh pear slices, crunchy granola and a sprinkling of dried cranberries …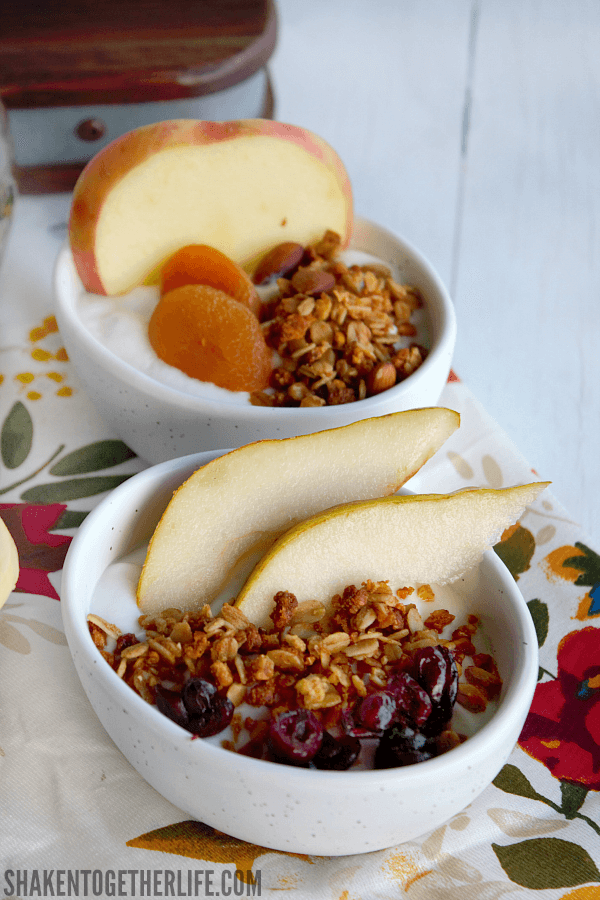 Need more ideas for this Rustic Harvest Yogurt Bar?
Serve seasonally flavored yogurt – stir in some pumpkin pie spice, pumpkin puree or add a dash of almond extract.
If it is still warm outside, serve frozen yogurt for harvest fro-yo sundaes!
Get creative with the toppings – add sliced bananas, walnuts, dried cherries, pumpkin bread cubes, trail mix, cinnamon/spice glazed nuts, simmered cinnamon apples, caramel sauce, maple syrup, cinnamon chips, white/milk chocolate chips, graham crackers, apple chips or pomegranate arils!
More Recipes to Fall for in Fall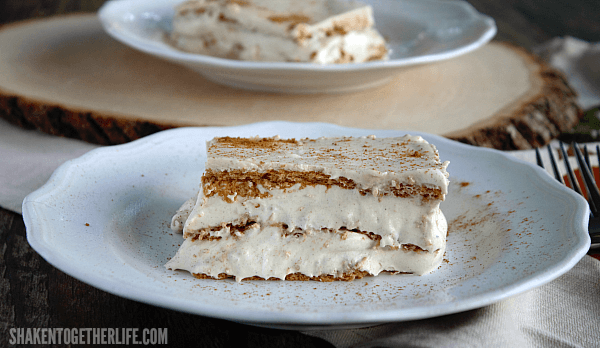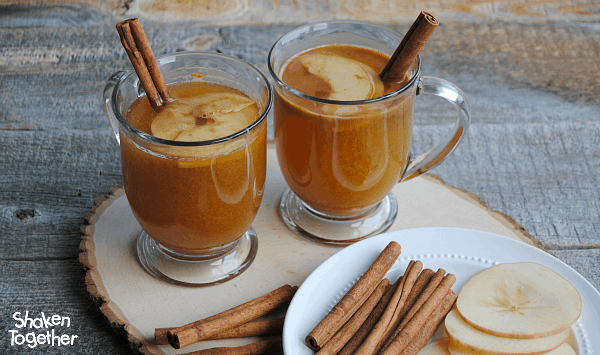 Non-Alcoholic Apple Cider Rum Punch