If you are a blogger who bakes, you will understand it when I say that when a birthday pops up, I just HAVE to bake something!!  (And stage and snap a few pictures on my front porch where the best light was before heading out to the party, ha ha!) So, when my friend Amy's birthday rolled around, her son happened to be over at our house.  So, I was brainstorming creative cupcake ideas and asked him what her favorite candy bar was.  The answer?  Rocky road!  And Amy's birthday cupcakes were born!
Decadent chocolate cupcakes + sweet marshmallow buttercream frosting + mini chocolate chips and walnuts
= 

rocky road cupcakes!!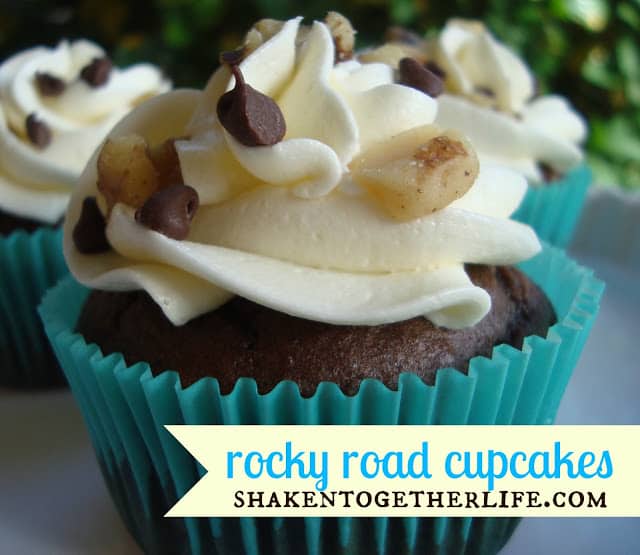 Use your favorite chocolate cake recipe (think dark and rich like devils food) to bake your cupcakes.  I had to whip these up in a hurry, so mine were from a cake mix. I'm cool with it 😉
Next, make this unbelievably lovely marshmallow frosting … the recipe is from Lil' Luna and you just have to pop over to see her beautiful cupcakes!  This frosting pipes beautifully and surprisingly, isn't too sweet!  I'm going to use it when I make my next batch of fluffernutter sandwich cookies!

marshmallow buttercream frosting
Makes enough frosting for 24 cupcakes

1/2 cup (1 stick) butter, room temperature
One 7 oz. jar of marshmallow fluff
1 cup powdered sugar
1 teaspoon vanilla

Cream butter and sugar.  Stir in fluff and vanilla by hand until smooth and creamy.  Place in piping bag and pipe onto cupcakes.
Finally, top your rocky road cupcakes off with a sprinkling of mini chocolate chips and chopped walnuts.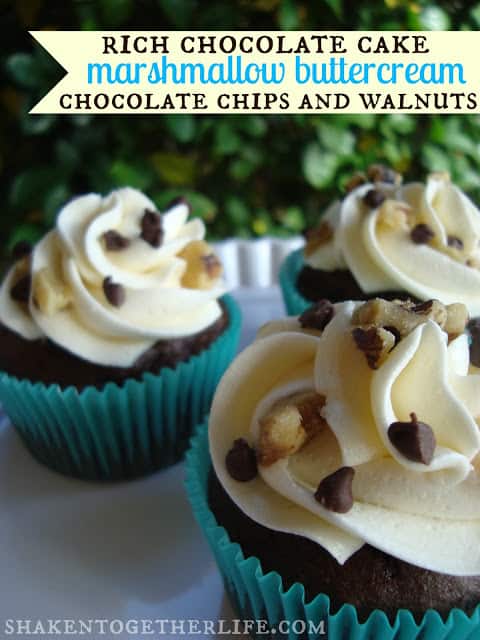 These cupcakes are delicious proof that rocky road isn't just for ice cream anymore!!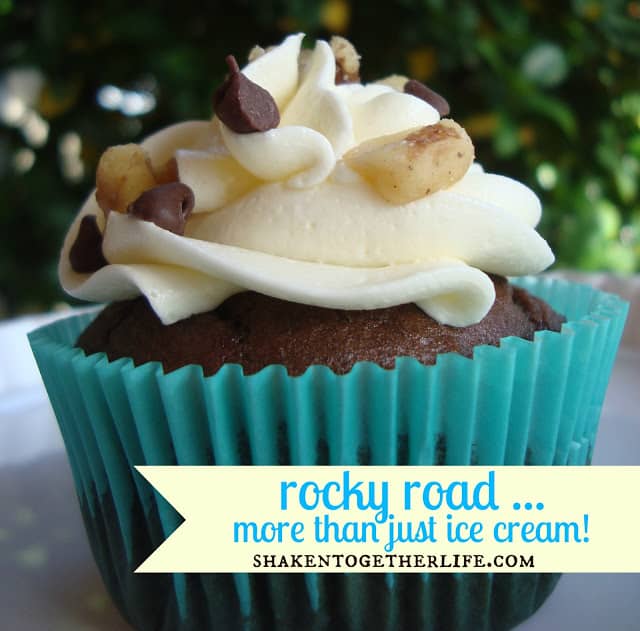 You can never have too many cupcakes … here are a few more cupcake recipes that you'll love!
This project or recipe was shared at all the blogs on my Link page!  Go take a peek … they rock!