First of all, Merry Christmas! Hope you are celebrating this wonderful time with loved ones and truly enjoying the spirit of the season!
As you may know, The Bugs and I have been doing random acts of Christmas kindness (R.A.C.K.) this week:
We bought lunch for a man at McDonald's

Surprised our mail carrier with homemade goodies

Took more homemade goodies to our local fire station

Made breakfast for our garbage collectors
Our final R.A.C.K. is a very personal one. You see, The Saint's brother is homeless. For more reasons than I know or even understand. He comes in and out of our lives without rhyme or reason. When we don't hear from him for a long stretch of time, it breaks my heart to see The Saint listen intently to the news, praying that his brother was not the 'nameless vagrant' or 'unknown homeless man' that was victim to a heinous crime.
Lately, The Saint's brother has been keeping in touch and when he asked to spend some time with his nephews for Christmas, how could we say no? But what he didn't know, is that The Saint and I ran out to and stuffed a duffel bag to the gills with toiletries, microwaveable pasta cups, granola bars, canned fruit and food, peanuts and even some candy canes :). Our final R.A.C.K. for this year!!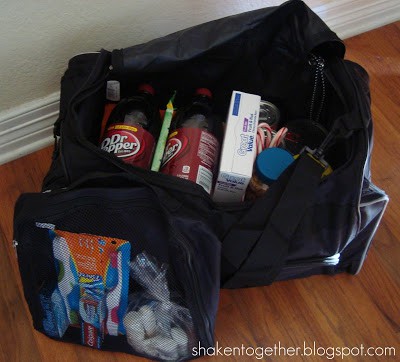 We played some Christmas Eve sand lot baseball with some friends and The Saint's brother, we had a picnic pizza lunch at the park and The Little Bug could hardly wait until it was time to give his uncle the bag.
As we loaded baseball gear into the back of my car, we gave The Saint's brother some clean clothes and then took out the bag. "Open it, open it!" The Bugs yelled.
Our hearts all smiled to see him look through the bag and finally say, "Whoa, even Dr. Pepper!" (His favorite!)
The Saint drove his brother back to where he is staying and our day continued. But hopefully, on this Christmas morning, The Saint's brother has a full stomach and knows that sometimes love tastes like Dr. Pepper and cinnamon Poptarts!
Merry Christmas, friends!
Keri