Yesterday, I think I really saw the impact our random acts of Christmas kindness are having on The Bugs … and isn't that what this is really about? Their friend, J, even asked, "Are you going to do this next year?!" You better believe it!!
This morning we got up super early to listen for the sounds of our garbage truck … so we could deliver breakfast to them!! Homemade white chocolate/cranberry/coconut muffins, bananas and orange juice 🙂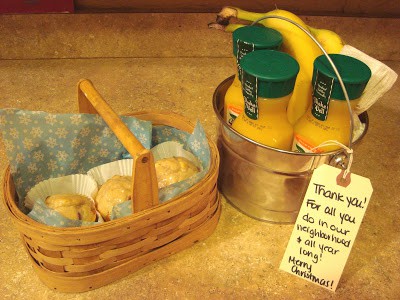 It was a lesson in patience again today as we waited and waited and waited, watched the garbage truck drive by on the other side of the street and waited some more. I even chanced a shower, hoping they wouldn't come while I was washing my hair!
But after another mad dash down our driveway with breakfast and camera in hand, this R.A.C.K. was a success!! Just take a look at the smiles!!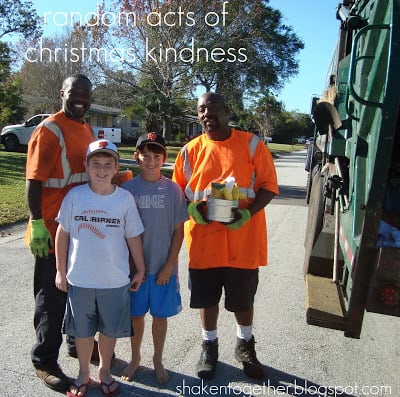 What an awesome feeling to honor these hard working men with a little something to show our appreciation!! Hope they were hungry 🙂
You can read about our other random acts of Christmas kindness here:
This has truly been the best Christmas season ever! My dream is that in 20 years (give or take), I'll get a call from my grandchildren telling me all about their random acts of Christmas kindness!
Gonna carry this feeling with me for a long, long time …
Keri