So, for our 3rd random act of Christmas kindness (or R.A.C.K. for short), we decided to take more of our homemade goodies to our local fire station. I would have brought a big basket with chili supplies, but I thought it was a tad cliche. But I'm still thinking about doing it when it gets colder since it is 3 days before Christmas and we're in shorts and flip flops 😉
I was excited that we got to share our R.A.C.K. with two of The Bugs' friends, J & C. I piled in my car with four boys, a huge tray of cookies and a thank you card, of course, and headed over to station #62!
We rang the doorbell to deliver our cookies and the nice looking fire man 😉 that opened the door offered the boys a tour … ummm, SURE!! They got to climb inside the fire truck, look in the ambulance and we even got a peek inside at their rooms (since they are on duty in 24 hour shifts) and the day room where they relax. What the boys thought might not be too exciting, turned out to be "pretty sick" to quote the Bigger Bug 🙂
Here are a few pictures of the day: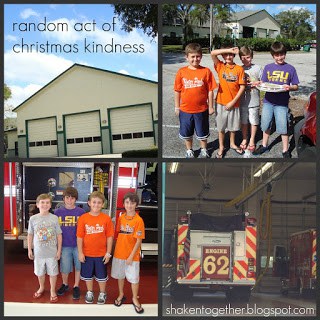 If you're interested, our other random acts of Christmas kindness are chronicled here:
We were up in the wee hours of the morning today for our R.A.C.K., so stop back by a little later for #4!
Hope you are inspired to do something a little unexpected something for someone in your day … I'd love to hear about your R.A.C.K., too!
K is for kindness,
and Keri