There are a lot of people around us that go unappreciated. Lots of folks whose hard work goes largely unnoticed. Dependable folks that we miss when they're not there. You know – the grocery baggers, the garbage collectors, the mail carrier, city workers …
So for today's random act of christmas kindness (R.A.C.K. for short), The Bugs and I decided that we would surprise our mail carrier with some home made goodies to make his long day a little sweeter!
We had a busy day in the kitchen … peanut butter fudge, these wacky but strangely delightful potato chip/peanut/butterscotch/chocolate no bake cookies, sugar cookies and traditional chocolate/oatmeal no bake cookies!
I added cellophane bags with each type of cookies and a hot chocolate 'kit' (hot cocoa, candy cane & marshmallows) to a Christmas-y air mail bag that looks like an envelope – love it! I found these awesome naughty/nice North Pole shipping tags (free printable!) and tied one on with bakers twine. I tucked in our thank you notes and our Special Delivery was ready!
However, we had to work a bit harder today to make our R.A.C.K. a success …
At about 3:30pm, we saw our mail man drive down the other side of the street and we all smiled … looking forward to our sweet ambush. And then we waited. And waited. And waited. We even checked our mailbox to make sure we didn't miss him, ha ha!
By 4:30pm, The Bugs got bored and headed to our back yard for some kick ball and I kept watch out our front window. The Saint got home, took a shower … still no mail man. I decided to wrap up our cookies for the night, sure that I would hear the mail truck stop and start before he made it to our driveway.
All of a sudden, his little white truck swooped in next to our mail box and we sprang into action! The Saint hollered at The Bugs in the back yard, I shoved my feet into my flip flops and grabbed my camera. The Bugs flew in, The Little Bug snagged the bag off our table and we all jogged through the next three yards, arms flailing frantically!!
Finally, we flagged him down and with chests heaving, wished him Merry Christmas and delivered our treats. And stopped to catch our breath … mission accomplished!!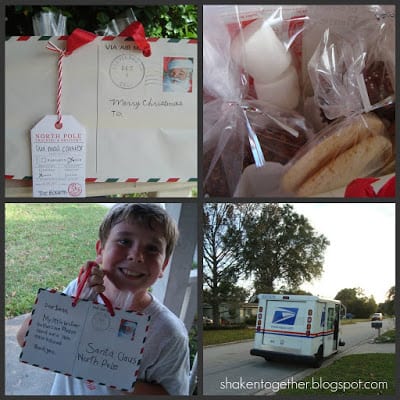 You can find yesterday's random acts of christmas kindness – #1 here 🙂 If you are inspired to do a few R.A.C.K.s yourself, I'd love to hear from you! If you have a great idea, I'd love to hear it, too!
Hope you are having a merry week!!
Keri