Surely I am not the only one who has seen the "2 ingredient" sweets that are making their rounds on Pinterest?    I have quite a few pinned to my sweet stuff board and I decided to give one a try!  And I made my favorite 3 ingredient cupcake topping in lieu of traditional buttercream!  You read that right ... only 5 ingredients for the cupcakes and topping!
5 ingredient pumpkin spice cupcakes & topping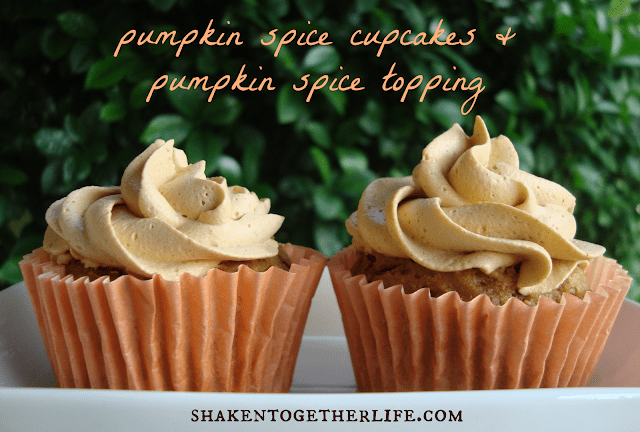 2 ingredient pumpkin spice cupcakes
For the cupcakes, mix together 1 spice cake mix (just the dry mix - nothing else) and one 15 oz. can of pumpkin puree (not pumpkin pie filling).  That's it!  The batter is thick and does not rise much while baking.  You can try to smooth out the batter as much as possible after spooning it in, but don't worry too much about what they look like since we are going to pipe on topping.  Bake at the recommended temperature as per the directions on the box.  The cupcakes are done when a toothpick inserted in the center of the cupcake comes out clean.
These cupcakes are moist and dense - not a regular light and fluffy cupcake - don't say I didn't warn you 😉  The consistency is more like a pumpkin loaf, which I love ... and I am sold on the two ingredient thing!!
3 ingredient pumpkin spice cupcake topping
Using your hand mixer, mix together 1 small box of pumpkin spice instant pudding and 1 cup cold milk (I used skim).  On the lowest speed of your mixer, mix in one small tub of Cool Whip - you can use lite or sugar free - just until incorporated!  Pipe onto cupcakes and serve.  Or, keep frosted cupcakes refrigerated until 30 minutes prior to serving.
These cupcakes are like a double whammy of pumpkin spice flavor ... perfect for Fall!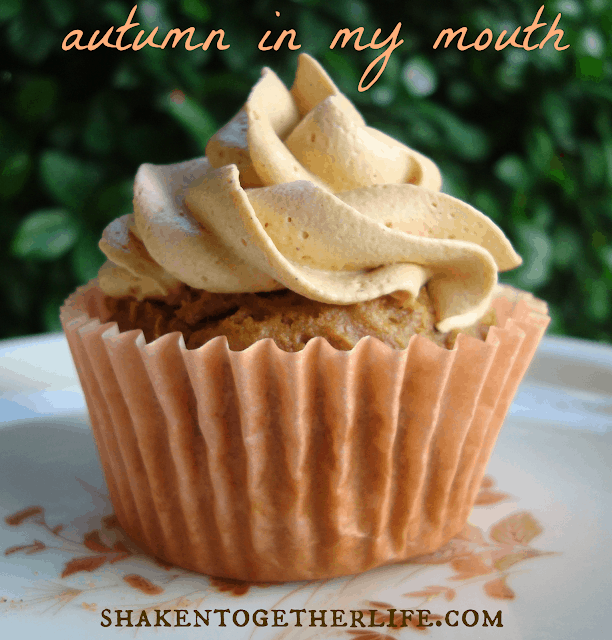 And in my google research of calorie content, since this recipe made 20 cupcakes, each cupcake with topping only had about 161 calories! Not bad at all!!  These could be the perfect guilt free way to treat yourself with dessert!!
One cupcake is NEVER enough ... so here are a few more of my favorite cupcakes!