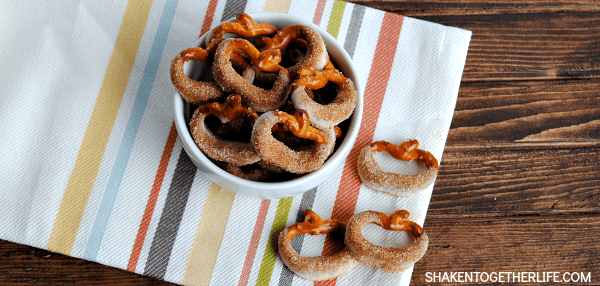 Are you a pumpkin pie spice lover?  Does the warm combo of ginger, cloves, nutmeg, cinnamon and allspice make your heart skip a beat?  If so, then you just hit the pumpkin spice no-bake snack JACKPOT!  These pumpkin pie white chocolate pretzels are the ultimate Fall-flavored sweet & salty snack!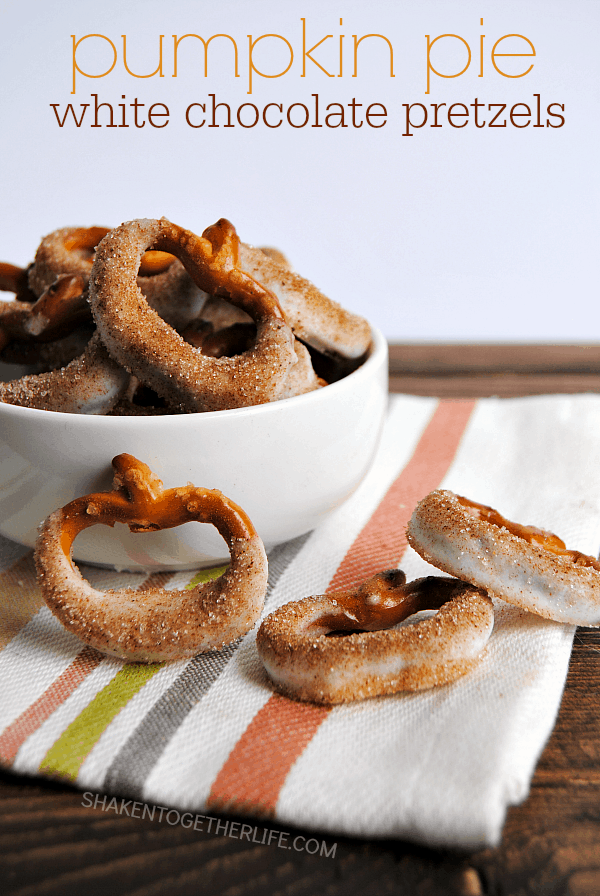 Chocolate covered pretzels have long been one of my favorite snacks.  Salty crunchy pretzels coated in sweet, smooth chocolate? Done and done!  And since it the time of year for all things pumpkin spice and since Target never fails me with seasonal foodie items (remember these chocolate filled bunny pretzels for Easter?  And these love your guts treat bags? ), when I spied pumpkin shaped pretzels, I just had to come up with a fun chocolate covered pretzel for Fall!
Print Pumpkin Pie White Chocolate Pretzels
---
Description
Pumpkin pie white chocolate pretzels are the perfect Fall-flavored sweet & salty no-bake snack!
---
Ingredients
Pretzels – I found the pumpkin shaped pretzels at Target
Vanilla Candiquik
Pumpkin Pie Spice
Granulated Sugar
---
Instructions
Line a baking sheet (or your work space) with parchment paper.
In a small bowl, mix together pumpkin pie spice and granulated sugar in a 1:3 ratio (for example, 1 tablespoon of pumpkin pie spice with 3 tablespoons of granulated sugar).
Melt Candiquik according to package directions.
Hold the "stem" of the pretzel pumpkin and dip the pretzel in the melted Candiquik.
Tap or gently shake off any excess Candiquik.
Sprinkle pumpkin pie spice/sugar mixture over the wet Candiquik and place pretzel on baking sheet.
Dip, tap, sprinkle and repeat!
Allow pretzels to set up (pop your baking sheet in the fridge to help them set up quicker).
Store in an airtight container.
---
This a great recipe to have the kids help in the kitchen with!  Little hands can dip the pretzels and shake on the pumpkin pie spice/sugar mixture.  And they make great taste testers.  That is my boys' favorite job in the kitchen.  I had to hide them until I was able to get pictures taken … I kept noticing a few more missing every hour or so.  Darn bottomless pits!  Good thing they're cute 😉
I also decided that I needed some "outside opinions" on these pumpkin pie white chocolate pretzels, so I enlisted the neighborhood kids playing basketball a few houses down.  Sure hope they weren't all Oh, here comes Kaleb & Camden's mom again pawning off some sugary treat again.  Who am I kidding.  They're all like Whoot!  I saw Kaleb & Camden's crazy mom taking pictures on their front porch again. You know we're getting something good!  #neighborhoodstreetcred
Anyway, they're good.  Super good.  And easy.  Hard to resist, but easy to make.  Pumpkin pie white chocolate pretzels.  Do it!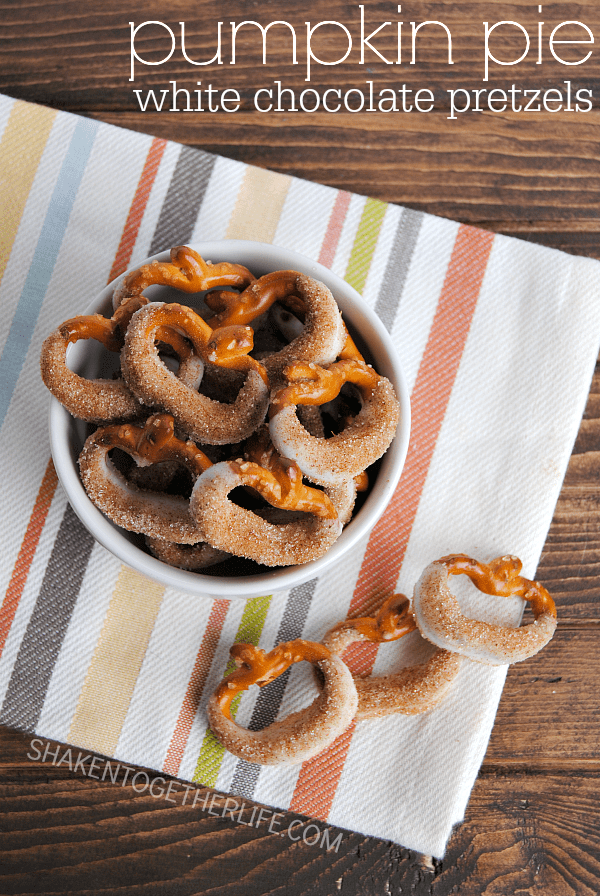 More Fantastic Fall-Flavored No Bake Treats!
These pumpkin pie white chocolate pretzels may be shared here: