We have two boys (ages 10 and 13) who seem to be growing in front of our very eyes and are currently attempting to eat us out of house and home!  Can anyone relate?  Mid-morning snacks, after school snacks, in between snacks … sound familiar?
This past weekend, the boys and I ran to Target (come see what I found in the clearance section!!) to grab some snacks to take with us to a friend's pool.  Swimming definitely works up an appetite so snacks for hungry teens are a must!  While walking down the snack aisle, we spied something different – new Goldfish Puffs.  The boys loved regular Goldfish crackers when they were younger so they were really excited to try the Puffs – they are bigger and more like chips.  These would be "cool enough" to send in their lunches or for an after school snack!  We grabbed two yummy flavors – Mega Cheese and Buffalo Wing – and some other ingredients to make two different tasty versions of Poolside Puff Munch Mix with Goldfish Puffs!!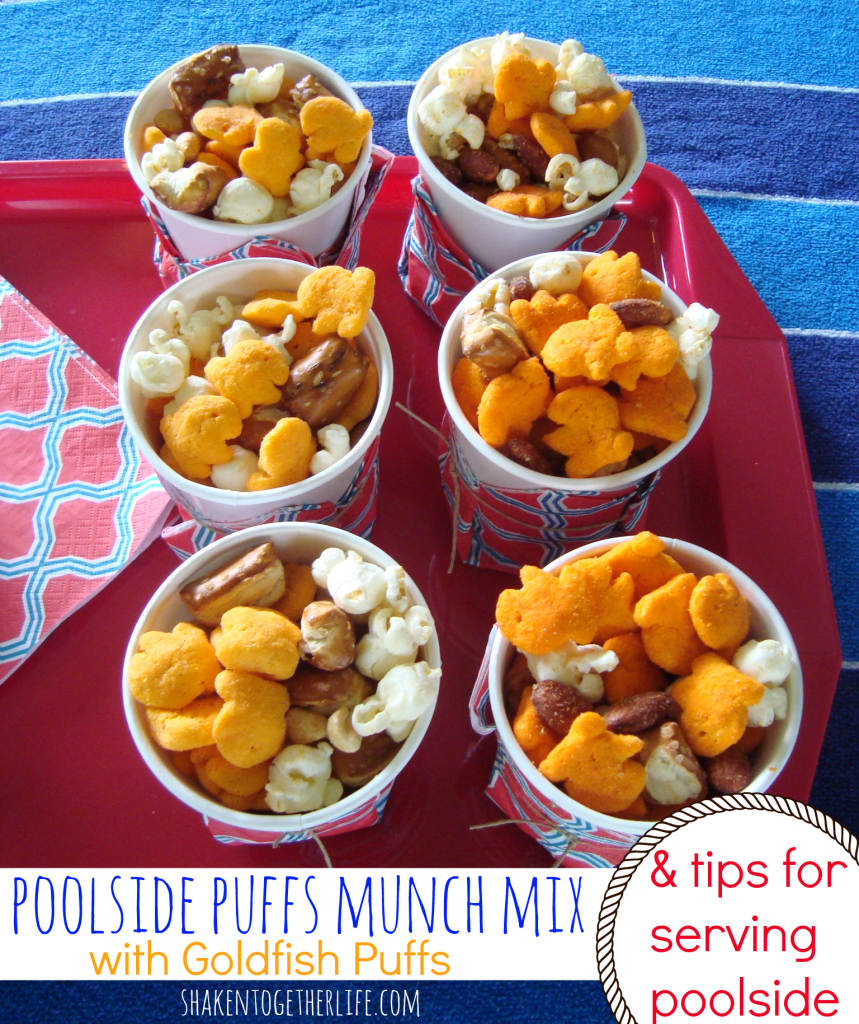 Who wouldn't love a cheesy mix of Goldfish Puffs, white cheddar popcorn, sourdough pretzel nuggets and nuts to munch on after an hour or two of cannonballs and Marco Polo?!  We mixed up two versions of our poolside munch mix – one that was mega cheese goodness and a second mix with a little spicy kick – even the adults loved this crunchy little mix!
Poolside Puff Munch Mix with Goldfish Puffs
Ingredients
Mega Cheese Poolside Puff Munch Mix
1

bag Mega Cheese Goldfish Puffs

3

cups

of white cheddar popcorn

1 1/2

cups

of sourdough pretzel nuggets

1

cup

of dry roasted peanuts
Buffalo Wing Poolside Puff Munch Mix
1

bag Buffalo Wing Goldfish Puffs

3

cups

of white cheddar popcorn

1 1/2

cups

of sourdough pretzel nuggets

1

six ounce can of habanero BBQ almonds
Instructions
Measure ingredients into a large bowl and stir to combine.

Store in an air-tight container until ready to serve.
Looks pretty yum, huh?!  Munch mixes are my favorites snacks to make and you can easily adjust the ingredients to your taste!
Once we mixed up our snack mix, we changed into our bathing suits, grabbed some sunscreen and headed to the pool!   I needed to pack our snack mix to travel and I wanted to be able to serve it easily at the pool.  So, I am sharing a few of my tips to make serving and munching on Poolside Puffs Munch Mix with Goldfish Puffs stress free!
First, I sealed our snack mixes in gallon sized resealable bags. These bags are waterproof and will keep the Goldfish Puffs crunchy! Next, I packed a plastic scoop – this makes it easy to serve seconds and keeps wet hands out of the bags!  I snagged white paper cups from our cabinet and wrapped each one with a colorful napkin and tied it with twine (you could also use a rubber band but I couldn't find ours for the life of me!).  Now, each hungry guest can hold the cup with wet hands, tip the mix directly into their mouth and use the napkin once they've scarfed down every last yummy bite.  A beach towel made a great tablecloth to catch drips and spills, too.  Finally, since everything is disposable, clean up is super easy!
The Poolside Puffs Munch Mix with Goldfish Puss was a hit – all four boys at the pool loved it and everyone had seconds!  Yep, we have a winner!  You can also keep up with Goldfish fun on Twitter and Facebook!
Disclosure: I received compensation for this post, however the recipe, tips, ideas, photos and opinions are 100% mine.