Drizzle roasted potato wedges with your favorite pesto sauce for this easy, flavorful side dish: Pesto Potato Wedges!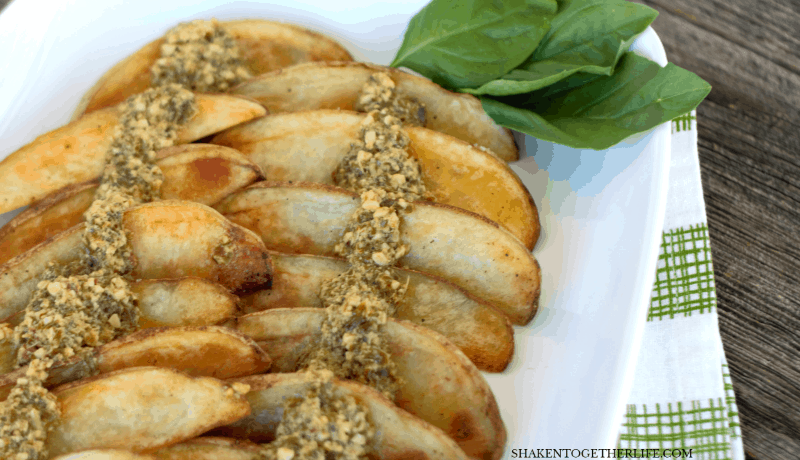 Are you always on the hunt for a certain type of recipe? I have dessert on lock down and I don't really struggle with the main course. But darn if I don't have the most pitiful collection of side dishes ever! So I am trying to branch out from boxed side dishes and change that! After I shared this recipe for classic Crispy Roasted Potatoes, I thought it only fair to share one of my favorite ways to punch up the flavor of plain roasted potato wedges …
Pesto Potato Wedges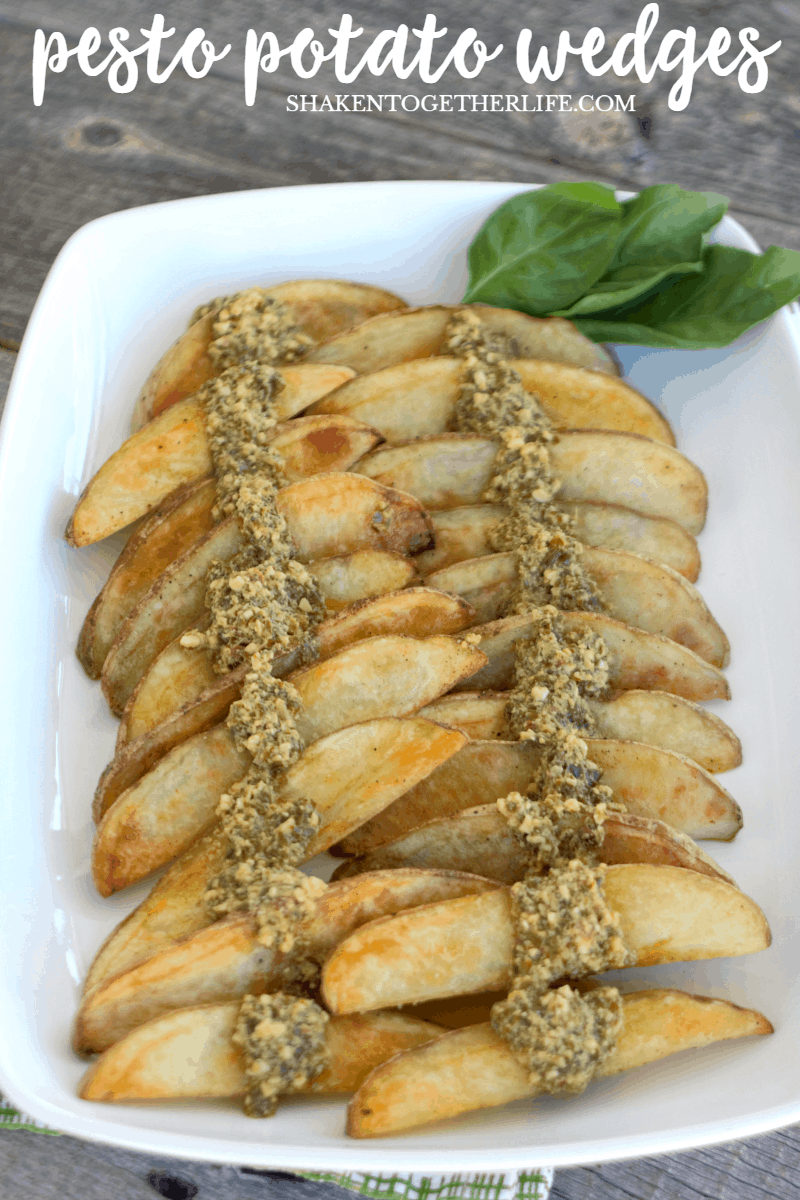 I've already shared my tips and tricks for the perfectly roasted potatoes and I followed the same steps for this recipe. I simply cut Russet potatoes into lengthwise wedges, drizzled them with olive oil and seasoned them liberally with salt and pepper.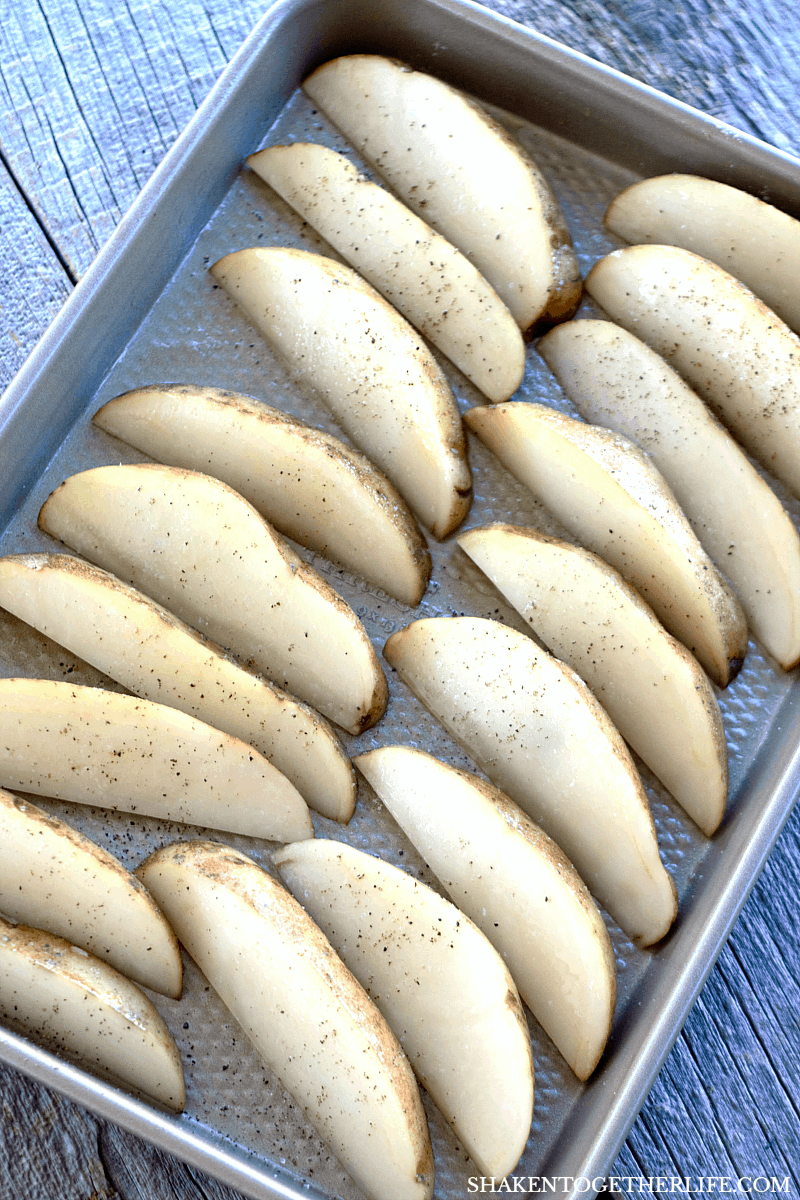 Once the potatoes are roasted to perfection, transfer them to your serving dish and drizzle your favorite pesto sauce across the wedges.
I LOVE pesto! It is a flavorful sauce that is typically made with basil, pine nuts, Parmesan cheese, garlic and olive oil. It has so many of my favorite individual ingredients, so when they are blended together, it is a home run! Pesto is delicious to stir into pasta, slather on a sandwich, add to chicken salad or in this case, dress up a basic side dish.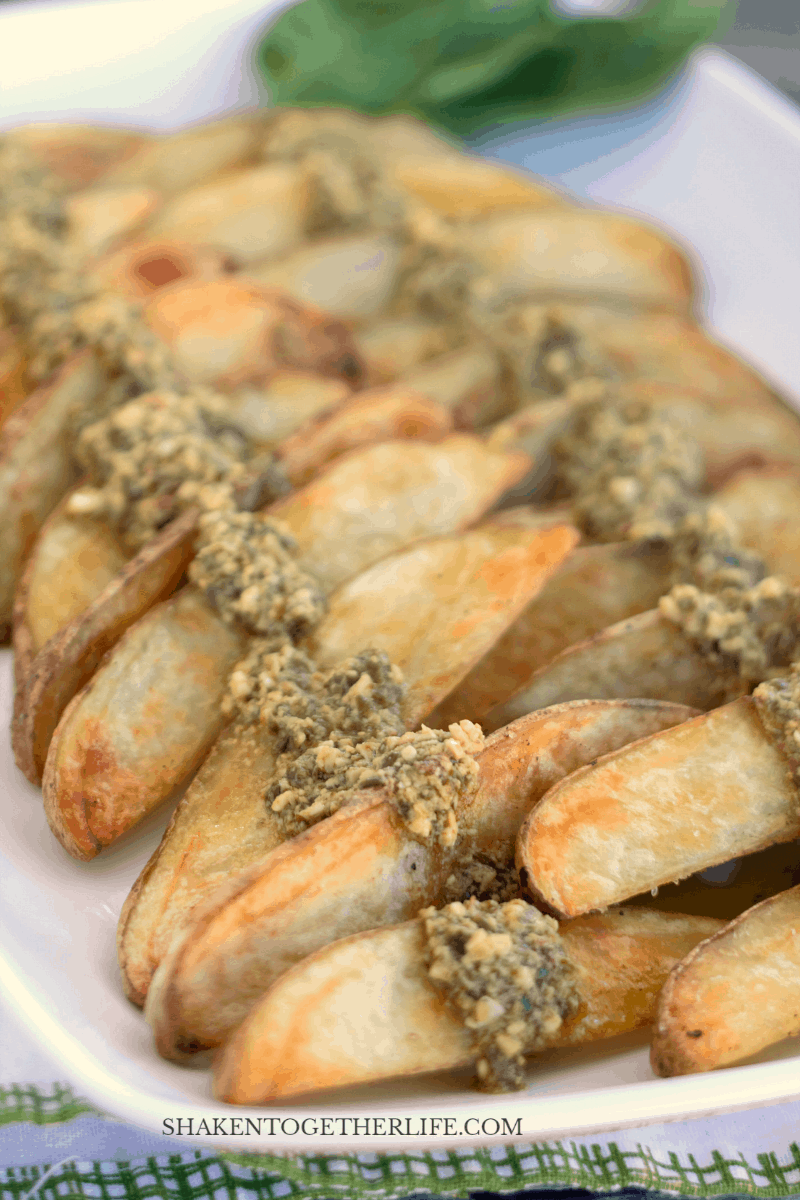 Print
Pesto Potato Wedges
---
Scale
Ingredients
2

or

3

Russet potatoes
Olive Oil
Salt & pepper
Pesto
---
Instructions
Preheat oven to 400 degrees F.
Spray a large baking sheet with non-stick cooking spray.
Wash potatoes and cut into lengthwise wedges.
Toss potatoes with olive oil and spread out in a single layer on the baking sheet.
Sprinkle generously with salt and pepper.
Bake for 40 – 45 minutes or until the skin is crispy and the surface of the potatoes on the baking sheet are golden brown and crispy.
Move potato wedges to a serving tray/plate and drizzle with pesto.
---
If you have time or the inclination, you can absolutely make a batch of homemade pesto. In all honesty, since I am trying to get dinner on the table before bedtime, I use jarred pesto. We can still be friends, right?


Do you have any go-to easy side dishes like these Pesto Potato Wedges? I'm trying to incorporate more veggies in our meals, so if you have some great veggie side dish recipes, lay them on me in the comments or on social media! I'll go first and share some of our faves …