Happy Memorial Day weekend! Whatever you are doing, hopefully you will spend a few moments remembering the men and women who served our country up until their very last breath … thank you for our families, our freedom, our country and our future.
Since we were attending a Memorial Day weekend cookout after an afternoon at the beach, I put together a sweet little treat and just had to share it with you!
Patriotic Mini Fruit Pizzas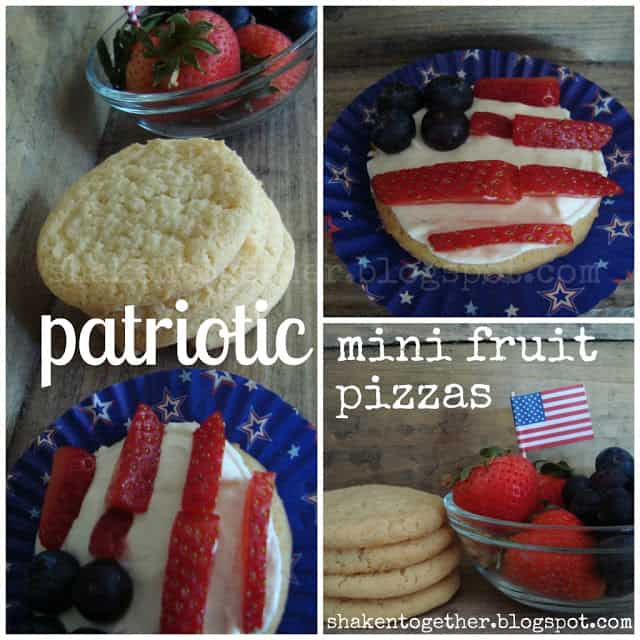 These are simple and tasty and red, white and blue!!
Since I like to really enjoy long three day weekends, I tend towards easy recipes and simple spreads. For this no-bake dessert, I started with sugar cookies (I cheated and used store bought!), spread on the sweet creamy topping below and decorated them with strawberries stripes and blueberry stars!
creamy fruit pizza topping
8 oz. cream cheese, softened
1/3 cup powdered sugar
4 oz. (1/2 small tub) of Cool Whip
Mix the cream cheese and powdered sugar together well. Gently fold in Cool Whip. Spread the topping on sugar cookies and top with fruit. To keep the cookies chewy and the strawberries from "bleeding" on the topping, assemble mini fruit pizzas just before serving.
With their sweet sugar cookie base, creamy topping and tart summer fruits, these Mini Patriotic Fruit Pizzas are just so, SO good! They would make a perfectly portable patriotic treat for July 4th or any summer BBQ, too!
More Red, White & Blue Food!