Merry Christmas Eve, friends!!  I've got one more happy holiday idea and a printable that is perfect to give a cute and casual touch to your holiday dinner, Christmas morning breakfast or even the edible gifts that you put together just in the nick of time!!
Eat Drink & Be Merry Party Pouches & Printable Tags!!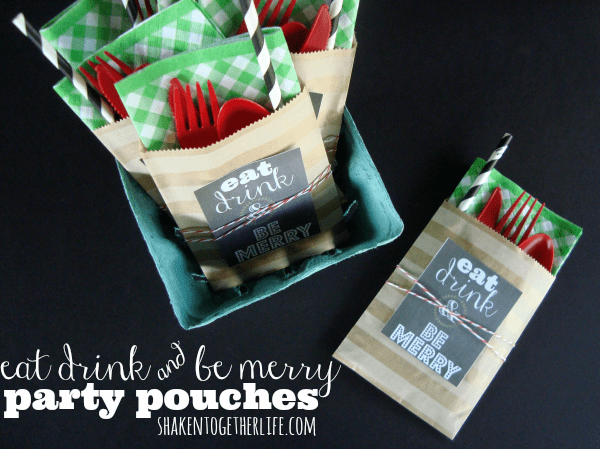 We're visiting friends on Christmas day for a big formal dinner, so we're doing our family Christmas meal tonight with two of our very close friends.  It is casual and low-key, and yes, we're using plastic silverware.  But who wants to do a big sink full of dishes on Christmas Eve?!  Bring on the YUM!
Eat drink & be merry party pouches are just the right cute and casual touch for your holiday party or meal!  Each guest can grab one and no one is fumbling with loose silverware or forgets their napkin!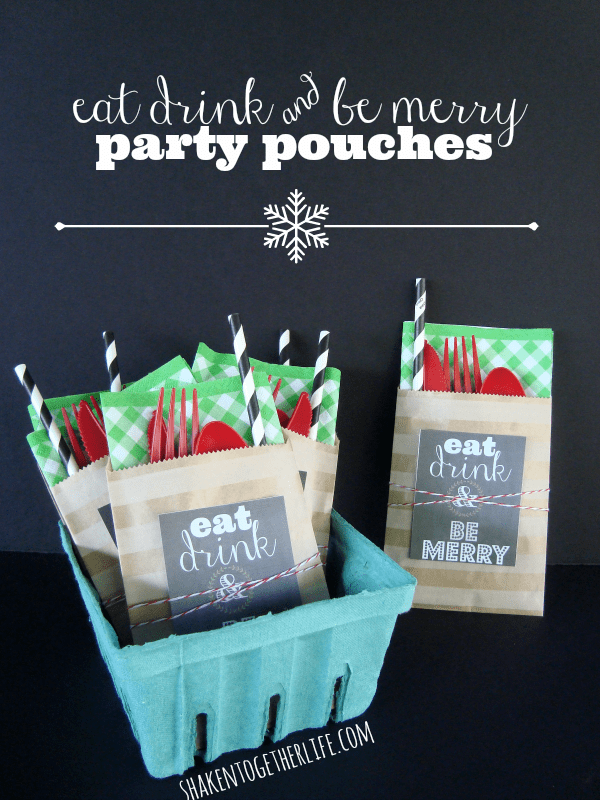 Each pouch starts with a  kraft and white bag from Pick Your Plum.  (You can also trim down a paper lunch bag, fold a piece of paper into a pocket or just tie everything together.)  For the party pouches, I printed the eat drink & be merry chalkboard tags and then cut them out using a paper trimmer.  I used a bit of scrapbook adhesive to secure each tag to the bag.  I tucked in a green gingham napkin, festive red silverware from Target and a striped straw.  Finally, I criss-crossed red & white striped bakers twine around the party pouches and secured it with washi tape.  You can't see it in my pictures but it's there and it is CUTE!
I tucked my party pouches in a berry basket to make them easy to grab at the end of our buffet line …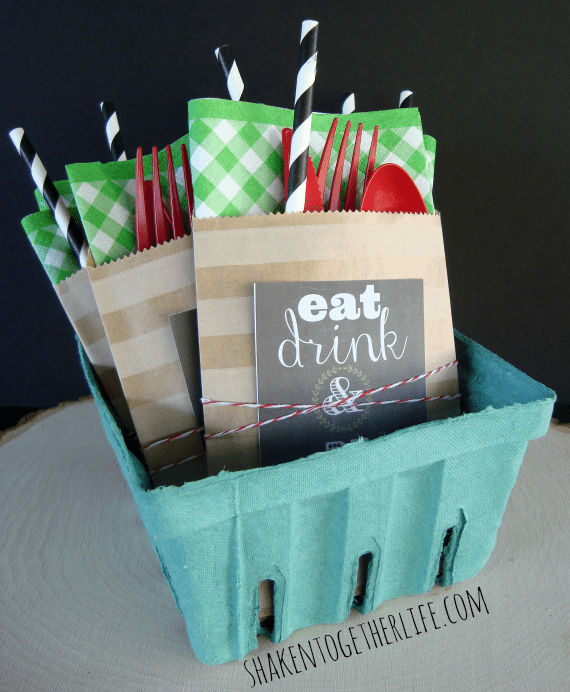 And as my final little gift to you, grab the printable tags and print to your heart's content!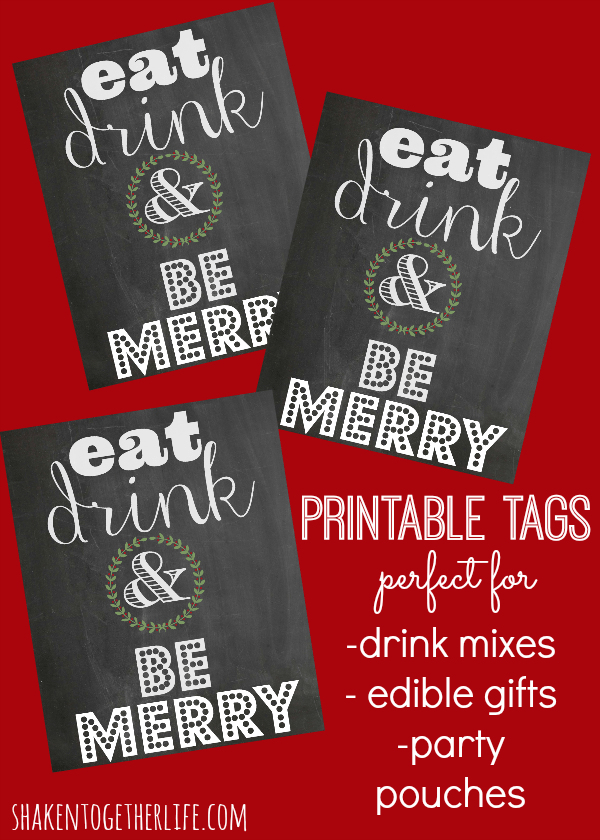 **I truly hope you find joy this holiday season with friends, family and a little fun!  YOU truly are a gift to me and I sincerely appreciate your support and the community that we have built here at Shaken Together!!  Merry Christmas, friends!!**
I'll be enjoying the next few days with my family but I'll be back soon!  I've been scouring a 1984 church cookbook that was passed down to me from Chris' dad and I actually found a few great drinks and appetizers … so stay tuned for some fun New Years recipes coming soon!
Procrastinators, I have you covered!  Here are a few more last minute ideas for Christmas!
Last Minute Gift:  Love With Food & {GIVEAWAY}
5 Easy Last Minute Gifts to DIY