Do not let this little face fool you …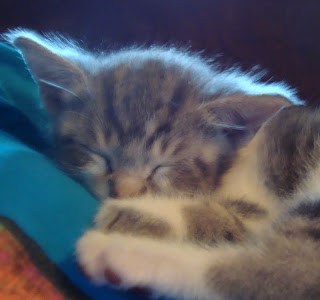 Little aka Bitty (aka Assassin)
Behind that soft fuzzy fur, camoflauged by her little rat-a-tat purr and concealed under that sweet Mickey Mouse shaped spot, beats the heart of a fierce, highly skilled warrior.
Seriously … Bitty is SO darn sneaky! She doesn't weigh enough for her claws or paws to make any noise on the hardwood/tile so she can sneak up on you like a lion on a sleeping gazelle. Ankles, toes, hands … all fair game. And she is armed with the sharpest teeth and claws in the western hemisphere. The Bassetts all realized just how much her arrival has impacted our family as we waded into the salt water at the beach – sting city, people!!
Waiting just behind the bed skirt … gotcha!
Wedged under coffee table, fluff stealthily concealed … you're mine!
Inside a 1/2 full case of water … you just thought you were safe!
Toes innocently tapping to my new favorite song … done!
Awesome aka Boss sleeping, tail making little contented movements … my next victim!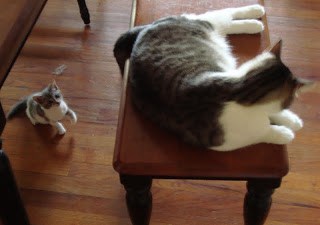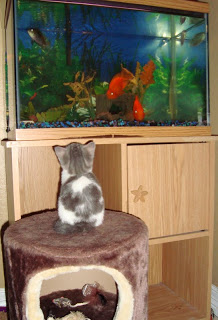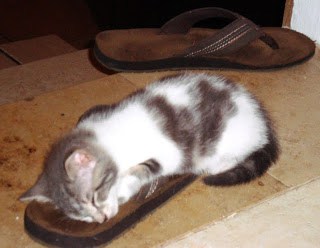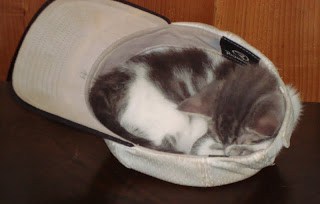 And she pads up and purrs so loud you wonder how that sound could possibly come from that little body, tucks into the curve of your arm or sprawls out next to you … and we have decided that maybe the ninja kitten can stay. Now, Awesome may have something to say about that, but that is another story 🙂
Buying stock in neosporin and bandaids,
Keri